February 25, 2014 | 10 Comments » | Topics: GIFs
Miley Cyrus tries to give Katy Perry some tongue and gets rejected!
Young Syrian father sees his presumed dead son alive
Monk throws needle through glass
Powerful Joe Rogan trying not to look
The Power of Comformity 
Bank teller laughs at robber
I'm tired too… 
Fucking little shit scammer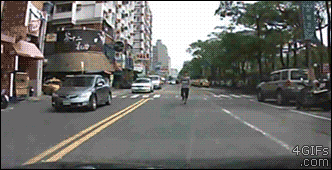 Parking Lot Road Rage
Bitch, I'm a truck!
Ethen Godfrey-Roberts double backflip
COME AT ME BRO!
The hosts face is like "Bitch, you did not just expose our 'via satellite' sham!"
Worlds fastest robbery attempt
Meanwhile on CNN
T. J. Oshie showing off some skills
Dat Defense
Future Watch with many more features 
They're called the kings of the jungle for a reason
I can feel the awkwardness
Wait for it… now swag