January 30, 2018 | 1 Comment » | Topics: Sports
These are the gymnasts who were sexually abused by Larry Nassar, who was just sentenced to 175 years in prison
Why it's hard for DBs to cover Gronk, in one unintentionally illustrative gif
Gronk has been the biggest mismatch in the NFL for years. He is like lebron. Too fast for the big guys, too big for the fast guys.
The NFL power rankings after Week 2, 2001 & Drew Bledsoe's injury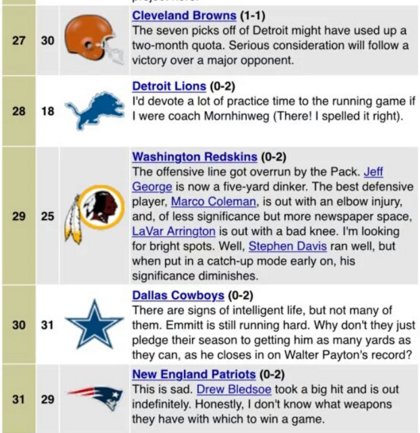 Tom Brady posts his resume online: "Found my old resume! Really thought I was going to need this after the 5th round
Tom Brady vs Michael Jordan
Bet on the Eagles winning it all back in the preseason? Then you've got a LOT riding on the Super Bowl
After RAW went off air John Cena sings Philadelphia Eagles Fight song "Fly Eagles Fly"to Philly fans
This is what Sean Peyton's play call sheet looks like
The Super Bowl Rings 
The Super Bowl Beer Prices
LeBron James – 1 hour workout
Roger Federer Defeats Marin Cilic to Win Record-Tying Sixth Australian Open, Now Has 20 Grand Slams Overall…He has won 10% of all grand slams in the open era. 20/200
ESPN Anchor Fails Miserably Trying To Talk About Soccer!
Crazy Soccer Commentary, Animated!
Bend it like Adriana Leon
"Congratulations to my daughter for reaching the peak of human athletics, and to my son, for continuing to exist."
Patriots owner Robert Kraft's sons….I think we can all relate to David Craft
Finnish ski jumping team 
Ronda Rousey was speechless after her big WWE welcome
Ronda Rousey wore Rowdy Roddy Piper's famous jacket in her debut
Pissed Off Brock Lesnar Purposely Punches Braun Strowman In The Face After Taking Knee To Head