September 24, 2018 | No Comments » | Topics: TRUTH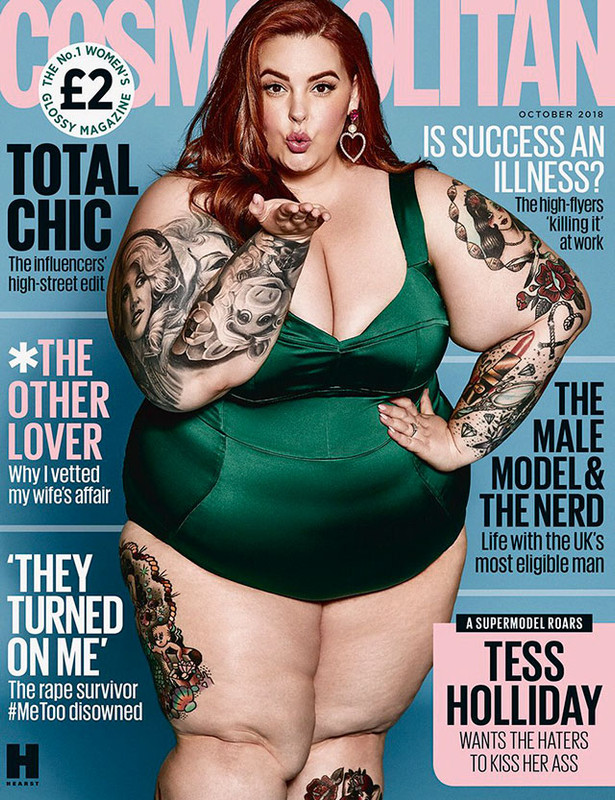 Dear Tess,
We don't know each other.
In fact, until several weeks ago, I had never heard of you.
Then you appeared as the cover star of Cosmopolitan magazine, wearing a green swimsuit and blowing a kiss under the headline: 'A SUPERMODEL ROARS! TESS HOLLIDAY WANTS THE HATERS TO KISS HER ASS.'
It was a very striking, newsworthy cover because you are 5ft 3in and weigh over 300lbs.
As such, you are someone suffering from morbid obesity.
That's not me being a 'fat-shaming douchebag', as your legion of fans will doubtless immediately scream.
That's just a fact.
The medical establishment gives that definition to anyone who is more than 100lbs overweight or has a BMI (Body Mass Index – the ratio of an individual's height to his or her weight) of 40 or more.
That's YOU.
Morbid obesity, as its name suggests, is a very serious health condition.
Those who are diagnosed with it are at greater risk for illnesses including diabetes, high blood pressure, gallstones, osteoarthritis, heart disease and cancer.
In other words, it can kill you.
Yet Cosmopolitan sat you in a throne and declared you're 'a role model for others who've been excluded this way', you're 'downright honest' and you're 'everything the fashion industry needs right now' because you 'don't conform to the narrow standard of beauty that's been set by society.'
What a load of absolute nonsense.
As with size zero models, your body image is one that people – not least yourself – should be deterred from celebrating because it's unhealthy.
In the accompanying interview, you explained why you started your online #effyourbeautystandards campaign:
'I created it out of frustration. I was angry and sad that people kept commenting on my pictures saying, "You're too fat to wear that!" or "Cover up!" And then one night, I was lying in bed and thought, "F*ck that! So I posted an image with four photographs of myself wearing things that fat women are often told we 'can't wear' and encouraged others to do the same.'
I can understand the desire to do that.
But then you said: 'I'm at the heaviest I've ever been in my life now and it took me being the heaviest to finally love myself.'
Check out the rest of the letter at Daily Mail
Would you hit this???