October 25, 2018 | No Comments » | Topics: Interesting, History
Albert Einstein giving a lecture on the Theory of Relativity, 1922
Swiss explorer, mountaineer and skier, Xavier Mertz, and his team of huskies in Adelie Land in 1912
The Girl with the Chin Tattoo, 1863
Olive Ann Oatman was the first white American woman to have a tattoo. Born in 1837 in Illinois, Oatman was kidnapped and enslaved by a Native American tribe when she was 14 years old, along with her sister in present-day Arizona in 1851.
A year later, they were sold to the Mohave people and in keeping with the tribal customs, both Oatman girls were tattooed on their chins and arms. Such tattoos were only given to their own people to ensure that they would both enter the land of the dead and be recognized as Mohaves by their ancestors.
Oatman spoke fondly of her time with the Mohaves and declared, "to the honor of these savages let it be said, they never offered the least unchaste abuse to me." In 1854, she chose not to reveal herself to white railroad workers who spent time in the Mohave Valley trading and interacting with the tribe. Her younger sister died of starvation a year or two later when there was a severe drought in the region.
Soon rumors of a white girl living with the Mohaves spread and the authorities at Fort Yuma demanded her release. Initially resisting the request, the Mohaves relented under the threat of violence. Oatman was escorted on a 20-day journey to Fort Yuma where she discovered that her brother Lorenzo was still alive and had been looking for them.
Fannie Mills (1860 – 1899) aka "The Ohio Big Foot Girl" suffered from Milroy Disease which causes disruption of the normal drainage of lymph which leads to fluid accumulation in the legs and feet.
Winners of the Miss Correct Posture Contest, 1956
Early halloween costumes from the late 19th/early 20th century 
Micky Mouse Club, 1930s 
Shrek was rumored to have been based off of a real person named Maurice Tillet, a Russian-born French professional wrestler, aka The French Angel, 1940s
Beauty pageant winners, 1922
Mildred and Richard Loving, an interracial couple who fought Virginia's law against interracial marriages. They would go on to end all race-based legal restrictions on marriage in the US in 1967.During the trial, Richard Loving told his attorney to just prove one thing to the court, "Show them that I love my wife."
These two boys were exposed to the same smallpox source. One was vaccinated, the other wasn't. Photo taken by Dr. Allan Warner in the early 1900s.
In 1796, English physician and scientist, Edward Jenner, developed the smallpox vaccine, the world's first vaccine.
184 years later, the World Health Organization certified the global eradication of the smallpox disease in 1980.
Inuit woman, Nome, Alaska, 1903
A young Ho Chi Minh speaking to the French Communist Party in Paris in 1920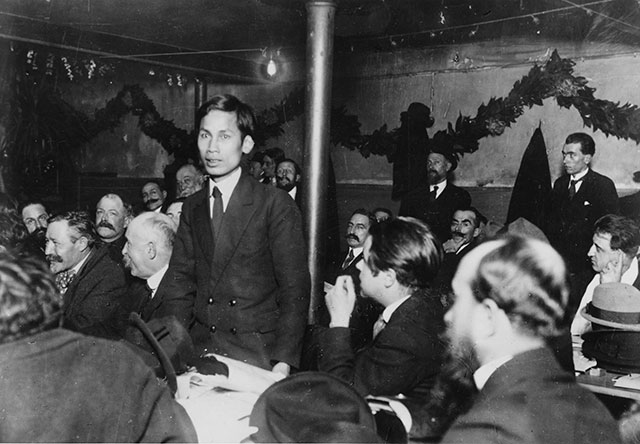 Bill Gates beams into the 1997 Macworld conference, pledging a $150 million investment in his struggling competitor while the crowd jeers and boos
Omaha beach head, 3 days after D-Day. June 9, 1944
An African American man being stoned to death by whites during the Chicago Race Riot of 1919 
Suge Knight Disses Puff Daddy At The Source Awards, Igniting The East Coast/West Coast Rap War, August 3, 1995