January 22, 2019 | No Comments » | Topics: Story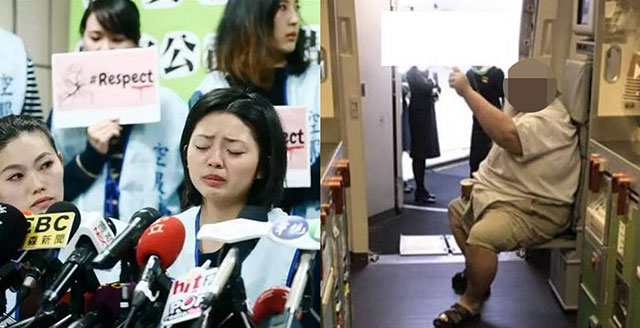 A flight attendant says she was left traumatized after she was forced to wipe the ass of an obese passenger after he used the bathroom on a flight between LA and Taipei.
In social media posts and at a later press conference, the flight attendants detailed the nightmarish experience which took place upon a flight from Los Angeles to Taipei that was operated by Taiwanese airline EVA Air on Saturday.
The male passenger, described as being an American weighing around 440 lbs, boarded the plane on a wheelchair and asked to be placed on a row with three free seats. Later, he made a more unusual request, asking for help in the bathroom, explaining that he recently had surgery on his hand.
Unable to fit inside the economy class bathroom, he was escorted to the business class one where he soon pressed the emergency assistance button, calling the flight attendant inside to pull his underwear down. The cabin crew for the flight was entirely female and the women were initially very reluctant, but the man insisted and pleaded, threatening to relieve himself on the floor, until he finally got his way.
The flight attendant tried to use a blanket to cover the man's exposed genitals, but that was slapped away. She put on a pair of surgical gloves and then pulled down his underwear. The man also insisted that the bathroom door be kept open, claiming that he wouldn't be able to breathe otherwise. That request at least was denied.
However, soon the man made his most unreasonable demand yet, calling on the flight attendant to come inside again and wipe his ass for him. Once again, the cabin crew initially refused, but the man threatened to stay in the bathroom for the entire flight, an act that would seriously inconvenience other passengers.
Feeling as if she had no choice, the flight attendant put on three layers of surgical gloves and started wiping. As she did so, the man allegedly began moaning in pleasure and saying "deeper, deeper!" He then claimed that she hadn't done a good enough job and made her wipe three more times before he was satisfied.
Afterward, the flight attendant wrote in an Instagram post that she locked herself inside the bathroom, crying and vomiting, unable to wash away the stench of the man's shit. In the post, she called on EVA Air to better protect its employees, hire more male flight attendants, and prevent similar physically-challenged passengers from boarding unattended in the future.
Apparently, this was not the first time the male passenger had caused trouble when flying with the airline.
Since then, Taoyuan Flight Attendants Union has urged EVA Air to respond and properly address this issue. They proposed that standard operating procedures, such as ensuring that physically challenged passengers are accompanied by their caretakers, should be established, and that employees should be able to turn down unreasonable demands made by the passengers.
Meanwhile, EVA Air has issued a statement on Tuesday morning in response to this incident, saying that their crew members are not obliged to accept demands that they deem inappropriate from passengers.
According to the airline, investigations will be conducted and appropriate measures will be taken if the passenger is found to have exceeded his boundaries.