April 2, 2019 | No Comments » | Topics: Morbid
Found attached to a balloon. A note somebody wrote to their dead son.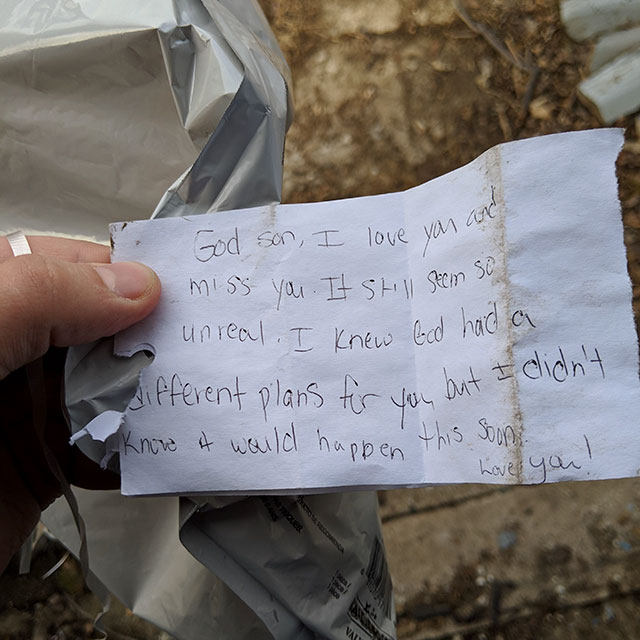 Ruth Snyder was executed in 1928 for the murder of her husband. A photojournalist snuck a camera in on his ankle and caught this picture, mid-execution
The 178 year old preserved head of Portuguese serial killer Diogo Alves (1810-1841)
Between 1836 and 1840, he killed several dozen people.

The crimes he committed were all in the area of the Águas Livres Aqueduct, thus earning the "Aqueduct Murderer".

He was sentenced to death and hanged on February 19, 1841.

The head of the killer was separated from the body and placed in a flask to preserve it for scientific purposes, where it is now a tourist attraction.

He was also one of the last people to receive a death sentence in portugal.
Nipsey Hussle Shooting Captured on Surveillance Video
LAPD names the suspected killer of Nipsey Hussle
Meanwhile in Syria
Jeremiah Denton was taken prisoner in Vietnam and had to take part in a propaganda ad campaign, he blinked in Morse code T-O-R-T-U-R-E to alert the world
Christian parents who 'let their 10-month-old girl die of malnutrition and dehydration after refusing to get help for religious reasons' react in horror as the judge reads out their murder charge
A man guards his family from the cannibals during The Madras famine of 1877 at the time of British Raj, India
John Jones, A medical student who was trapped in the Nutty Putty cave while spelunking in 2009. Rescue attempts were unsuccessful and the cave entrance was eventually sealed with concrete. John's body is still there today
The heart of a person who committed suicide via hanging. The coronary arteries are an electric blue due to lack of oxygen and excess carbon dioxide in the blood during the asphyxiation.
Owner doesnt need her dog anymore but a new puppy is fine
A college student got into a car she thought was her Uber, police say. She was found dead in a field
Illinois state trooper killed after being hit by wrong-way driver
This man sacrificed his life for my daughter's last night.
Brooke was on her way home from DC when this wrong way driver came at them. They were directly behind the trooper and saw the whole crash. The trooper swerved into the wrong way driver's car to keep him from killing the people behind him, including Brooke.
Hug your kids a little closer as you never know what fate has up it's sleeve. Thank you Trooper Ellis for allowing my little girl and her friends to come home. A brother in blue I never met, you will always be in our thoughts. You are a true hero!! Lots of emotions today… Terrible sadness fighting incredible thankfulness in our minds
April 1, 1996, during a live broadcast, umpire John McSherry, suffers massive heart attack and dies on the field
The Most Prolific Serial Killer in Every State