August 20, 2019 | No Comments » | Topics: Art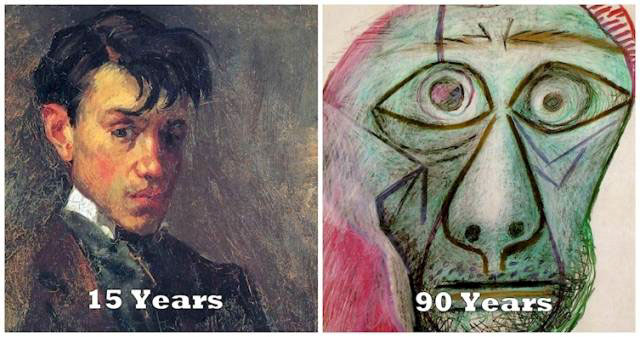 Pablo Picasso is widely considered to be one of the most influential artists of the 20th century. While Picasso experimented with a wide variety of mediums, including constructed sculpture and collage, it is his paintings that he is most remembered for. His original works are highly coveted by collectors, and in 2010, one of his paintings sold for over 106 million dollars, making it one of the most expensive painting ever sold at an auction.
In his youth, Picasso demonstrated remarkable artistic talent. Under the tutelage of his father, he became a very skilled naturalistic painter and was painting professionally by the age of 14. As he grew older, his style diverted greatly from naturalism as he began experimenting with different artistic techniques. Over the years, he periodically reinvented his artistic style, causing great variation in his work. When you look at his self-portraits, the difference between his early works and later works is astounding. We've put together a collection of self-portraits ranging from Picasso's boyhood to his final years to demonstrate the remarkable changes.
15 years old (1896)
18 years old (1900)
20 years old (1901)
24 years old (1906)
25 years old (1907)
35 years old (1917)
56 years old (1938)
83 years old (1965)
85 years old (1966)
89 years old (1971)
90 years old (June 28, 1972)
90 years old (June 30, 1972)
90 years old (July 2, 1972)
90 years old (July 3, 1972)