Animals
January 11, 2019 | No Comments » | Topics: Animals, Life |
December 10, 2018 | No Comments » | Topics: Animals |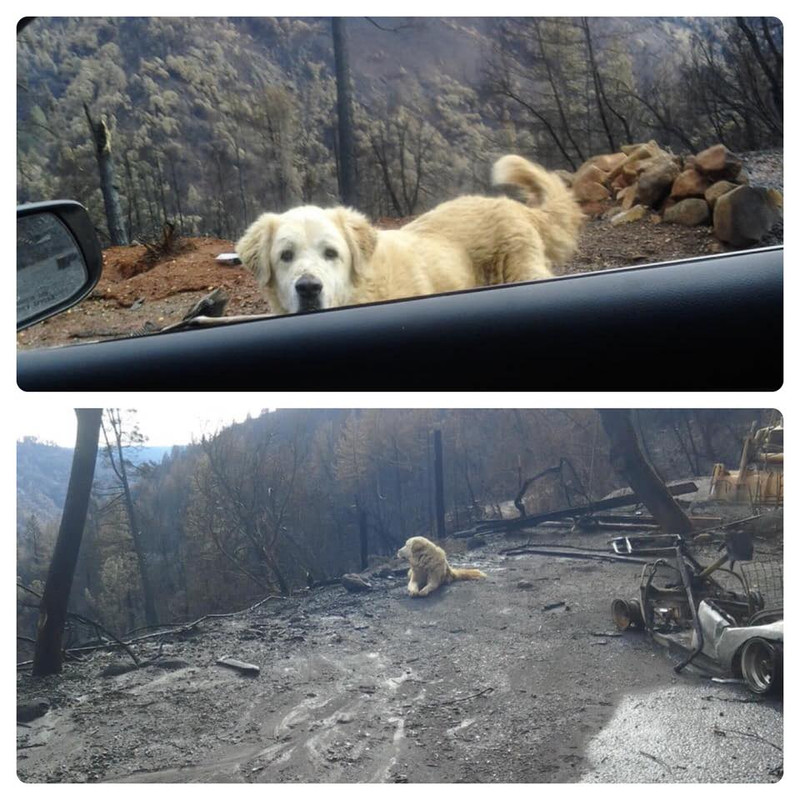 A dog that survived the catastrophic Camp Fire in Northern California reportedly waited at the ruins of its property for nearly a month until its owner returned.
K9 Paw Print Rescue took to Facebook to share the heart-warming story, writing: "Madison's parents were unable to get home to him when the Camp Fire spread. They hoped and prayed he would be OK.
"When they finally got clearance to go back to the lot where their house once stood….Madison was waiting there for them as if he were protecting his former home. Never give up!"
Shayla Sullivan, a rescue worker who has helped looked after animals caught up in the tragic fires, commented on the post to say that she was keeping an eye out for Madison and his brother Miguel, who had been reported missing by their owner.
Shayla said the outdoor guard dog was apprehensive and kept his distance. Sullivan left food and water for him regularly until Gaylord got back on Wednesday. She also helped locate Madison's brother Miguel, another Anatolian shepherd that was taken to a shelter 85 miles away in the confusing aftermath of the wildfire.
November 21, 2018 | No Comments » | Topics: Animals, Life |
There is an IKEA located in Catania, Italy that keeps its doors open to stray dogs. The store will allow dogs to come in, lay on the rugs inside the store, and stay warm so they don't have to sleep in the cold. This IKEA store keeping their doors open in the cold weather for pups went viral on Facebook by a user named Vittoria Taccia Gabrielli who said she was 'amazed' by the gesture.
Taccia posted a video of the dogs in the store lounging about on the furniture and rug displays; happy, warm, and sleeping!
"The dogs receive daily food and pampering from IKEA's employees and customers," Taccia said. "Some dogs have even found a family, going home with customers."
"A good initiative to shelter the strays while it's raining outside," Gabrielli wrote in Italian on her Facebook page, "All this happens in the shopping center of IKEA(Catania)."
The video she shared, which was actually recorded by her daughter, has nearly 18,000 shares and over 1 million views. Many people have reached out to IKEA, praising them for opening their doors to stray dogs.
August 24, 2018 | No Comments » | Topics: Animals, Life |
And My Dad Said He Didn't Want A Dog
August 7, 2018 | No Comments » | Topics: Animals, Life |
Dogs are famously known for their devotion and loyalty to their owners. To describe a dog as "man's best friend" is cliché, but well deserved. Among dogs that are known for their fierce and steadfast loyalty, Hachiko, a Japanese Akita Inu, is the most famous and known to most everyone in Japan.
Long ago in Japan, a professor from the University of Tokyo decided to adopt a dog. He wanted a pure bred Akita pup, a breed of large and powerful dogs from the mountains on the northern side of the island. It was not an easy task, as finding an Akita puppy back in those times was quite tricky. The professor looked everywhere, taking his time and widening his search. Finally, in 1924, he found what he was looking for in the city of Odate. The professor got himself a perfect pup, strong, healthy and, most importantly, pure Akita. It was love at first sight, a match made in heaven. The professor took the pup home and named him Hachikō.
June 7, 2018 | No Comments » | Topics: Animals, Products |
Why not give your dog a view through your backyard fence? After all, dogs are naturally curious, inquisitive creatures, so why not let them have their own little porthole into the outside world? That way dogs can see what's going on without trying to tear down the wall (or, more accurately, dig holes under it)!
Pet Peek provides dogs with the ability to see through walls in a safe, attractive way. The plastic viewing bubbles are made from durable dog-proof materials and are self-installed, so you can place them exactly how you like. The domes are great for wood panels, vinyl fences, and drywall.
May 14, 2018 | No Comments » | Topics: Animals, Life |
26-year-old Bali native Rico Soegiarto was walking home from work one day when he spotted a dangerously malnourished dog. The pup he saw was almost a skeleton, and was in such bad she had bald spots, and was so thin you could see her bones through her diseased skin. She didn't have long left to live. Despite her condition however, her brilliant blue eyes still shone bright and Rico knew that he had to give the neglected pup a second chance
Rico shared, "I don't know what was special about her. It's about heart and feeling. I found her when I was on the way back home from work, she was in the middle of the street."
Rico washed, fed, nursed, and groomed her back to health. After 10 months, the results speak for themselves:
May 8, 2018 | No Comments » | Topics: Animals, Life |
April 23, 2018 | No Comments » | Topics: Animals, Life |
A 17-year old, deaf, and mostly blind Blue Heeler named Max spent more than 15 hours in the treacherous Australian bushland keeping a lost 3-year old little girl safe and ultimately leading rescuers to her location.
Three-year-old Aurora was reported missing about 3:00pm Friday when she wandered away from her Queensland, Australia home. The toddler's family searched their rural property for hours but could not find her.
By Saturday morning, more than 100 volunteers, Good Samaritans, and emergency workers had joined in the search.
Around 8:00am, Aurora's grandmother, Leisa Bennett, heard the toddler's voice from the top of a mountain and headed in that direction – that's where she was met by Max, the family's 17-year old deaf and partially blind Blue Heeler.
"I shot up the mountain … and when I got to the top, the dog came to me and led me straight to her," Bennett said to ABC
April 17, 2018 | No Comments » | Topics: Animals, Funny Pictures |