Animals
November 11, 2019 | No Comments » | Topics: Animals, Story |
A man recently dropped his dog off at the Montgomery County Animal Shelter in Conroe, Texas — but the reason he did so left the internet aghast.
The man claimed his dog was too affectionate and that she "always wants to be by my side."
To be fair, there were a couple of other reasons for bringing her back; the man said the dog chewed up part of his couch, a baseboard, and a cushion. But taking Jubilee back to the shelter was honestly the nicest thing he could've done for her. The dog had some anxiety issues that needed to be worked on, and he obviously wasn't the person who'd be able to help her with that.
November 8, 2019 | No Comments » | Topics: Animals, Life Experiences |
Safe Haven Pet Sanctuary/Facebook
A 75-year-old man visits a local animal shelter every day so he can enjoy "brushing cats" while often falling asleep on the job and napping with the felines.
Terry Lauerman decided one day to introduce himself to a local Green Bay-area animal sanctuary, telling the folks at Safe Haven Pet Sanctuary Inc. that he likes to brush cats.
According to Elizabeth Feldhausen, the founder of Safe Haven Pet Sanctuary, "He just walked in and started brushing," noting that he never asked to be a volunteer. "So eventually we told him he was an official volunteer and had him fill out our volunteer form."
The shelter, which opened in 2016, rescues cats with disabilities that would be at risk of euthanasia at other facilities.
November 1, 2019 | No Comments » | Topics: Life, Animals |
Photo: Facebook/Speranza Animal Rescue
When Janine Guido, founder of Speranza Animal Rescue, saw Watson, she could tell the dog was not only exhausted, but that he was ready to die.
Watson had been found by a good samaritan who found him wandering around in a local park. The pit bull was emaciated, covered in sores and had a large cancerous tumor on his hind leg. It was clear that this dog had been suffering, and had been left uncared for, for a long time and sadly, the cancer had spread and no treatment was going to cure him.
Guido had a feeling that Watson did not have much time left, so she made the decision to stay with him when he returned to the shelter from the emergency vet.
"He looked exhausted — like he was ready to give up the fight."
September 18, 2019 | No Comments » | Topics: Animals |
A puppy who had part of his face blown off after abusers allegedly placed a firecracker in his mouth, has now undergone reconstructive surgery on his jaw.
The one-year-old pup, known as Braveheart, was found in Sonora, Mexico, by an animal rescue team that contacted the Saving Huey Foundation to adopt him following his surgery. The damage caused by the firecracker was so extensive that he now has a prosthetic jaw. Needless to say, he was extremely lucky to survive the attack.
September 9, 2019 | No Comments » | Topics: Animals, TRUTH |
Horrific images of an emaciated elephant who is forced to entertain people despite her frail body have emerged.
70-year-old elephant Tikiiri is one of 60 elephants who is made to work for 10 consecutive nights at the Perahera Festival in Sri Lanka.
The photos from the Save Elephant Foundation in Chiang Mai reveal how Tikiiri's gaunt body, with all her ribs on show, is carefully hidden under a garish costume.
July 12, 2019 | No Comments » | Topics: Animals, Life |
July 5, 2019 | No Comments » | Topics: Animals |
A 3-year-old lab mix named Moose went viral on social media after a photo of him waiting patiently by his human's hospital bed was posted to Facebook by Eleventh Hour Pet Rescue
Moose sat patiently next to his dad's hospital bed, waiting for him to return, not knowing that "Dad" had passed away. Poor Moose has now been returned to Eleventh Hour Rescue and he's taking the loss of his dad pretty hard.
July 2, 2019 | No Comments » | Topics: Animals |
Lunita was found dumped on the streets of Salta, Argentina, with nothing but a dilapidated wheelchair and a bag of diapers. She was paralyzed, so she was unable to move on her own and was forced to lay there until someone would save her.. Fortunately, a good samaritan saw her and called LUBA Salta, a rescue organization.
Once the rescuers came to the scene, they could see that Lunita was in need of urgent medical care, so she was quickly rushed to the nearest vet's office where she was given the appropriate medical assistance. 
June 7, 2019 | No Comments » | Topics: Animals, Story |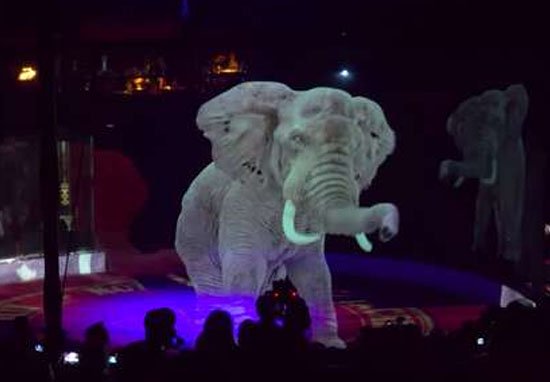 Welcome to Circus Roncalli, the world's first holographic circus show — where no animals are harmed.
It seems that the zoos of the world are changing the concepts on which they are based. In many parts of the world, zoos have been left behind where wild animals are always locked in cages or abused, removing exceptions such as this one where they cut off a lioness's claws so that the children could play with it.
Circus Roncalli has been entertaining crowds with its animal shows since 1976 but has decided to change things up in an attempt to fight against animal cruelty in the industry.
The animations made by computer are projected to real size and shown in a spectacular way. Animals such as elephants, wild horses, monkeys and even fish run, swim and do acrobatics on stage.
May 30, 2019 | No Comments » | Topics: Animals |
Can you imagine moving away, and not taking your dog with you?
A truck driver in California noticed an eight-year-old Labrador living in a parking lot outside a warehouse on his delivery route. According to The Dodo, the dog used to live with his owners in the house across the street, but the family moved away and left him behind. It broke the driver's heart to see the forlorn dog living in the dirt, so he uploaded a photo of  the "poor old boy" on Instagram. Due to his living situation, he was unable to adopt a pet, but hoped someone would give the Lab a forever home.