Animals
December 5, 2016 | No Comments » | Topics: Animals, Funny Pictures |
November 28, 2016 | No Comments » | Topics: Animals |
Hooman?
November 23, 2016 | No Comments » | Topics: Animals, Hall Of Fame, Life |
November 21, 2016 | No Comments » | Topics: Animals |
John Hunter Hospital, in conjunction with Delta Therapy Dogs, has recently conducted a trial that's being monitored by medical professionals around the world.
The preliminary findings found that bringing the dogs to visit sick patients has sharply boosted their spirits and led to an unprecedented reduction in recovery times.

(more…)
November 21, 2016 | 1 Comment » | Topics: Animals |
This is the most helpful dog in the world
November 14, 2016 | 2 Comments » | Topics: Animals |
Early Saturday morning, Ludivine, a two-and-a-half-year-old hound dog, was let out of the house in Elkmont, Alabama, to do her business. Prone to roaming around town at will, Ludivine snuck out of the backyard and made her way to the starting area of the inaugural Trackless Train Trek Half Marathon about a quarter mile away.
Ludivine proceeded to mingle with the runners, run the entire 13.1-mile course, cross the finish line in an unofficial 1:32:56, and have a medal draped over her floppy brown ears—all without her owner, April Hamlin, realizing she had wandered off in the first place. The incident was first reported in Canadian Running Magazine.
"All I did was open the door, and she ran the race on her own accord," Hamlin, 43, told Runner's World, saying she received texts with photos of Ludivine from friends who were volunteering at the finish. "My first reaction was that I was embarrassed and worried that she had possibly gotten in the way of the other runners."
November 9, 2016 | No Comments » | Topics: Animals |
November 8, 2016 | No Comments » | Topics: Animals, Humanity |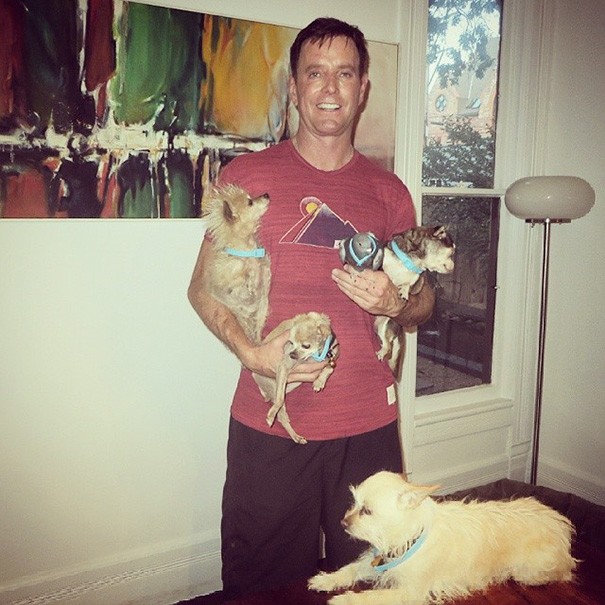 When his dog and best buddy died, animal lover Steve Greig set out to give older, overlooked dogs in shelters a new life full of love and happiness. Now, he's ended up with an entire menagerie.
His home in Denver, Colorado houses 10, mostly senior, dogs, a couple of cats, a rabbit, a pig named Bikini who thinks she's a dog, two chicks, two ducks, two pigeons and a koi-filled pond.