Animals
November 8, 2016 | No Comments » | Topics: Animals, Humanity |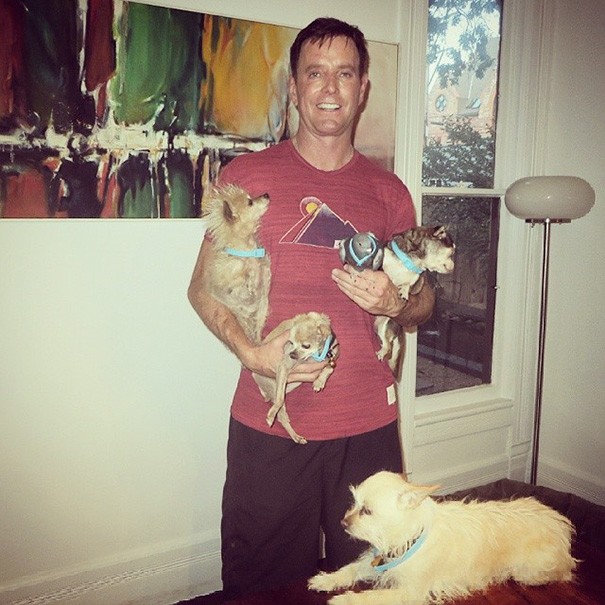 When his dog and best buddy died, animal lover Steve Greig set out to give older, overlooked dogs in shelters a new life full of love and happiness. Now, he's ended up with an entire menagerie.
His home in Denver, Colorado houses 10, mostly senior, dogs, a couple of cats, a rabbit, a pig named Bikini who thinks she's a dog, two chicks, two ducks, two pigeons and a koi-filled pond.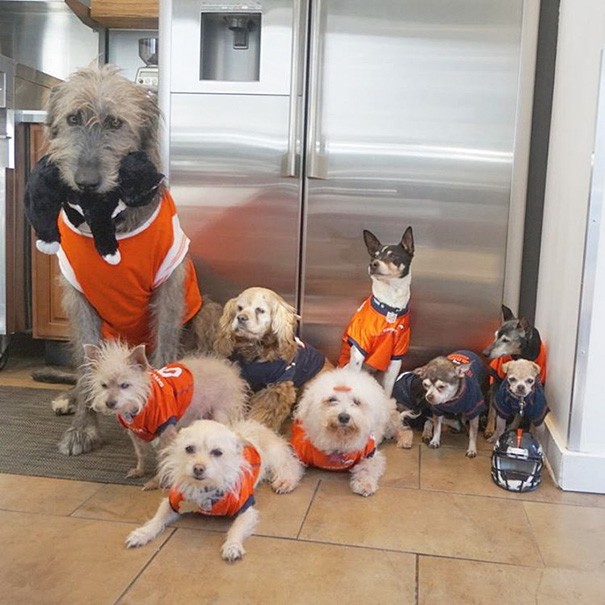 November 3, 2016 | No Comments » | Topics: Animals |
It's not a conventional family, granted, but the Panteleenko unit has been a solid once since they adopted Stepan, an orphaned bear, 23 years ago.
Daily Mail reports that Svetlana and Yuriy Panteleenko took in Stepan when he was just 3 months old. He was found by hunters in a forest all alone and in a very bad condition. Twenty-three years later, the three still live as a family in Moscow, Russia. And, contrary to appearances, the 300-pound, 7-ft bear is a gentle giant.
His humans relay that Stepan helps around the house by watering plants. In the evenings, he loves cuddling on the couch and watching television.
Said Svetlana:
"When we adopted him, he was only three-months-old and had been found by hunters in the forest having lost his mother. He was in a very bad condition.He absolutely loves people and is a really sociable bear – despite what people might think, he is not aggressive at all. We have never been bitten by Stepan.".

"He's got so many talents and loves a picnic. It's a wonder he doesn't eat us out of house and home,
Reportedly, the bear has never acted out or bitten either of his human companions. They credit it to him being domesticated all of his life as well as being well cared for.
October 25, 2016 | 1 Comment » | Topics: Animals, Life |
October 11, 2016 | No Comments » | Topics: Animals, Life |
The 4 Deserts Race Series are no joke. These world-class rated races are extremely tough and not for the faint of heart. One race in the series, however, holds a story for more than just the human competitors. In fact, the biggest hero is a tiny, stray dog that surprised everyone.
In March 2016, ultrarunner Dion Leonard ran the 250-kilometer (155 mile) race through China's Gobi desert. Along with 101 other competitors, he set out on one of the adventures of his lifetime. What he didn't expect, however, was to come home with a dog!
September 27, 2016 | 2 Comments » | Topics: Animals, Life |
Kelly O'connell, met Charlie Bear when he was just 12 weeks old.
When O'connell first met Charlie – a black lab abandoned in a shopping cart outside a groccery store, in an animal shelter where she worked, she decided to take him home. "He came in, and I was like, 'Yup. I'm taking this puppy home.'"
Charlie became Kelly's best friend.
The two of them grew up together and moved from New York to Colorado.
September 20, 2016 | No Comments » | Topics: Animals |
September 12, 2016 | 1 Comment » | Topics: Animals |
For the past 12 years, a Chesapeake-Lab mix named Bruno has been regularly walking four miles (eight miles round trip) to downtown Longville from his country home to socialize, collect treats, and hang around. His almost daily commute has made Bruno a beloved town legend.
"Everybody knows Bruno," resident Sharon Rouse told KARE11 News. "[You] may not know the people, but you'll know Bruno."
The pup belongs to Larry and Debbie LaVallee, who took Bruno in after he appeared in a box on their driveway over a decade ago. They tried to keep him tied up, but the dog's desire to roam was too great, and he started making his way to town every day.
Now, he's somewhat of a celebrity, with regular stops at city hall, the ice cream shop, and the back door of a local grocery store, where employees help Bruno fuel up with deli counter scraps. People know and greet Bruno, sometimes to the surprise of the LaVallees, who only know a fraction of their dog's many admirers. His wandering has even earned him the title of "Town Dog and Ambassador," which is set in literal stone in a Longville statue.
September 6, 2016 | No Comments » | Topics: Animals, Life |
I Died Today. By Duke Roberts.
And I ate a lot of hamburgers. We had a party. Note: This wasn't my dog or situation; I thought it was worth sharing though. The photos and captions on this post have been reproduced as they originally appeared on photographer Robyn Arouty's blog. http://www.robynarouty.com/
And I laughed.