Brain Teaser
February 20, 2020 | No Comments » | Topics: Brain Teaser |
February 19, 2020 | No Comments » | Topics: Brain Teaser |
There is a lightbulb inside a closet. The door is closed, and you cannot see if the light is on or off through the door. However, you know the light is off to start. Outside of the closet, there are three light switches. One of the switches controls the lightbulb in the closet. You can flip the switches however you want, but once you open the door, you can no longer touch the switches.
How do you figure out without a doubt which switch controls the light?
February 18, 2020 | No Comments » | Topics: Brain Teaser |
A businessman, for personal reasons of his own, needs to gain access to a notorious but elusive thieves guild. After snooping around the city for a few days, he finally gets a tip about the location of the guild entrance down an alleyway.
After observing the entrance for about an hour, the businessman notices that the thieves seem to have some sort of passcode system using numbers. When someone approaches the door, they are given a number, and then they reply with a number.
The first person steps up, and the guard tells them "twelve," to which they respond "six." The person is admitted. A second person approaches the door, and the guard tells them "six," to which they reply "three." The second person is also admitted.
Convinced that he has cracked the code, the businessman approaches the door to the thieves guild, and the guard tells him "ten," to which he confidently replies "five." The guard immediately slams the door in the businessman's face, and a deadbolt slots into place.
What should the businessman have said?
February 17, 2020 | No Comments » | Topics: Brain Teaser |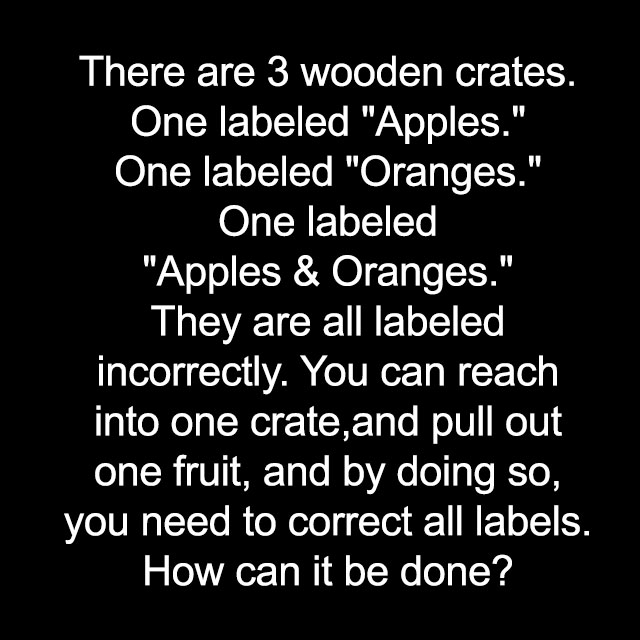 February 14, 2020 | No Comments » | Topics: Brain Teaser |
February 13, 2020 | No Comments » | Topics: Brain Teaser |
February 12, 2020 | No Comments » | Topics: Brain Teaser |
February 11, 2020 | No Comments » | Topics: Brain Teaser |
February 10, 2020 | No Comments » | Topics: Brain Teaser |
February 7, 2020 | No Comments » | Topics: Brain Teaser |