Dating
May 4, 2018 | No Comments » | Topics: Dating, Man-Up |
(photo: @reka)
Many men have fragile egos when it comes to women. I'm not judging, my pride used to get the best of me, too. I couldn't handle the reality of being rejected or losing a girl — it was one of my worst fears. I lived with a scarcity mentality.
Scarcity mentality is the belief that there's a limited number of opportunities in your life. With women, if you miss out on a single chance, you'll never get another like it. What happens is that you view your connections as win or lose situations. It's black or white:
"If I don't get this girl, I'm a failure and a loser. I'll be alone forever. But if I do, I'm a real man and a winner."
You then do everything in your power to "win" girls over. You will chase endlessly, pretend to be a friend for months or years, disrespect your time, and even let yourself get walked over — all because you can't let go of this one girl.
This is a needy, desperate, and unattractive way of thinking. You are subconsciously reinforcing:
April 18, 2018 | No Comments » | Topics: Dating, TRUTH |
By Jodan Gray
Let's end this whole "nice guys" myth once and for all…
The term "nice guy" has been thrown around in popular culture a lot lately.  A quote unquote "nice guy" is actually a first class manipulator.
Women don't have an aversion to truly nice guys… they have an aversion to passive, manipulative liars (just like – surprise, surprise – all humans do!).
People respond positively to others that have a strong sense of identity, solid morals, and strong personal boundaries (all things in which "nice guys" are lacking).
Nice Guys, Jerks, And Strong-Minded Men
One of the nice guys' favourite fall back arguments is that "Women say that they want a nice guy, but what they actually want is a jerk."
Oh, my friend, if only it were that simple. Kidding! It's even simpler than that.
Women don't like being lied to. They're also generally a lot more socially intelligent than men. Even if you think you're being extra sneaky, your intentions have been noted by females before you've even fully formed your first thought.
Nice guys = passive, manipulative liars who attempt to trade niceness for intimate relationships/sex. Most men are hopelessly transparent with their intentions with women, but nice guys really take it to the next level.
April 18, 2018 | No Comments » | Topics: Dating |
1. The one that was the most upsetting was a guy who had been my friend for years, who I was close to and confided in, telling me my boyfriend at the time had cheated on me. I wanted to confront the boyfriend and this "friend" kept dissuading me, telling me to just drop contact with him, and trying to comfort me with physical contact.
Obviously I still confronted my boyfriend. He said no such thing happened. And it turned out my friend had made it all up.
2. I'm a girl, but this story is about my husband and how he caught the bad end of a "nice" guy.
A few years before I met my husband, he decided to go to a party. He gets there and some random girl walks up to him, says "Your cute" and kisses him. This amused him, so he started chatting with her. While chatting, he notices a very angry, short man standing next to her. The man is scowling at my husband and it's making him uncomfortable. He can tell the guy is pissed at the attention girl is giving him, and it's just not worth it, so he stops talking to random girl, turns away, and starts walking to another room. It's at this point husband feels short man punch him in the back. When he turns around, short man is running away and actually runs out of the house and never returns to the party. Husband laughs it off, cause it wasn't even a hard punch. But then somebody notices husband is bleeding, and there is a hole in his shirt. The short fucker hadn't punched him, he stabbed him.
April 17, 2018 | No Comments » | Topics: Dating |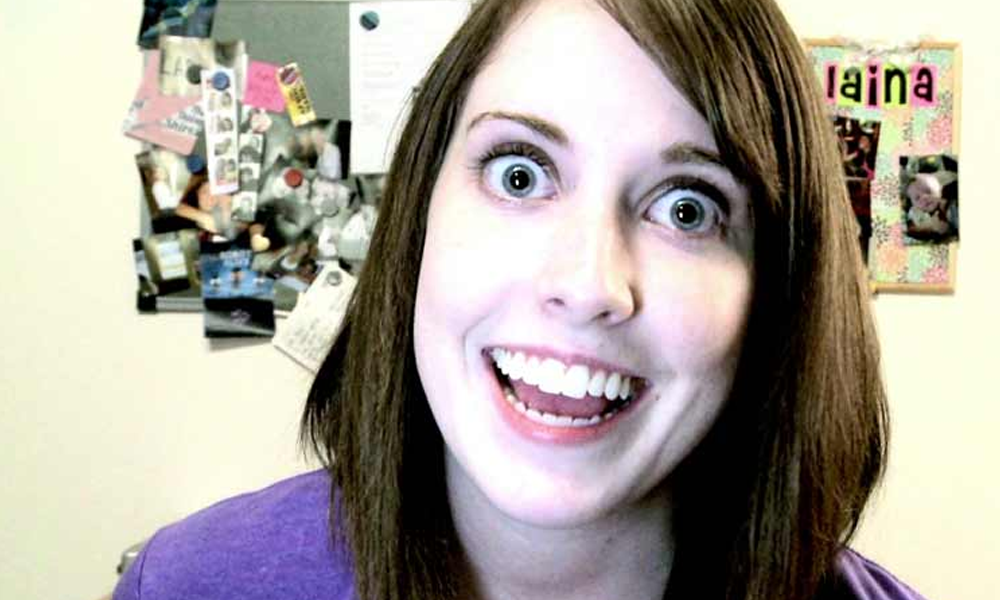 Although we like to think of women as gentle and kind beings, there are some that do nothing butbreed chaos, misunderstanding and insanity in relationships–especially when things don't go their way. Whether these behaviors originate from a chemical imbalance or from the environment in which they were raised, one thing is for sure–dating a nut job can negatively affect all areas of your life; therefore, your goal should be to spot these gals before things get out of control. Here are 8 signs that the woman you're dating is a psycho. 
1. She's extremely jealous 
This type of psycho will go to any length to force unreasonable faithfulness on you because of her fear of losing you. Regardless of your constant assurances that you only care about her, she feels threatened when you discuss your previous relationships, gets angry and even has rages when you talk with female relatives, hates the idea of meeting your female friends and refers to all of them as skanks. 
2. She's controlling your life
Do you have a hard time remembering the last time you had an opinion? Do you recall your last decision? Do you constantly find yourself on the defensive, having to explain all your actions and words? If so, it's because you're being completely controlled. This type of psycho is often good at manipulating and intimidating men, making a guy feel he is the one responsible for making her angry or upset.
June 6, 2017 | 1 Comment » | Topics: Dating |
1. She sent me a video of herself in underwear. Waved at the camera, took a blade to her wrist, wiped the blood into her fingers and waved goodbye. It was like a scene from a horror movie. Oh, and yes, she's alive.
2. She threatened to kill me, killed my cat, and dabbled in identity theft. A month later asked that we be friends and that I, like she has tried to do, should not live in the past.
3. My ex tried to gain sympathy from me by cutting her forehead open with a pair of nail scissors after a night out and claiming she was attacked on her way home. I know because she left a pair of bloodied scissors on the bedside table like a complete fucking welly head.
4. She let her new beau molest my 2 daughters when they were just a few years old.
5. Planned to kill me, then tried to execute the plan. 30k worth of damage to my house and firing a shot at me when I got home.
6. Secretly tortured our 3yo son by locking him in the closet so she could go to Kmart to fuck random guys. Long story short I now have full custody and he's in therapy as a happy 6yo with next to no real memory of that time.
7. Told me she had brain cancer. Constantly was calling me crying telling me how she wasn't sure if she was going to live or not and all these surgeries she was having. Come to hear from her sister 6 months later none of any of that had happened
8. Mailed poop to me EVERY DAY for 3 weeks! We were only dating for less than 2 weeks
9. Ex wife told everyone I touched my stepdaughters, I never found out till years later as my family never told me, but found out because someone reported abuse by her new husband; they then fled the state to escape the investigatio. She is pure evil. 
10. My ex 10 years ago was an abusive alcoholic, I had enough of her false promises and constant crap that I just walked out…..
May 11, 2017 | No Comments » | Topics: Dating |
In a 1997 study published by Personality and Social Psychology Bulletin, the psychologist Dr. Arthur Aron guided pairs of strangers in tasks specifically designed to generate closeness. Part of the experiment involved answering a series of 36 questions and then staring into your designated partner's eyes for four straight minutes. Dr. Aron's methodology famously resulted in an official marriage. According to his findings, reciprocal self-disclosure plays a critical part in relationship building, perhaps more so than common interests, expectations, or pheromones.
Here are the 36 questions, divided into three sets which scientists believe "foster closeness". The study authors advise "the best way for you to get close to your partner is for you to share with them and for them to share with you". After finishing answering the questions, the participants are supposed to sit and look into one another's eyes for four minutes.
March 23, 2017 | 7 Comments » | Topics: Dating |
In my humble opinion, I believe that in the year 2017, men are the new women. Point. Blank. Period. In this day and age when it comes to relationships, men have allowed women to walk all over them emotionally, mentally, and in certain extremes, physically. Men have given up on their manhood and their own happiness for what they perceive to be the greater good of their girlfriend or wife's happiness. Below I've compiled a list of signs that I attribute to men who are no longer the leaders in their relationships
1. You share a joint bank account with your spouse.
This is a big no-no in my book. If there is a bank account which was opened for the sole purpose of you both throwing in money to pay the bills, then I have no problem with this. But if every dime you make is accounted for in your relationship by your spouse? Then you, my friend, have no real freedom and the leash on you is tighter than you think.
2. You have to ask for permission to go out with your male friends.
No adult male should be asking anyone (especially his lover) if he could go out and hang out with his boys to do some male bonding. It is a sad reality that many men live in nowadays that has never made sense to me. The consequence of not going out is actually far more severe than just going out and having your girlfriend be mad at you for a few hours.
March 8, 2017 | 2 Comments » | Topics: Dating |
by Nick Notas
We all know about the running joke that romantic relationships are a source of misery.
We grew up on shows like Married With Children where Al Bundy hated having to hang out with his wife Peg. We hear friends challenge each other with, "You're so whipped!" And serious couples give us ominous warnings such as, "Don't get married." or "It's all good now, but wait until the honeymoon is over."
These may make us laugh but they also reinforce that our partners are a burden on our lives.
It's true that maintaining a happy, healthy relationship takes work. But that doesn't mean it has to suck.
The secret lies in finding a relationship that makes life easier and more fulfilling for you.With a compatible partner and mutual support, your relationship should decrease outside stresses, increase productivity, and improve the quality of your lives. 
February 23, 2017 | 2 Comments » | Topics: Dating |
By Nick Notas
No one likes being sold to.
When I worked in real estate, I cold called people to pitch them on refinancing their mortgage.
Nearly every person who picked up the phone was annoyed. Even when my offer was potentially useful, I struggled to get anyone to hear me out.
I had way more people tell me "Fuck off!" than "Oh yes, I'm so happy you called!"
It's because people are turned off by "salesmen". They envision guys with ill-fitting suits trying to convince them to buy something they don't want.
So where dating is concerned, I tell my clients: "Be the buyer, not the seller."
This means approaching women with the mindset that YOU are choosing a compatible person for YOU. You should not be acting like a desperate salesman trying to prove that you're good enough.
Being the "seller" means you value the approval of others over your own opinion of yourself. You worry about their judgment and you work hard to impress them. You're afraid of losing any opportunity (scarcity) rather than focusing on finding ones that youfind fulfilling (abundance).
This is an unconfident, needy mindset. As I've written before, neediness is the biggest turn-off for women.
But implementing the "buyer" mindset means raising your self-esteem. I know that's not easy to do overnight.
What you need to do is change your behavior and develop new habits that breed a high-value mindset. So I created 4 exercises that will help you cultivate a confident mentality of choice and abundance.
February 22, 2017 | 1 Comment » | Topics: Answers, Dating |
By Nick Neeson
I get lots of introverted men e-mailing me to ask me how to become more successful with women.
Many of those questions have a common theme.
"I've tried out so much dating advice and it just doesn't cut it for me. It's draining, and I feel like I'm betraying myself. Is it possible there's something wrong with me?"
They might not all write it in exactly those words, but that's the general theme of the emails we receive.
Many introverted men think there's something inherently wrong with them.
I have news for you.
THERE'S NOTHING WRONG WITH YOU!
I'd like to share some secrets that I feel are VITAL to understand if you're an introvert and are wondering how to improve your love life.
The first and MOST IMPORTANT thing you ought to know is…