Humanity
August 8, 2017 | 1 Comment » | Topics: Humanity |
It has been six years since the well-documented Fukushima disaster wrecked havoc in Japan and led to one of the most severe nuclear meltdowns in history, when the tsunami-damaged Fukushima Daiichi power plant started leaking radioactive materials. The threat of radiation exposure prompted Japanese officials to hastily evacuate the people within the government's 12.5-mile exclusion zone — including the small town of Tomokia.
Tomokia is best described as a 'ghost town' — doors to empty shops and homes remain open, and motorcycles lay in the streets with keys still in the ignition. It would seem as if every single person that once lived there has left, if not vanished into thin air.
But one man, Naoto Matsumura — arguably the most stubborn man in Japan, if not the world — chose to stay behind.
(more…)
March 3, 2017 | 10 Comments » | Topics: Humanity, Life |
Just about every time I see someone I stop. I kind of got out of the habit in the last couple of years, moved to a big city and all that, my girlfriend wasn't too stoked on the practice. Then some shit happened to me that changed me and I am back to offering rides habitually. If you would indulge me, it is long story and has almost nothing to do with hitch hiking other than happening on a road.
This past year I have had 3 instances of car trouble. A blow out on a freeway, a bunch of blown fuses and an out of gas situation. All of them were while driving other people's cars which, for some reason, makes it worse on an emotional level. It makes it worse on a practical level as well, what with the fact that I carry things like a jack and extra fuses in my car, and know enough not to park, facing downhill, on a steep incline with less than a gallon of fuel.
Anyway, each of these times this shit happened I was DISGUSTED with how people would not bother to help me. I spent hours on the side of the freeway waiting, watching roadside assistance vehicles blow past me, for AAA to show. The 4 gas stations I asked for a gas can at told me that they couldn't loan them out "for my safety" but I could buy a really shitty 1-gallon one with no cap for $15. It was enough, each time, to make you say shit like "this country is going to hell in a handbasket."
February 27, 2017 | No Comments » | Topics: Humanity |
Kenya's Tsavo West National Park is rich in wildlife, however, the land has been left dry and hot due to lack of rain over the past few years.
Hundreds of animals have perished due to thirst and heat but there's not much that the wildlife service is doing about it. But one man took matters into his own hands and he is determined to ensure that these wild animals are given enough drinking water to stay cool.
To help these animals, Mwalua rented a truck. Now, he drives for hours every single day to transport water to several areas in the national park."Last night, I found 500 buffalo waiting at the water hole," he said. "When I arrived they could smell the water. The buffalo were so keen and coming close to us."
Everyday, Mwalua carries 3,000 gallons of water to fills the watering holes. He often finds the holes dirty with buffalo droppings which he cleans to ensure the animals get to drink fresh and clean water.
This is Patrick Kilonzo Mwalua.
(more…)
January 4, 2017 | No Comments » | Topics: Humanity, Life |
There's nothing like a good haircut to make you feel like a brand new person. And the same can be said for a dog too. For shelter dogs, it can make all the difference in the world. A good haircut can not only improve their mood and their health, it can increase their chances of being adopted.
Enter Mark Imhof, a volunteer groomer for Animal Care Centers of NYC (ACC). Mark is an NYU MBA former businessman turned dog groomer. A few years ago, he wanted a career shift and to work with animals. After getting his grooming training and certification, he decided to use his skills to help transform shelter animals and make them become more adoptable.
December 15, 2016 | No Comments » | Topics: Animals, Humanity |
The Shelter Buddies Reading Program at the Humane Society of Missouri is doing wonders for everyone involved.
The concept is simple: teach kids to read to shelter dogs as a way of preparing them for forever homes, all while instilling a greater sense of empathy in the youngsters, too.
Kids who sign up for the monthly program are encouraged to sit in front of a shy dog's kennel with a book and read to them.
"We wanted to help our shy and fearful dog without forcing physical interaction with them to see the positive effect that could have on them," program director Jo Klepacki told The Dodo.
"Ideally that shy and fearful dog will approach and show interest. If so, the kids reinforce that behavior by tossing them a treat. What this is also doing is to bring the animals to the front in case potential adopters come through. They are more likely to get adopted if they are approaching and interacting, rather than hiding in the back or cowering."
November 8, 2016 | No Comments » | Topics: Animals, Humanity |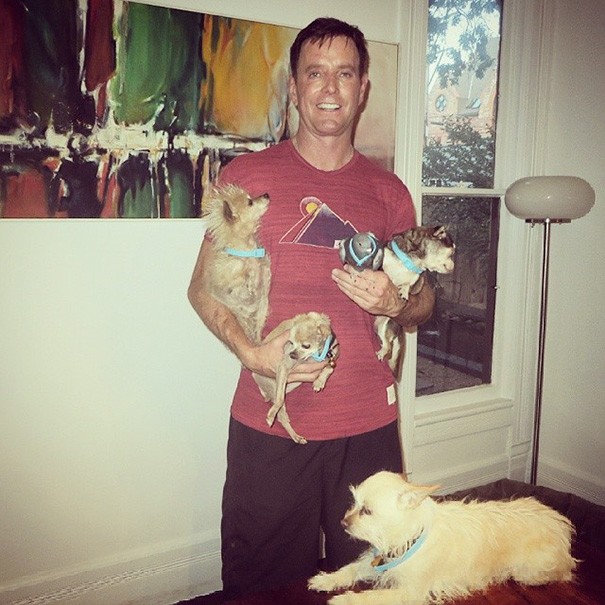 When his dog and best buddy died, animal lover Steve Greig set out to give older, overlooked dogs in shelters a new life full of love and happiness. Now, he's ended up with an entire menagerie.
His home in Denver, Colorado houses 10, mostly senior, dogs, a couple of cats, a rabbit, a pig named Bikini who thinks she's a dog, two chicks, two ducks, two pigeons and a koi-filled pond.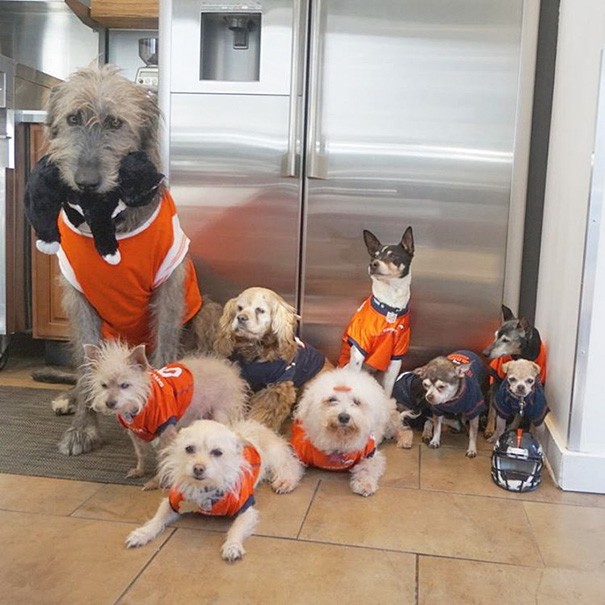 August 22, 2016 | No Comments » | Topics: Humanity |
Baltimore Ravens Offensive Tackle Ronnie Stanley and his girlfriend stopped by The Baltimore Animal Rescue and Care Shelter and made a game-winning request: "We are looking for a dog that's been here a long time and maybe not-so-adoptable."
That not-so-adoptable dog is a 6-year-old girl who was found in mid-May, locked inside a room in an empty home with no food, water, or fresh air.
"She was dehydrated and extremely frightened," BARCS wrote. "Winter has a long, hanging belly, mostly likely a result of over breeding–something we see far too often at our shelter. Due to her age, her belly is not something that will ever tighten up. Female dogs with such characteristics are often passed by in our shelter — but not by Ronnie!"
Ronnie's thoughts on her appearance, as recalled by volunteers: "Well, that's just what happens when you've had babies."
BARCS spokesperson Bailey Deacon is thrilled for what this adoption may mean for other shelter dogs.
"If big, strong, cool Ronnie chooses adoption, so will those who look up to him," she says. "And the bonus here is that he didn't come in and adopt just any dog, he specifically asked for a long-term, hard to adopt pup. How cool is that?"
August 15, 2016 | 3 Comments » | Topics: Animals, Humanity |
A California high school cross country team decided to change things up during summer workouts and, in doing so, they let the dogs out.
The St. Joseph High School Cross-Country Team in Santa Barbara, California, partnered with the Santa Barbara County Animal Shelter to get shelter dogs out of their enclosures and onto the trails and running paths where the team trains.
The team was able to give around 12 dogs a reprieve from being in the shelter by taking them on their morning run August 4. The dogs seemed to enjoy being out as well, although one pooped pooch had to be carried part of the way.
"I am not sure who was more excited and having the most fun… the dogs or the kids," Luis Escobar, former coach of the cross country team, posted on his Facebook page. "Either way, it was a great time and I am sure we will do it again sometime soon."
If you live near Santa Barbara, California, and want to adopt a dog, contact Stacy Silva at (805) 934-6981. You can also visit the Santa Barbara County Animal Shelter-Santa Maria Facebook page.