Answers
April 24, 2019 | No Comments » | Topics: Answers |
What's the deal with fighting in Hockey?
In hockey, fighting isn't seen as a way to injure someone, like it would be in "real life". There is a code of sportsmanship in hockey that goes beyond the rules of the game. When that code is broken, players will square off against the offender in defense of themselves or a teammate. For instance, it's not a penalty to intentionally bump the goaltender after play is whistled dead, but occasionally someone will. This is viewed as especially unsportsmanlike, so one of the goaltender's teammates will pick a fight with the player who bumped him in order to impress that behavior like that won't be tolerated, even if there isn't a rule against it. Essentially, if another player is acting in such a way that is considered unsportsmanlike, he might be challenged to a fight by a member of the opposing team. A player might also choose to fight as a means to motivate his team, especially during high-tension and high-pressure situations, and especially in the playoffs.
March 27, 2019 | No Comments » | Topics: Answers, Interesting |

Where do sexual fetishes come from and why do we have them?
As long as we're properly separating out "fetish" (a trigger needed to experience sexual pleasure) from "sexual orientation" (who or what we are sexually attracted to), it's largely psychological, based on early connections between sexual pleasure and a specific thing or experience.
One sociology professor of mine told a story of a man he had once counseled who had a doorknob fetish. He was unable to experience any sexual pleasure without holding onto a doorknob, and he kept boxes of them under his bed which, needless to say, was causing some friction in his marriage. Tracing it back, they realized that growing up, he'd had to masturbate in secret or risk being severely punished by his overly religious mother. Gripping tight to the doorknob to keep his mother from unexpectedly entering while he masturbated formed a lasting association that took decades to unravel.
March 20, 2019 | No Comments » | Topics: Answers |

What's it like to have big boobs?
My breasts aren't enormous to the point of looking disproportionate to my body, but they are definitely very large, and I've gotten a lot of comments from people because of them.
I remember when I first started getting boobs, I hoped for cute, perky, small ones like the kinds I saw on strong female characters in movies and TV shows. Big-breasted women were always the dumb, overly-sexualized bimbos in the media.
So when my boobs reached DD status by the beginning of high school, I was far from pleased. I remember people I knew, especially my mother, commenting on my boobs a lot, and so I began hiding then under baggy T-shirts and sweaters. I didn't like how sexualized I became just for wearing a V-neck in public, while my sister could wear flimsy spaghetti straps without a problem. People stared at me a lot, both men and women. It didn't feel good.
March 13, 2019 | No Comments » | Topics: Answers, Interesting |

How feasable is it to escape a prison by jumping the fence?

You, an inmate, think you have found a weakness on my fence line. My Fence Line consists of 2, 14ft. Tall, topped with Rolls of GLEAMING RAZORS, Razor Wire, Twisted and Triple Bladed, which my Sergeant in charge of Razorwire Installation, Sergeant B. manually created this twisted razorwire design.
One roll at the very top, 2 straddling each side, eight rolls down the fence on each side to the ground. Stacked as a pyramid from the ground to underneath the top three rolls. Imagine if you will, the entire perimeter is the jaws of the mouth of a HUGE GREAT WHITE SHARK, WITH MULTIPLE ROWS OF STEEL TEETH.
Well, right after the 7:45p Yard closing for Master Roster count, depending on daylight savings time. You, ( Gangster/Mobster/Escape Artist Extrordinaire, inmate in question), decide to HIT (Slang for Use), what you perceive, is a blind spot, on my Fence Line. Specifically, The Tower casts a shadow towards the inner perimeter fence in Zone 18. You have a couple of blankets and jackets, that you stashed to use as cover over the razorwire. (Keep in mind, this is going on while, Master Roster count is happening.)
March 6, 2019 | No Comments » | Topics: Answers, Interesting |

How long do meth addicts need for recovery?
From an ex addict of heroin and crack, I can tell you that it's not the drug, addiction is born out of a lack of something in one's life. For example, lack of love, lack of direction, etc etc.
This is pretty much a fact, and it applies to the vast majority of addicts. Nobody specifically goes out to become an opiate addict, or a speed addict, it's a matter of happenstance.
So it's not the physical addiction you need to address, it's the reason they're addicts in the first place which is the problem.
I was addicted to heroin and crack for 7/8 years, and I did a lot of work on myself in that time, and learned why I made some of the choices I made, and the drugs were usually the plaster that went on the "Boo Boo" so to speak.
It becomes an addict's way of coping. It becomes their way of escaping, so they don't have to deal with reality. That's the underlying issue, regardless of the drug we're talking about.
February 20, 2019 | No Comments » | Topics: Answers, Interesting |

Will El Chapo be able to escape from an American prison?
No way; he's done for life now. Basically he was done the moment he got extradited to the US, really. The system here has its corruption, certainly; but nowhere near the level of Mexico's.
That was always one of the main fears for foreign drug lords in fact, going all the way back to the time of Pablo Escobar; being extradited and ending up facing the full brunt of the US justice and penal system.
If he indeed is sent to the Florence, Colorado, ADMAX facility he will spend the remainder of his life (at least 22 hrs a day/365 days a year) in cells just like the one(s) photographed in this article: What it's like inside the 'Alcatraz of the Rockies,' America's toughest prison
January 30, 2019 | No Comments » | Topics: Answers, Interesting |
Who is Elizabeth Holmes and what was she all about?
Elizabeth Holmes was, by all outward appearances, a wunderkind Silicon Valley genius. She was going to revolutionize medical testing by developing a credit card-sized device that could analyze just a few drops of blood from a finger-prick, using a machine small enough it that could fit on your nightstand. You'd prick your finger into the card-size analyzer, you'd slot the analyzer into the machine, and the machine would beam the data off to a larger processing center at Theranos' headquarters. It would be quick, cheap, automatic, and idiot-proof.
This would be leaps and bounds above the only prevailing alternative, which is the normal-size syringe blood draw in a doctor's office, several days of analysis, at considerable cost. It would change the world. Everyone would have one of these devices in their homes and the enormous expense of routine medical diagnostics would be totally replaced by a small, quiet, efficient, and cheap in-home alternative. They'd be as common as any other appliance in your house. She demonstrated these devices numerous times, and on the strength of these demonstrations and on the promise of such a revolutionary and potentially ubiquitous device, she raised what was then the record for a Silicon Valley biotech startup. Her funders included Henry Kissinger, Silicon Valley billionaires, and even one of her own professors from the college that she dropped out of to start Theranos. She led Safeway on with the promise of building an on-site Theranos analysis lab in every Safeway in America – and this deal strung along for years.
January 23, 2019 | No Comments » | Topics: Answers |

What is the difference between love and infatuation?
I've found myself falling into the infatuation trap before. It's really easy to confuse it with genuine love. But for me anyway, infatuation is a lot more like a drug.
It's a feeling that consumes you with temporary euphoric highs, and deep, dark lows. It's almost like a panicked state of obsession. It fills your brain so all you can think about is that person. You start to care less about what really matters in your own life…your goals, your friends, your work. All that matters when you're infatuated, is them. And you feel a strong, leeching desire to mold yourself into the person you think they'd want you to be.
When you're infatuated with someone, when that person gets closer to you in any way, you feel a rush. Like you're on cloud 9. Like you just popped a bunch of really good ecstasy. And it feels amazing in the moment. But then when you sense them distancing from you in any way…an ignored text. A rescheduled date. Flirting with another person. Going out on the town without you. Whatever. It feels like the world is crumbling…like you're going through a withdrawal. You panic and fear you're going to lose them. There's a constant push/pull. In those moments of panic all you care about is pulling them back to you. Those up and downs can be maddening over time.
January 9, 2019 | No Comments » | Topics: Answers |

Who was the most brutal SS officer?
Oskar Dirlewanger, no questions. He was hated by the friends and foes alike. He was so cruel – and so hated – that there was an unofficial reward in Wehrmacht for killing him.
Oskar Dirlewanger was a convicted paedophile and criminal. Dirlewanger is invariably described as an extremely cruel person by historians and researchers, including as "a psychopathic killer and child molester" by Steven Zaloga, "violently sadistic" by Richard Rhodes, "an expert in extermination and a devotee of sadism and necrophilia" by J. Bowyer Bell, and "a sadist and necrophiliac" by Bryan Mark Rigg. According to Timothy Snyder, "in all the theatres of the Second World War, few could compete in cruelty with Dirlewanger".
December 12, 2018 | No Comments » | Topics: Answers, Interesting |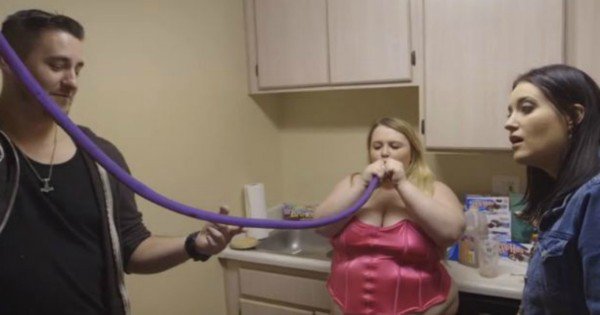 What is feederism?
People develop various tastes in their sexual development and it's beyond their control. You could just as easily ask the question: "Why do some people like people of the same gender?" The short answer is that 'it's just how they're wired.'
I am inclined to feederism myself and I don't know where it came from or exactly when it first occurred to me but seeing females that have gained weight or are gaining weight is sexually arousing to me. Personally, (to share more than you want) I have this inclination towards fulfilling gender roles where the ideal feminine form is soft, gentle and pampered, being brought nourishment by a strong, lean, provider of a male. When the female is able to become plump it signifies that these roles (rolls? – pun) are being filled. It's such a strong impulse that I don't particularly find myself compelled to seek intercourse in a relationship (although I do engage and enjoy in it – sorry if tmi).