History
August 16, 2018 | No Comments » | Topics: History |
A British officer leads the way "over the top" amid the bursting of German shells.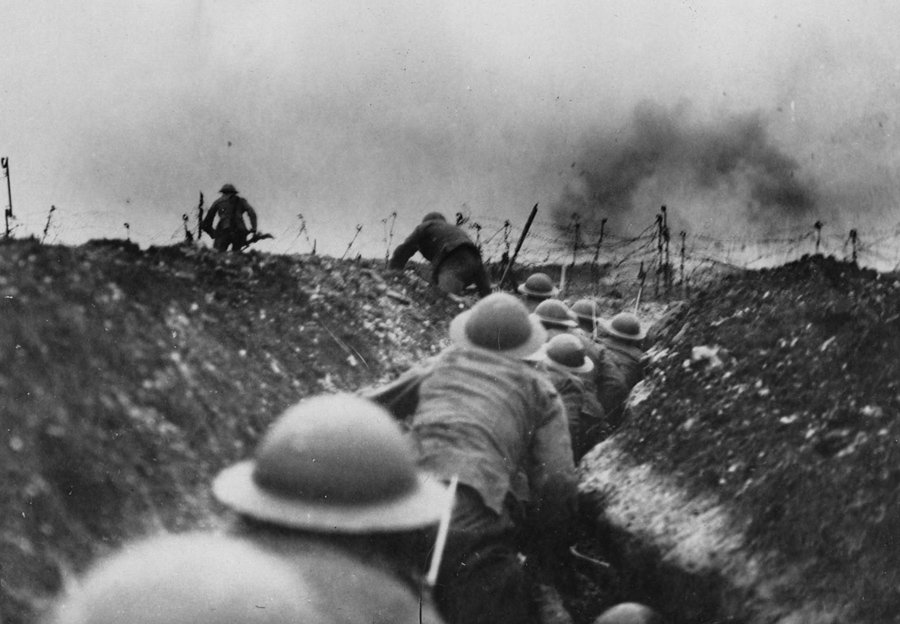 August 14, 2018 | No Comments » | Topics: History |
The date was September 9, 1942. The Soviets and Nazis were duking it out in Stalingrad, and just a few days earlier, US and Australian forces had beaten the Japanese at Milne Bay, Papua New Guinea. Most Americans were following the war on their radios and in their newspapers, and they pictured a war taking places in faraway lands with strange names like Anzio, El Guettar, and Guadalcanal. So despite all the fear-mongering posters and East Coast blackouts, most probably would've been shocked to learn there was a Japanese submarine sitting off the coast of Oregon, just waiting to launch an attack on mainland USA.
The plan was to unpack a small Zero floatplane, catapult it into the air, and have it bomb the woods around the logging town of Brookings. If all went according to plan, the bombs would start massive forest fires, sending Americans into a panic, and drawing the US fleet away from its strongholds in the Pacific islands. The man chosen for the mission was a pilot named Nobuo Fujita, and along with his observer, Shoji Okuda, the two set off toward Oregon, planning to unleash hell.
July 26, 2018 | No Comments » | Topics: History |
The "Mona Lisa" returning to the Louvre museum, after WWII, Paris 1945
July 19, 2018 | No Comments » | Topics: History |
German immigrants arriving at Ellis Island, NY circa 1900
June 28, 2018 | No Comments » | Topics: History |
Harley-Davidson assembly line.

1909
June 5, 2018 | No Comments » | Topics: History, Interesting |
In 1933, Lina Medina was born in Ticrapo, Peru. At the age of five years, Lina was brought to hospital by her parents who complained of abdominal extreme growth. The girl's parents initially thought their daughter was suffering from a massive abdominal tumor, but after being examined by doctors in Pisco, Peru, they discovered she was seven-months pregnant.
Dr. Geraldo Lozada became Lina's attending doctor, fully taking over the case. Dr. Lozada took Lina to a more advanced hospital in Lima to confirm the pregnancy diagnosis. The diagnosis was confirmed. Lina was born with a rare condition called "precocious puberty". Precocious puberty is basically the early onset of sexual development. Most girls begin experiencing puberty around the age of ten (boys usually start a little later, around the ages of 11 or 12). Lina had experienced her first menstrual cycle at the age of two and a half or three. She had fully developed breasts by the age of four. Within five years, her body displayed pelvic widening and advanced bone maturation.
June 5, 2018 | No Comments » | Topics: History |
A Kamikaze Pilot before Commencing His Last Mission, 1944-1945
The Last Letters Of Kamikaze Pilots
May 17, 2018 | No Comments » | Topics: History |
 A man wears a wooden 'cangue' around his neck as he is being punished by starvation for a crime in Shanghai, China, 1874.

April 19, 2018 | No Comments » | Topics: History |
Richard Pierce – 14 years of age, works as a Western Union Telegraph Messenger. with nine months of service. He works from 7 a.m. to 6 p.m. Smokes. Visits houses of prostitution. Wilmington, Delaware, ca. May 1910
April 3, 2018 | No Comments » | Topics: History |

(Jack Churchill (far right) leads a training exercise, sword in hand, from a Eureka boat in Inveraray)
In 1940, some of the German commanders who were overseeing the push into France began to receive seemingly random reports of soldiers having been killed with broad-head arrows or hacked with a English Claymore. Effective enough weapons it would seem, but archaic even in that day and age. They likely could have guessed the bowman was an English soldier, but they couldn't have appreciated these as the calling card of the rabid eccentric, Captain Jack Churchill.
Born into an old Oxfordshire family, he graduated from the Royal Military Academy at Sandhurst in 1926. Before his World War II fame, Mad Jack worked as an editor of a Nairobi newspaper, a model, and a movie extra, appearing in The Thief of Bagdad due to his expertise with a bow. That same talent with archery took him to Oslo, Norway where he shot for Britain during the world championships in 1939.
By this time, of course, Europe was fast approaching World War II. Mad Jack had left the army after ten years of service, but happily returned to it because of the "country having gotten into a jam in my absence."
By May 1940, Mad Jack was the second in command of an infantry company. He always marched into battle with a bow and arrows and his trusty basket-hilted claymore by his side. Despite these weapons being wildly outdated, Churchill defended them, saying, "In my opinion…any officer who goes into action without his sword is improperly dressed."