Interesting
December 26, 2018 | No Comments » | Topics: History |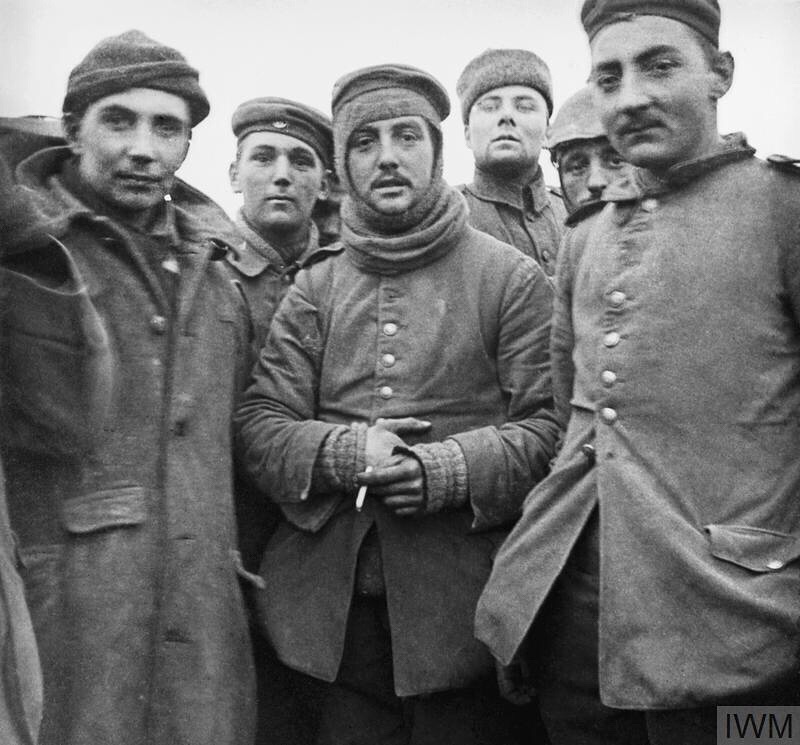 During World War I, in the winter of 1914, on the battlefields of Flanders, one of the most unusual events in all of human history took place. The Germans had been in a fierce battle with the British and French. Both sides were dug in, safe in muddy, man-made trenches six to eight feet deep that seemed to stretch forever.
All of a sudden, German troops began to put small Christmas trees, lit with candles, outside of their trenches. Then, they began to sing songs. Across the way, in the "no man's land" between them, came songs from the British and French troops. Incredibly, many of the Germans, who had worked in England before the war, were able to speak good enough English to propose a "Christmas" truce.
The British and French troops, all along the miles of trenches, accepted. In a few places, allied troops fired at the Germans as they climbed out of their trenches. But the Germans were persistent and Christmas would be celebrated even under the threat of impending death.
(more…)
December 20, 2018 | No Comments » | Topics: History, Interesting |
A 'Knocker-up' was hired to ensure that people would wake up on time for their jobs. Mary Smith earned sixpence a week shooting dried peas at sleeping workers' windows in East London in the 1930s.
She would not leave a window until she was sure that the workers had woken up.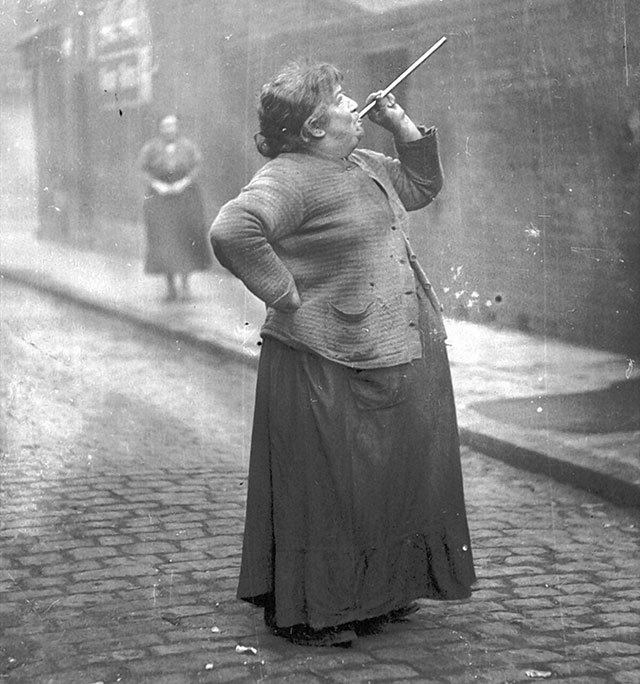 December 18, 2018 | No Comments » | Topics: Fascinating, Interesting |
Comedian Artie Lange's nose after snorting cocaine and glass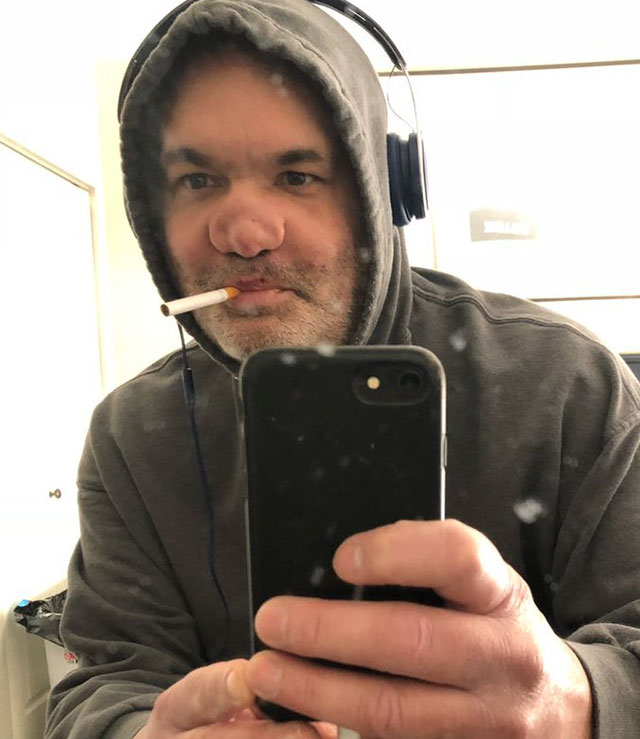 Artie Lange – Glass Snorting Incident
December 12, 2018 | No Comments » | Topics: Answers, Interesting |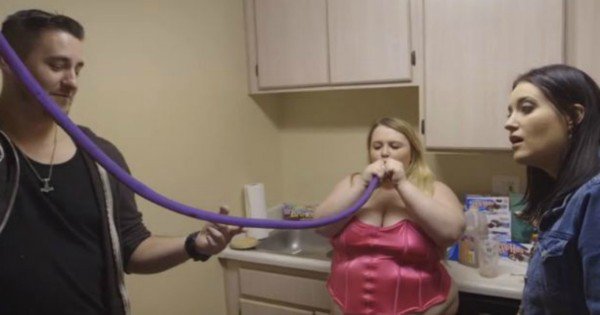 What is feederism?
People develop various tastes in their sexual development and it's beyond their control. You could just as easily ask the question: "Why do some people like people of the same gender?" The short answer is that 'it's just how they're wired.'
I am inclined to feederism myself and I don't know where it came from or exactly when it first occurred to me but seeing females that have gained weight or are gaining weight is sexually arousing to me. Personally, (to share more than you want) I have this inclination towards fulfilling gender roles where the ideal feminine form is soft, gentle and pampered, being brought nourishment by a strong, lean, provider of a male. When the female is able to become plump it signifies that these roles (rolls? – pun) are being filled. It's such a strong impulse that I don't particularly find myself compelled to seek intercourse in a relationship (although I do engage and enjoy in it – sorry if tmi).
December 5, 2018 | No Comments » | Topics: Fascinating, Interesting |
George H. Bush letter to Bill Clinton on inauguration in 1993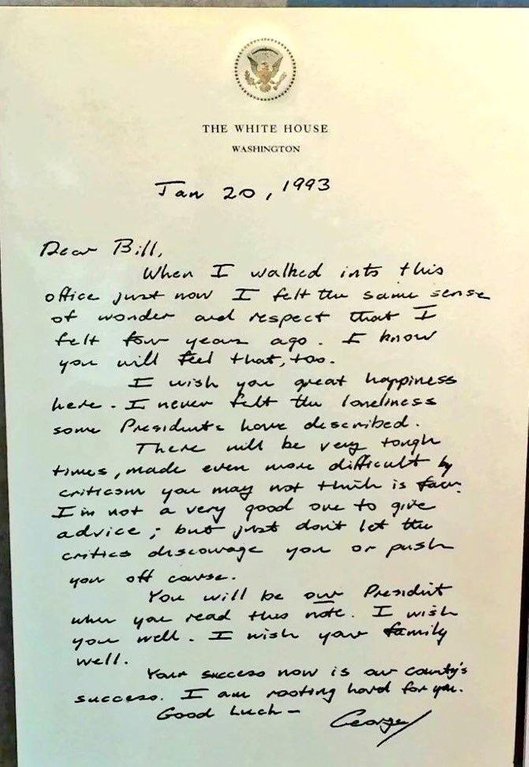 December 5, 2018 | No Comments » | Topics: Answers, Interesting |

What is it like to be a lifelong smoker?
I have smoked for 23 years. I am currently 39 years old. Apart from internal damage that I just don't know about yet, here is how smoking has affected my life:
Running for any considerable distance is impossible. I lose my breath quickly.
Swimming for any considerable distance is impossible. I lose my breath quickly.
I clear my throat about 100 times per day.
I cough about 100 times per day.
I wake up with a sore throat regularly.
I, along with my home and vehicle, smell like cigarette butts.
The reward centers of my brain are broken—I'm constantly looking forward to the next cigarette even though they are not pleasurable in any real way.
I spend more than $100 per month on cigarettes.
No matter where I am or what I'm doing, I have a nagging compulsion to stop and smoke. Whether I'm working, relaxing, playing video games, having a conversation with friends or anything else, I am always anticipating the next "smoke break". To a smoker, life is what happens between cigarettes…which is pathetic and sad.
Running out of cigarettes is not an option. If I had no cigarettes, I would have an anxiety attack. Smokers like to call them "nicotine fits" but let's call them what they really are—ANXIETY ATTACKS. They're a symptom of mental illness and severe addiction.
November 28, 2018 | No Comments » | Topics: Interesting |

How would a psychopath feel psychologically if they were violently raped?
Psychopaths don't feel empathy, fear, or remorse like normal people. They aren't capable of experiencing emotional pain. So how would they feel if something that is normally traumatic for most people happened to them?
Any pain that I have endured loses it effectiveness over time, as does medication & other drugs. There are some sources of pain that I find enjoyable, like splinters or hot baths.
Whether I can mark this down to pain tolerance, or simple adaptation, I am not sure. One thing is certain, anything that arouses pleasure or pain loses it effectiveness & quickly at that.
I was raped a few years ago, vaginally and anally in a violent fashion repeatedly over the course of 5 days. During that time I felt little to nothing at the end of the ordeal in regards to my skin sensitivity. Mentally, I was not in distress. Vengeance was the only thing that served my mind, and served me quite well in terms of justice. He now lives & begs on the streets, and I have immense pleasure seeing him doing so, I think it is rather fitting given his actions.
November 27, 2018 | No Comments » | Topics: Facts |
Freddie Mercury of Queen held a party in New Orleans in 1978, which featured nude waiters and waitresses, a man biting heads off live chickens, naked models wrestling in a liver pit, and dwarves walking around with trays of cocaine strapped to their heads. (article)
Fortified by "lines of marching powder as long and as thick as your grandmother's arm", the guests are free to choose from a menu of exotic diversions.
The hotel ballrooms, made up to resemble labyrinthine jungle swamps, are swarming with magicians, Zulu tribesmen, contortionists, fire-eaters, drag queens and transsexual strippers. Drinks are served by naked waiters and waitresses who politely request that any tips are placed not on trays but in bodily crevices.
Naked dancers cavort in bamboo cages suspended from ballroom ceilings. Nude models of both sexes wrestle in huge baths of shimmering, uncooked liver, while 300lb Samoan women lounge on banquet tables, smoking cigarettes from various orifices.
As a bonus, visitors to the hotel's grand marble bathrooms are orally serviced by prostitutes of both sexes.
"Most hotels offer their guests room service," quips a passing Mercury. "This one offers them lip service."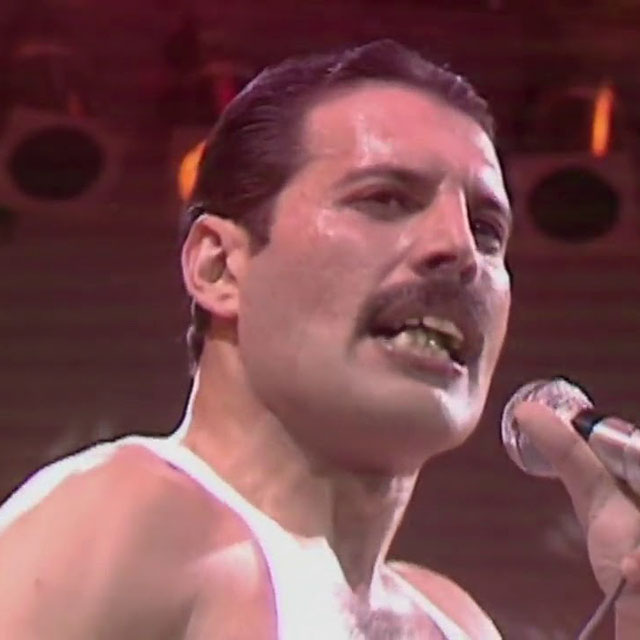 November 27, 2018 | No Comments » | Topics: History, Interesting |
Camp guards at concentration camp Buchenwald, who were captured and beaten by the prisoners on the day of liberation. April 1945
November 26, 2018 | No Comments » | Topics: Fascinating |
The Social Media Queue