Interesting
April 24, 2014 | No Comments » | Topics: Interesting |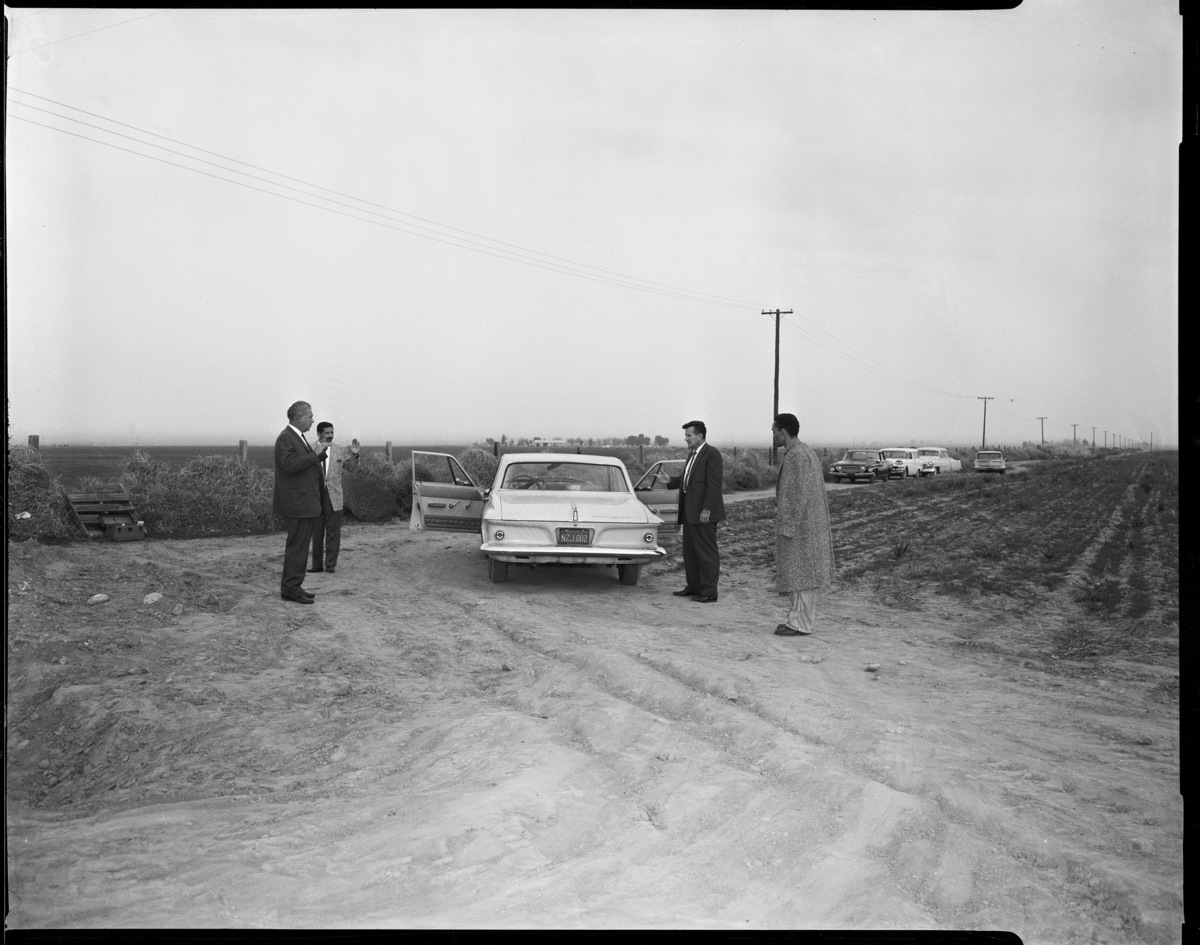 Back in 2001, photographer Merrick Morton—who also happens to be a reserve LAPD officer—came upon a massive archive of Los Angeles Police Department crime scene and evidence photos which had been hidden for decades in a huge storage facility in downtown LA. The photos were buried among 150 years of police records in cardboard boxes.
When it was discovered that some of the boxes contained decomposing cellulose nitrate negatives, a serious fire hazard, the Fire Department recommended that all the negatives be destroyed. The team lobbied for the archive to be only selectively destroyed and their efforts paid off; some boxes of images were determined to be unsalvageable and destroyed, while the remaining images were sent to a cold storage facility where they reside today.
Around one million photos have been unearthed so far and choice selections, presented by Fototeka, will be exhibited at Paramount Pictures Studios from April 25-27 in Los Angeles.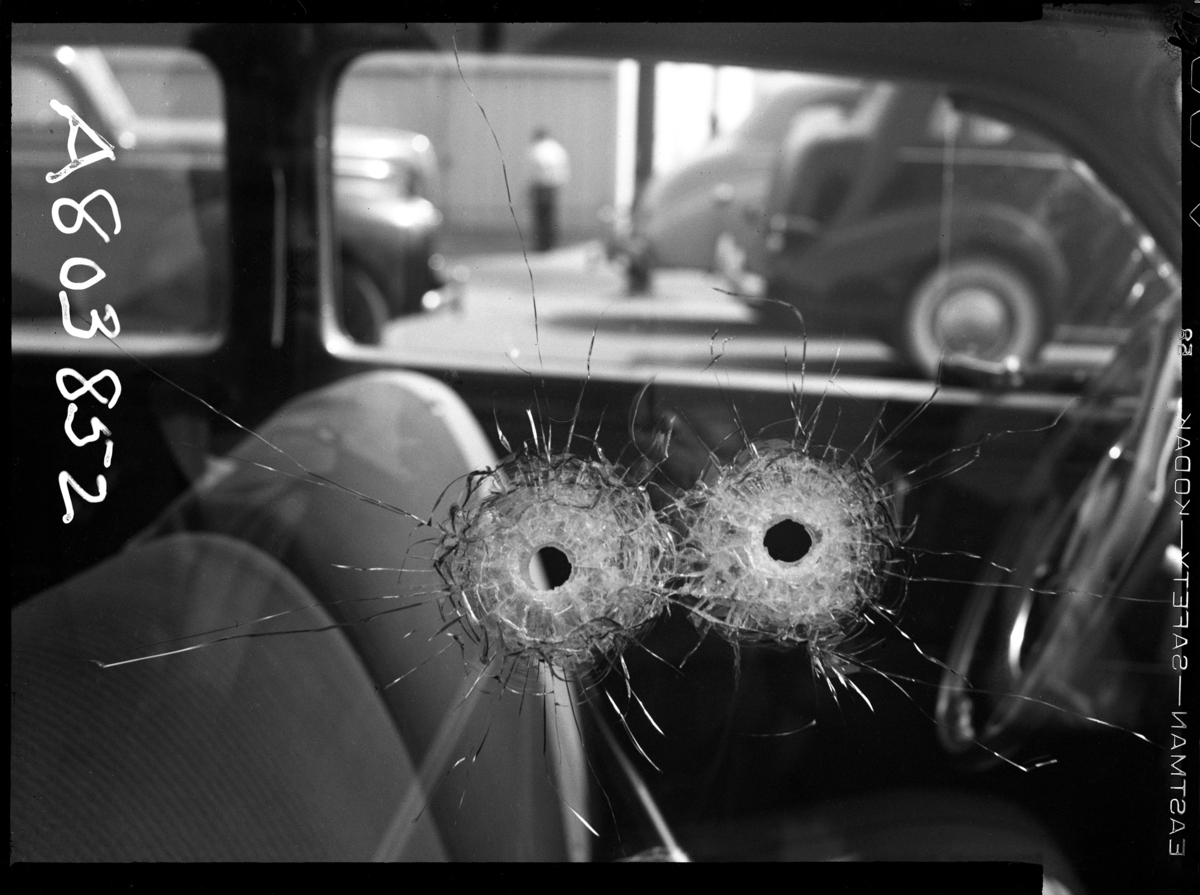 Detail of two bullet holes in car window Date: 10/10/1942
April 23, 2014 | 2 Comments » | Topics: Interesting |
Honeywell AS907-1-1A turbofan engine
Ferrari Enzo cam and oil pump gear assembly
April 21, 2014 | 7 Comments » | Topics: Interesting |
Would-be suicide bomber hog-tied before he managed to set off his bomb
This 29 year old teacher was having sex with a 17 year old student….Niiiccceee (article)
April 15, 2014 | 10 Comments » | Topics: Interesting |
by Jon Davis
Generally, given the rules that you set down I don't think the U.S. would lose.That said, not losing is far from winning. We would suffer greatly and no longer be a world power worth speaking of. We would probably be little more than another third world power grasping for scraps. But we would maintain our sovereignty. The reason I think we would not lose are because without a nuclear strike and force large enough to take us out would take so long to muster and need to secure so much land that there is almost no way they would succeed in conquering us before we mount a counteroffensive or even first strike against them. You'll see what I mean later.
Just for fun though… I wrote a scene of what I think it would be like if the rest of the world could use nukes. It is a much more entertaining story. 
Well if every country decided to go at it with us for poops and giggles then yes, I would think they would win. Sadly you got me considering how it would go down and I feel compelled to draw it out for future pessimists in the way I see that it might happen. The following sources for this come from my years in the United States Marine Corps including two very boring deployments where I spent months having these goofy hypothetical what ifs, amateur study of modern civilization strength and technology, and watching the 1980's classic Red Dawn. Enjoy:
April 14, 2014 | 7 Comments » | Topics: Interesting, main |
The last known photo of Chris Benoit, taken on a cell phone by a fan at Dr. Phil Astin's office on June 22nd, 2007. It was later determined that his wife was already dead by the time this photo was taken. 
This photo was taken by a Filipino politician, of his family, and, unbeknownst to him, his own assassin
April 14, 2014 | 2 Comments » | Topics: Interesting, main |
Woman arrested multiple times….just say NO to METH people! (more info)
Suicide Nets At Foxconn (Apple's factory in China)
April 10, 2014 | 6 Comments » | Topics: Interesting |
Here is the current contract and salary info for most active members of the WWE roster.
These figures are rounded up from the original figures we received. These figures do not include, PPV or appearance bonuses, nor do they include the merchandise cut that each performer receives. Some performers receive an additional percentage added to their merchandise cut, if they are a high merchandise seller, and these are noted.
Note 1: It would appear that WWE's standard contract lengths are 1 year, 3 year, 5 year, 7 year and 10 year.
Note 2: Some performers are offered a higher merchandise royalties percentage for taking a smaller downside. These figures were not made available to us.
Note 3: The executive office and "legends" contracts were not made available to us. These contracts operate on a different system entirely.
Note 4: The Undertaker is believed to be on a per-appearance contract, in which he is paid an agreed upon rate (a long with the typical PPV bonus if he wrestlers) for each appearance he makes for the company. Undertaker of course, still receives his merchandise royalties, etc, but isn't on a downside contract. Undertaker is not on a legends contact, which means he cannot make appearances for independent promotions.
– CEO and Chairman Vince McMahon – $1,184,500
– Chief Financial Officer and Chief Strategy Officer George Barrios – $700,000
– Executive Producer Kevin Dunn – $700,000
– WWE Studios President Michael Luisi – $600,000
– Executive VP of Talent, Live Events and Creative Paul "Triple H" Levesque – $550,000 (he also has a talent contract for $1,000,000 a year)
April 9, 2014 | 15 Comments » | Topics: Interesting |
Cornell's Varsity Rowing Team, 1911
World War II propaganda posters in Port Washington, New York, on July 8, 1942