Life
November 30, 2018 | No Comments » | Topics: Life |
November 30, 2018 | No Comments » | Topics: Life |
Man breaks through ice to save his dog
November 30, 2018 | No Comments » | Topics: Life |
Riley Morrison wrote in her letter that she's a big fan of the Golden State Warriors point guard and she wanted a pair of Icon Curry 5 sneakers, but when she visited the Under Armour website to buy them, she didn't see them listed under the girls' section.
"Dear Mr. Stephen Curry,
My name is Riley (just like your daughter), I'm 9 years old from Napa, California. I am a big fan of yours. I enjoy going to Warriors games with my dad. I asked my dad to buy me the new Curry 5s, because I'm starting a new basketball season. My dad and I visited the Under Armour website and were disappointed to see that there were no Curry 5s for sale under the girls section. However, they did have them for sale under the boys section, even to customize. I know you support girl athletes because you have two daughters and you host an all-girls basketball camp. I hope you can work with Under Armour to change this because girls want to rock the Curry 5s, too.
Sincerely,
Riley Morrison"
On Thursday, Steph Curry tweeted the handwritten note that he sent Riley in response.
November 26, 2018 | No Comments » | Topics: Life |
November 21, 2018 | No Comments » | Topics: Life |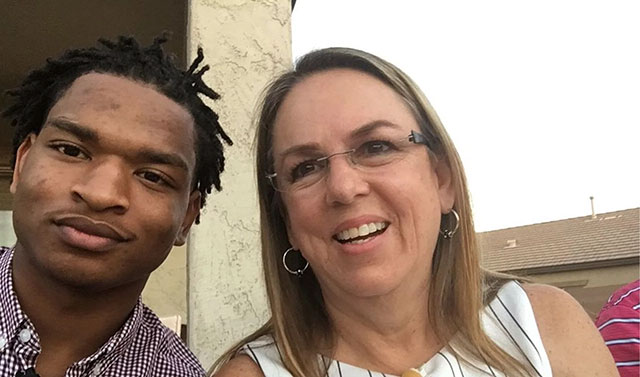 Sometimes a text from a wrong number can lead to a free Thanksgiving meal!
When Phoenix teenager Jamal Hinton received a text from an unknown phone number inviting him to Thanksgiving dinner, he thought it was "pretty funny, but kinda weird."
"The text said, 'Thanksgiving at my house' and it was from a grandma, but I was like, 'When did my grandma learn to text!?'
November 21, 2018 | No Comments » | Topics: Animals, Life |
There is an IKEA located in Catania, Italy that keeps its doors open to stray dogs. The store will allow dogs to come in, lay on the rugs inside the store, and stay warm so they don't have to sleep in the cold. This IKEA store keeping their doors open in the cold weather for pups went viral on Facebook by a user named Vittoria Taccia Gabrielli who said she was 'amazed' by the gesture.
Taccia posted a video of the dogs in the store lounging about on the furniture and rug displays; happy, warm, and sleeping!
"The dogs receive daily food and pampering from IKEA's employees and customers," Taccia said. "Some dogs have even found a family, going home with customers."
"A good initiative to shelter the strays while it's raining outside," Gabrielli wrote in Italian on her Facebook page, "All this happens in the shopping center of IKEA(Catania)."
The video she shared, which was actually recorded by her daughter, has nearly 18,000 shares and over 1 million views. Many people have reached out to IKEA, praising them for opening their doors to stray dogs.
November 16, 2018 | No Comments » | Topics: Life |
November 16, 2018 | No Comments » | Topics: Life |
Bodybuilder making a blind fan's day
November 9, 2018 | No Comments » | Topics: Life |
November 5, 2018 | No Comments » | Topics: Life |
John Chhan and his wife, Stella, used to sell doughnuts every day for nearly 30 years out of their shop, Donut City, in Seal Beach. But that changed after Stella Chhan suffered a brain aneurysm in September, and was placed in a nursing home.
Soon after, customers began to notice that Stella Chhan wasn't selling doughnuts with her husband anymore.
But after hearing about her illness, the community initially offered to set up a GoFundMe account for the couple, but John declined the offer saying he simply wants to spend more time with his wife. So, customers have endeavored to help Donut City sell out early every day so he can return to the rehabilitation center where she is recovering. business picked up, and the store began selling doughnuts at a much faster pace as customers pitched in to help John Chhan close early so that he could go visit his wife.