Life
December 7, 2018 | No Comments » | Topics: Life |
Girlfriend gives heartwarming surprise to Marine at his graduation
December 7, 2018 | No Comments » | Topics: Life |
If you ever wanted a prime example of a husband's unfailing devotion to his wife, this is it. Tracy Spraggins was losing a lifelong battle with lupus, and needed a kidney transplant to turn things around. Her husband immediately got tested to see if he could give her one of his, and was thrilled to find out he was indeed a match. However, the doctors told him he couldn't be her donor in his condition.
Tracy had been diagnosed with lupus when she was just 6 years old. In 2013, her health had begun to deteriorate to the point where she needed to be placed on a kidney transplant list. This was a difficult blow for her since her sister had died a few months before due to complications during a kidney transplant. There also was no guarantee she'd live long enough to get a new kidney, because the list had a seven-year wait. That's when her husband stepped up.
However, P.J. Spraggins weighed 265 pounds when he was tested to be a transplant match for his wife, which made him an unfit candidate to donate a kidney. The doctors told him he should lose at least 30 pounds before they would consider going forward with the transplant. P.J. did just that, but upon getting retested, he found out losing weight was only half the battle.
November 30, 2018 | No Comments » | Topics: Life |
November 30, 2018 | No Comments » | Topics: Life |
Man breaks through ice to save his dog
November 30, 2018 | No Comments » | Topics: Life |
Riley Morrison wrote in her letter that she's a big fan of the Golden State Warriors point guard and she wanted a pair of Icon Curry 5 sneakers, but when she visited the Under Armour website to buy them, she didn't see them listed under the girls' section.
"Dear Mr. Stephen Curry,
My name is Riley (just like your daughter), I'm 9 years old from Napa, California. I am a big fan of yours. I enjoy going to Warriors games with my dad. I asked my dad to buy me the new Curry 5s, because I'm starting a new basketball season. My dad and I visited the Under Armour website and were disappointed to see that there were no Curry 5s for sale under the girls section. However, they did have them for sale under the boys section, even to customize. I know you support girl athletes because you have two daughters and you host an all-girls basketball camp. I hope you can work with Under Armour to change this because girls want to rock the Curry 5s, too.
Sincerely,
Riley Morrison"
On Thursday, Steph Curry tweeted the handwritten note that he sent Riley in response.
November 26, 2018 | No Comments » | Topics: Life |
November 21, 2018 | No Comments » | Topics: Life |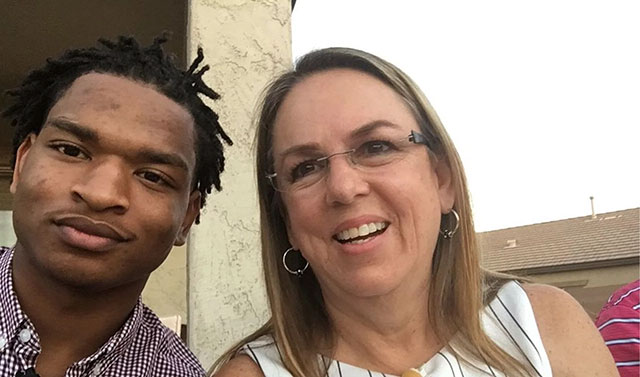 Sometimes a text from a wrong number can lead to a free Thanksgiving meal!
When Phoenix teenager Jamal Hinton received a text from an unknown phone number inviting him to Thanksgiving dinner, he thought it was "pretty funny, but kinda weird."
"The text said, 'Thanksgiving at my house' and it was from a grandma, but I was like, 'When did my grandma learn to text!?'
November 21, 2018 | No Comments » | Topics: Animals, Life |
There is an IKEA located in Catania, Italy that keeps its doors open to stray dogs. The store will allow dogs to come in, lay on the rugs inside the store, and stay warm so they don't have to sleep in the cold. This IKEA store keeping their doors open in the cold weather for pups went viral on Facebook by a user named Vittoria Taccia Gabrielli who said she was 'amazed' by the gesture.
Taccia posted a video of the dogs in the store lounging about on the furniture and rug displays; happy, warm, and sleeping!
"The dogs receive daily food and pampering from IKEA's employees and customers," Taccia said. "Some dogs have even found a family, going home with customers."
"A good initiative to shelter the strays while it's raining outside," Gabrielli wrote in Italian on her Facebook page, "All this happens in the shopping center of IKEA(Catania)."
The video she shared, which was actually recorded by her daughter, has nearly 18,000 shares and over 1 million views. Many people have reached out to IKEA, praising them for opening their doors to stray dogs.
November 16, 2018 | No Comments » | Topics: Life |
November 16, 2018 | No Comments » | Topics: Life |
Bodybuilder making a blind fan's day