WTF
July 11, 2018 | No Comments » | Topics: WTF, Story |
An artist in the Philippines has been slammed on social media after devising a self-made mini electric chair to execute a cockroach that had the misfortune of flying into the artist's window on a hot day.
According to his Facebook, Gabriel Co Tuazon, caught the flying insect in an old matchbox on Wednesday and decided to design and build a mini wooden chair and connect it to battery wires and a light bulb. He then videoed himself strapping the insect to the chair, placing a metal lid on its head and plugging in the wires sending an electric current through the tiny body of the insect – the roach writhing in pain as the current penetrated its body.
June 14, 2018 | No Comments » | Topics: WTF |
March 6, 2018 | No Comments » | Topics: WTF |
February 5, 2018 | 3 Comments » | Topics: WTF, Story |
Steven Pladl, 42, of Knightdale, and Katie Pladl, 20, were arrested Jan. 27, WNCN-TV reported, citing "warrants." They have also been charged with adultery and contributing to delinquency. The maximum sentence for the incest charge is 10 years in prison.
The child, a boy, was born in September, the station reported.
Steven Pladl was released on a $1 million bond. Katie Pladl's bond is also $1 million but as of last week she was still being held in a North Carolina jail. They appeared in court last week.
The charges were brought in Virginia where authorities believe the relationship began.
The station reported that Pladl gave up Katie for adoption when she was an infant.
They reunited in 2016 when she tracked him down through social media.
At the time, Pladl was living outside Richmond with his wife, Katie's mother, and their two children, girls who would have been Katie's sisters.
Katie moved into the home, the station reported.
January 22, 2018 | 13 Comments » | Topics: WTF, Story |
Ginuwine has become the subject of debate on Twitter after he refused to kiss a trans woman on television.
In the clip above, the R&B vet is among the celebrities featured on the reality show Big Brother UK. On a recent episode, co-star India Willoughby, who identifies as a trans woman, asked Ginuwine would he date a trans woman to which he replied, no. Willoughby then tries to kiss Ginuwine and is immediately curved to the tenth power.
The clip has sparked a heated debate on Twitter over whether Ginuwine was transphobic for refusing to kiss a trans woman on live television. 
One apparent activist on Twitter called Ginuwine "transphobic," adding that the singer "has an irrational fear of transgender women" and that "this is not rocket science."
January 9, 2018 | 7 Comments » | Topics: WTF, Story |
Hisashi Ouchi was one of the technicians working at a facility operated by JCO (formerly Japanese Nuclear Fuel Conversion Co.) in Tokai of Ibaraki Perfecture. He is one of the two fatalities of Tokaimura nuclear accident that exposed him to, perhaps, the highest amount of radiation any human had exposed so far. The ethical value of his prolonged treatment and efforts to keep him alive, that lasted for almost three months despite his wishes and the pain he had to endure, was questioned and the efforts received criticism.
The accident occurred on September 30, 1999, when Hisashi Ouchi and two of his colleagues added a seventh bucket of aqueous uranyl nitrate solution to a precipitation tank. Upon adding, the tank reached critical stage and went into a self-sustaining nuclear fission chain reaction releasing intense gamma and neutron radiation. 
During the accident, Ouchi was exposed to 17 sieverts of radiation with 8 sieverts being normally considered fatal and 50milli sieverts being the maximum limit of annual dose allowed for Japanese nuclear workers. 
December 18, 2017 | No Comments » | Topics: WTF, Story |
There comes a time in every man's life where he decides that having sex with 1000 cars does not give him the emotional fulfilment he so desires. This is what Edward Smith, 63, realized after giving up his lothario ways and committing to his one true love; Vanilla, a Volkswagen Beetle. Sure, he had his fun; by his own estimate he's given over 1000 cars a good rogering over the past 48 years. But Vanilla's seductive alabaster exterior and voluptuous curves blew away all of the competition.
November 29, 2017 | 5 Comments » | Topics: WTF |
On November 13, 1985, the Nevado del Ruiz volcano erupted. Pyroclastic flows exploding from the crater melted the mountain's icecap, forming lahars (volcanic mudflows and debris flows) which cascaded into river valleys below. One lahar, consisting of three pulses, did most of the damage. Traveling at 6 meters (20 ft) per second, the first pulse enveloped most of the town of Armero, killing up to 20,000 people; the two later pulses weakened buildings. Another lahar killed 1,800 people in nearby Chinchiná. In total 23,000 people were killed and 13 villages in addition to Armero were destroyed.
Omayra Sánchez was a little 13 year old girl who lived in Armero when the "Nevado del Ruíz" erupted. When the lahar destroyed her house, her father and aunt died inside. She was able to survive the lahar, but when rescue teams tried to help her, they realized that her legs were trapped under her house's roof. Once the girl was freed from the waist up, her rescuers attempted to pull her out, but found the task impossible without breaking her legs in the process. Rescue workers placed a tire around her body to avoid her to drown. Divers discovered that Sánchez's legs were caught under a door made of bricks, with her aunt's body under her feet.
November 28, 2017 | 2 Comments » | Topics: Story, WTF |
November 21, 2017 | 20 Comments » | Topics: WTF |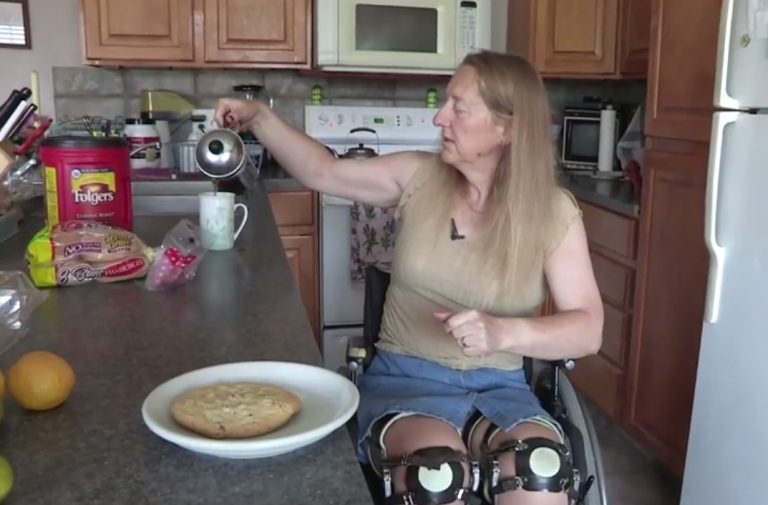 Chloe Jennings-White of Utah says that she's known from a very young age that she is supposed to be disabled, even though she has always been perfectly healthy.
"I think it was about 4 years old that I first consciously knew that my legs are not supposed to work. I'm not supposed to be able to walk," Jennings-White told ABC 4 in Utah.
Jennings-White is 58-years-old and has degrees from both Cambridge and Stanford Universities. She's an accomplished research scientist and is happily married. So why the desire to be permanently disabled?