WTF
November 16, 2017 | 18 Comments » | Topics: WTF |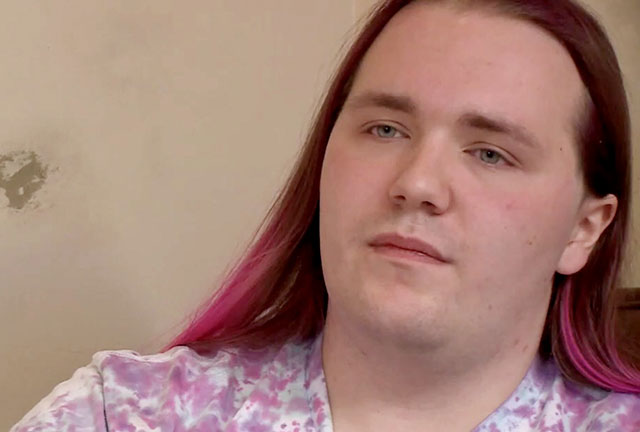 A man who was born white says he considers himself a Filipino.
Ja Du, whose birth name is Adam, identifies as 'transracial', meaning he feels he is a different ethnicity than the one assigned to him. He told news station WTSP that he feels most comfortable when surrounded by Filipino culture, which he grew up enjoying.
"Whenever I'm around the music, around the food, I feel like I'm in my own skin," he says. "I'd watch the History Channel, sometimes for hours… nothing else intrigued me more, but things about Filipino culture."
October 19, 2017 | 7 Comments » | Topics: WTF |
Fuck everything about this shit….
Gov. Jerry Brown signed a bill Friday that lowers from a felony to a misdemeanor the crime of knowingly exposing a sexual partner to HIV without disclosing the infection.
The measure also applies to those who give blood without telling the blood bank that they are HIV-positive.
Modern medicine allows those with HIV to live longer lives and nearly eliminates the possibility of transmission, according to state Sen. Scott Wiener (D-San Francisco) and Assemblyman Todd Gloria (D-San Diego), authors of the bill.
"Today California took a major step toward treating HIV as a public health issue, instead of treating people living with HIV as criminals," Wiener said in a statement. "HIV should be treated like all other serious infectious diseases, and that's what SB 239 does."
(more…)
September 11, 2017 | 1 Comment » | Topics: WTF |
It's hard to imagine why anyone would voluntarily infect themselves with one of the deadliest viruses in human existence, but for "Los Frikis" – a Cuban punk community living under the regime of Fidel Castro during the 80s and 90s – injecting themselves with HIV-infected syringes was the easiest way to escape persecution and police harassment.
Los Frikis, the name than became synonymous with punks, metalheads and pretty much anyone who didn't fit in with mainstream Cuban society, came together during the late 1980's. Their music, dressing style and culture were influenced by that of similar communities in the United States and other European countries, something that didn't sit well with Fidel Castro's communist regime. Most of the bands also sang in English, which only made things worse for Frikis in general. Although the language was purely an aesthetic choice, speaking English in those days was considered a huge no-no.
Breaking social norms was a risky affair in 1980s Cuba, and the Frikis paid a high price for it. Many of them were rejected by their families, harassed, arrested and forced to do manual labor for their "crimes". Los Frikis would meet in safehouses located in run-down areas, but other than that they didn't have many places where they felt accepted. Tired of the constant persecution, many of them  took up a form of protest that can only be described as extreme – infecting themselves with HIV by injecting the blood of their sick friends into their veins.
August 10, 2017 | 6 Comments » | Topics: WTF |
In 1979 Marina Abramovic, an as yet unknown performance artist living in Soviet Russia, created one of the most controversial, fascinating, and dangerous performance pieces in art history. She called it Rhythm 0, and it was as much a work of daring contemporary art as it was a massive social experiment that pulled the veil on human nature, and laid bare the consequences of leaving ourselves, our bodies and our lives in the hands of strangers.
For six hours, she put her life and body completely in the hands of strangers, turning herself into an object to be used, as one wished. During this time she agreed to remain passive, and unresponsive until the experiment was over. Abramovic decided that she would just quietly and limply observe. For the audience, there were no immediate consequences. 
At first, only photographers were going near her.
The premise of "Rhythm 0" was deceptively simple: Abramovic would stand still for six hours straight while the people who came to see her were urged to do whatever they wanted to her using one of 72 objects that she had placed on a table.
August 9, 2017 | 12 Comments » | Topics: WTF |
Jewel Shuping was born with perfectly healthy eyes, but she told Barcroft TV in a recent interview that growing up there was always something missing.
"By the time I was six I remember that thinking about being blind made me feel comfortable," she said. She fantasized constantly about losing her vision, and spent hours staring directly at the sun after her mother warned her that it would damage her eyes.
At first, Shuping simply pretended to be blind, going about with sunglasses on, her eyes closed, and using a cane to navigate. She also became fluent in braille. But after a while, that just wasn't enough.
"By the time I was 21 it was a non-stop alarm that was going off," she says in the video. So, she did the only rational thing: She got a sympathetic psychologist to pour drain cleaner in her eyes.
"I laid down on the sofa, and he sat next to me, dropped two drops into each eye," she says matter-of-factly. "In the moment, all I could think of was 'I'm going blind, it's going to be okay.'"
"When I woke up the following day, I was joyful, until I turned on my back, opened my eyes, and could see the TV screen," she says. Then, thankfully, over the next six months her eyes gradually failed due to the damage, and Shuping was finally blind like she'd always dreamed. She says she has no regrets.
August 2, 2017 | 3 Comments » | Topics: WTF |
New never-seen-before footage on ABC's 20/20 shows the moment US border officers allegedly urged Mexican teenager Cruz Velazquez Acevedo to drink liquid methamphetamine, which killed him within hours.
The 16-year-old high school student had been trying to smuggle the highly toxic drug into the US from Mexico when he was stopped by border officers.
When he claimed the liquid in the two bottles he was carrying was apple juice the two allegedly encouraged him to drink from one of them to prove it wasn't contraband.
He took four sips and started suffering convulsions shortly afterwards, reportedly shouting in Spanish "the chemicals!" and "my heart, my heart!".
His heart-rate reportedly reached 220 beats per minute, more than twice the normal rate for adults.
Velazquez died around two hours later after being taken to a hospital.
The CCTV footage on this week's episode of 20/20 is taken from ninety minutes of film captured inside the San Ysidro Port of Entry border point in Southern California, near Velazquez's home city of Tijuana.
July 26, 2017 | 2 Comments » | Topics: WTF |
Dutch tourists Kris Kremers and Lisanne Froon went missing two weeks after they arrived in Panama to study Spanish. These young women mysteriously disappeared while taking a day hike near the town of Boquete on April 1, 2014.
Froon, 22, and Kremers, 21, were last seen on April 2, 2014
Some locals found bone fragments and a backpack believed to be owned by one of them. Later on, DNA tests confirmed that the remains belonged to them.
While the reason for their disappearance remains a mystery, the camera inside the backpack provided clues as to what happened to these girls while hiking. The recovered camera contains over 100 photos all snapped within 10 days the girls went missing.
July 11, 2017 | No Comments » | Topics: WTF |
A patient sits in a restraint chair at the West Riding Lunatic Asylum in Wakefield, England in 1869.
July 3, 2017 | 3 Comments » | Topics: WTF |
Russian researchers in the late 1940s kept five people awake for fifteen days using an experimental gas based stimulant. They were kept in a sealed environment to carefully monitor their oxygen intake so the gas didn't kill them, since it was toxic in high concentrations. This was before closed circuit cameras so they had only microphones and 5 inch thick glass porthole sized windows into the chamber to monitor them. The chamber was stocked with books, cots to sleep on but no bedding, running water and toilet, and enough dried food to last all five for over a month.
The test subjects were political prisoners deemed enemies of the state during World War II.
Everything was fine for the first five days; the subjects hardly complained having been promised (falsely) that they would be freed if they submitted to the test and did not sleep for 30 days. Their conversations and activities were monitored and it was noted that they continued to talk about increasingly traumatic incidents in their past, and the general tone of their conversations took on a darker aspect after the 4 day mark.
May 10, 2017 | 1 Comment » | Topics: WTF |
Bugchasing is a slang term for the practice of pursuing sexual intercourse with HIV-infected individuals in order to contract HIV. Individuals engaged in this activity are referred to as bugchasers.
Bugchasers seek sexual partners who are HIV positive for the purpose of having unprotected sex and becoming HIV positive; giftgivers are HIV positive individuals who comply with the bugchaser's efforts to become infected with HIV.
Bugchasers indicate various reasons for this activity. Some bugchasers engage in the activity for the excitement inherent in pursuing such a dangerous activity, but do not implicitly desire to contract HIV. Some researchers suggest that the behavior may stem from a "resistance to dominant heterosexual norms and mores" due to a defensive response by gay men to repudiate stigmatization and rejection by society.
Some people consider bugchasing "intensely erotic" and the act of being infected as the "ultimate taboo, the most extreme sex act left."
A number of people who are HIV negative and in a relationship with someone who is HIV positive seek infection as a way to remain in the relationship, particularly when the HIV positive partner may wish to break up to avoid infecting the HIV negative partner.
Some contend that this behaviour stems from feelings of inevitability towards HIV among the gay community and the empowerment of choosing when to contract the virus.
Others have suggested that some people who feel lonely desire the nurturing community that supports people with AIDS
Here's the documentary The Gift if you wanted to delve deeper ino the rabbit hole: