Story
May 23, 2019 | No Comments » | Topics: Story |
Cody Coots AKA Big Cody AKA Pastor Cody, is a Pentecostal preacher from Kentucky. Pentecostals point to passages from the Gospels of Luke and Mark, promising the faithful won't be harmed by venomous "serpents."
According to Mark 16:17-18,
And these signs shall follow them that believe: In my name shall they cast out devils; they shall speak with new tongues. They shall take up serpents; and if they drink any deadly thing, it shall not hurt them; they shall lay hands on the sick, and they shall recover.
May 22, 2019 | No Comments » | Topics: Story |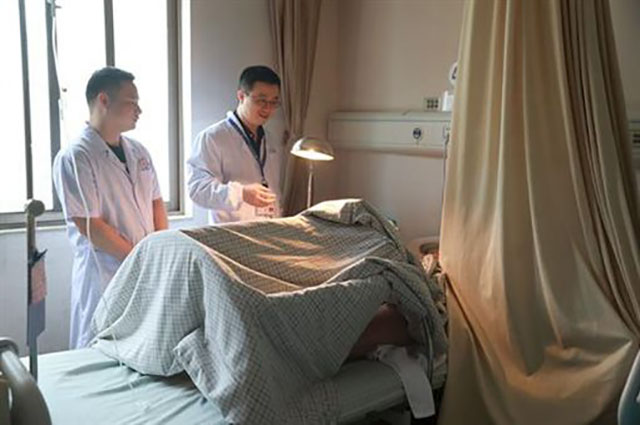 Doctors in China have reunited a man with his severed penis after he woke to find it had inexplicably been cut off during a night of drinking.
The man from China's Hunan Province, identified as "Tan" by Chinese media, was out with friends on May 7, and blacked out after drinking half a liter of strong rice wine.
According to Chinese media, the 44-year-old awoke at 5:00 a.m. covered in blood, and found that his penis was almost completely severed from his body. It remained attached by just one-fifth of an inch of skin, the report said.
The 44-year-old from Huaihua, Hunan, was bleeding profusely. He called his brother, who rushed him to several local hospitals, but they apparently turned him away as they were not equipped for such an operation.
May 21, 2019 | No Comments » | Topics: Story |
Eight years ago, on May 22, 2010, a programmer purchased two large Papa John's pizzas for 10,000 bitcoins, worth about $30 at the time. It's widely believed to be the first purchase of a product with bitcoin
Bitcoin was less than two years old when Laszlo Hanyecz decided to spend some of the coins he had mined on some real-world goods. The coins were worth just a fraction of a cent at the time, and no merchant accepted them as a means of payment. So he posted on the main gathering place for bitcoiners at the time, the Bitcointalk forum:
I'll pay 10,000 bitcoins for a couple of pizzas.. like maybe 2 large ones so I have some left over for the next day. I like having left over pizza to nibble on later. You can make the pizza yourself and bring it to my house or order it for me from a delivery place, but what I'm aiming for is getting food delivered in exchange for bitcoins where I don't have to order or prepare it myself, kind of like ordering a 'breakfast platter' at a hotel or something, they just bring you something to eat and you're happy!
May 2, 2019 | No Comments » | Topics: Story |
Sex Island 2019 will be open for business on July 4th– this time, in Las Vegas. For four-days and three-nights, 50 horny guys with a spare $6k will be knee-deep in all the sex-worker magic they desire.
A statement on the Sex Island website says: "Enjoy the company of 100 beautiful girls, in our alcohol and marijuana-friendly environment.
"The girls' mission is to please you and make you feel like a king.
"If you have any specific fantasies, let us or the girls know, and we'll turn your fantasies into reality!
According to the website, guests will be picked up by private helicopter at Las Vegas International Airport and taken to the 'secret' location.
It continues: "There are 50 tickets for 50 guests, each ticket includes the company of 2 beautiful girls – each day for an unlimited amount of sex during the 4-day trip.
May 1, 2019 | No Comments » | Topics: Story |
A Chinese boot camp is teaching boys how to be "alpha males" in order to combat K-Pop's "effeminate" influence on them.
Tang Haiyan, a former schoolteacher, founded the Real Man Training Club in response to a perceived "masculinity crisis". He and others who support his view feel that the delicately handsome male idols who wear makeup, earrings, dyed hair, and 'feminine' fashion, are promoting an "effeminate" way of being that is detrimental to Chinese men and to the country. China's state-run media calls these idols disparaging names such as "sissy pants" and "fresh young meat."
April 29, 2019 | No Comments » | Topics: Story |
A lesbian-owned, vegan restaurant that offered women preferred seating and charged men an 18 percent 'man tax' in order to 'reflect the gender pay gap' is closing it's doors after less than two years of business in Melbourne, Australia.
Co-owner Alexandra O'Brien wrote a post on Facebook titled "A Handsome Farewell," saying:
"When we opened Handsome Her in 2017, we expected that perhaps we might make a stir through our brazen public discussions of structural inequality and oppression.

The man tax blew up the internet, an idea that we didn't think was all too radical, yet the way the world responded showed us how fragile masculinity is and solidified the necessity for us to confront and dismantle patriarchy.
April 22, 2019 | No Comments » | Topics: Story |
A woman accused of stalking a man by sending him more than 159,000 text messages—including death threats—said she wants her case to go to trial because she believes the jury would find her innocent and order them to get married.
Those were among the comments made by Jacqueline Ades in a recent phone interview with The Arizona Republic from Maricopa County's Estrella Jail, where she has been held since May 2018.
Ades' case has garnered national attention after authorities said she continued to stalk a Paradise Valley man after a single date, broke into his home and sent thousands of text messages to him over the course of 10 months — including some in which she threatened to wear his flesh and devour his organs.
Ades was incredulous that her actions warranted jail time.
"I just think it's ridiculous," Ades said. "I can't believe that it turned into this. I can't believe that I'm actually in jail over some text messages."
April 16, 2019 | No Comments » | Topics: Story |
A 40 year old man is suing his parents for getting rid of his extensive collection of porn. He estimated it was worth $28,940.72, but he's seeking $86,822.16 in damages.
The case dates back to October 2016 when a divorce forced the plaintiff to move back into his parents' house. He stayed with them for 10 months, living rent-free, but doing chores to pull his weight.
Around 10 months later, the man got his own place and moved out of his parents' home. His folks had reportedly delivered some boxes to his new home
However, when the boxes arrived, the man noticed many a number of his possessions were missing – in particular, his vast collection of smut. The defendants reportedly told him they had destroyed the entire thing, which was enough to fill 12 moving boxes.
April 8, 2019 | No Comments » | Topics: Story |
An Instagram influencer recently had a meltdown on YouTube in which she begged people to stop reporting her Instagram account as it got deleted. Jessy Taylor had racked up 113,000 followers on the photo-sharing platform after her account got deleted. She posted a video of herself on YouTube crying and explaining how she was editing her pictures when her account was deleted and she couldn't do anything about it.
According to her, the account was deleted because people kept reporting every single post. She said that she tried to be a better person but it was of no use. The people who reported her account should have thought twice because of they kind of "ruined her life", narrated the influencer while wiping her tears. She said that she knew there were people who wanted her to do a 9-5 job and wanted her account gone.
April 8, 2019 | No Comments » | Topics: Story |
Jewel Shuping was born with perfectly healthy eyes, but she told Barcroft TV in a recent interview that growing up there was always something missing.
"By the time I was six I remember that thinking about being blind made me feel comfortable," she said. She fantasized constantly about losing her vision, and spent hours staring directly at the sun after her mother warned her that it would damage her eyes.
At first, Shuping simply pretended to be blind, going about with sunglasses on, her eyes closed, and using a cane to navigate. She also became fluent in braille. But after a while, that just wasn't enough.
"By the time I was 21 it was a non-stop alarm that was going off," she says in the video. So, she did the only rational thing: She got a sympathetic psychologist to pour drain cleaner in her eyes.