Story
July 18, 2019 | No Comments » | Topics: Story |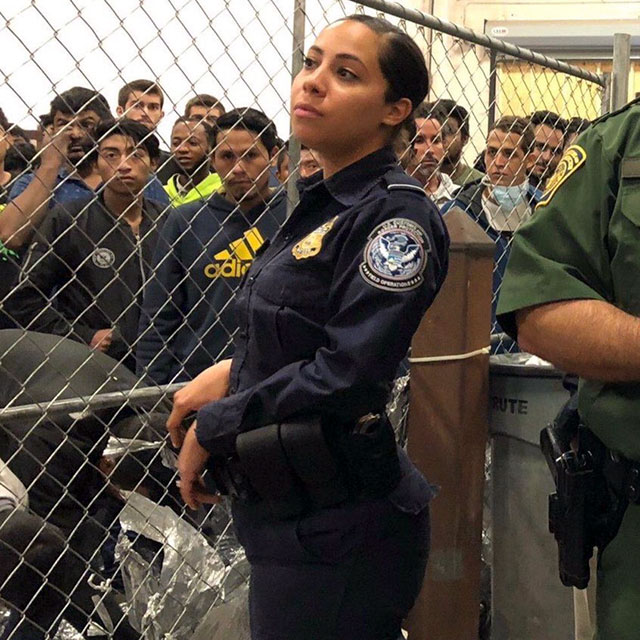 A border patrol agent has gone viral after users began sharing her image with the hashtag #IceBae.
The female officer was providing security for Vice President Mike Pence during his recent border visit when she was photographed standing outside of a holding cell.
A Twitter account belonging to the woman surfaced early Monday and identified her as Kiara Cervantes, of Texas. She later posted a video to prove she was the real deal.
July 16, 2019 | No Comments » | Topics: Story |
A British designer has unveiled a piece of furniture that she believes could be the solution to manspreading.
Manspreading occurs when a man sits with his legs spread wide apart in a way that invades the space of others, with women typically bearing the brunt of this practice. Instances of manspreading can frequently be observed on public transport where men can be seen occupying two, or even three, spaces as a result of their wide-legged stance.
According to feminists, manspreading may appear to be an innocuous practice, but is actually a problematic assertion of patriarchal power.
July 16, 2019 | No Comments » | Topics: Story |
The U.S. Air Force has now offered a word of caution to the more than a million people who said they would be attending the Facebook event "Storm Area 51, They Can't Stop All of Us" in September: "Area 51 is an open training range for the U.S. Air Force, and we would discourage anyone from trying to come into the area where we train American armed forces," spokeswoman Laura McAndrews told The Washington Post. "The U.S. Air Force always stands ready to protect America and its assets."
July 15, 2019 | No Comments » | Topics: Story |
Hundreds of protesters gathered in Aurora on Friday evening to march to the ICE detention facility where illegal and undocumented immigrants are being housed. They also removed the U.S. flag, replaced it with a Mexican flag, and spray painted graffiti on a Blue Lives Matter flag before it was seen flying upside down on the flag pole.
Footage of a demonstration outside of the Aurora, Colo., facility posted Friday shows dozens of protesters cheering as a Mexican flag was raised on a pole in front of the building.
July 9, 2019 | No Comments » | Topics: Story |
NCAA track star CeCe Telfer racked up a list of records for Franklin Pierce University in women's college track last month but questions soon arose over Telfer's athletic history. The runner had been a male athlete just last season before "transitioning" to a woman and joining the female track team only to suddenly become the school's leading runner.
Telfer was born and raised as a boy called Craig and competed on the men's team at Franklin Pierce University in New Hampshire, even though she personally identified as a woman. During 2016 and 2017, she wasn't in the top 200 male athletes competing in the event.
July 9, 2019 | No Comments » | Topics: Drugs, Story |
A 19-year-old Rent-A-Car employee over in Arnold, Missouri thought slipping the acid into his co-workers' drinks would 'remove negative energy' around the car rental company's workplace.
In an attempt to "mellow out" the other employees at Enterprise Rent-A-Car in Arnold, Missouri, the man told police that he spiked three coworkers' water bottles and coffee cups with LSD.
Things kinda went in the opposite direction though after two colleagues began feeling "became dizzy and shaky and didn't know why," and had to be rushed to hospital.
July 8, 2019 | No Comments » | Topics: Story |
A man convicted of killing his baby son has been punched by the child's uncle in court.
Kwin Boes, 23, was arrested in May last year after his 11-month-old son Parker died of blunt force trauma to the head.
According to court documents, Boes told police that on May 3, 2018, that he fed his infant son, Parker Boes, and fell asleep on the couch at his girlfriend's home in Patoka.
The man said he woke up to find the infant on the floor by the couch. Boes claimed the baby may have fell out of his "boppy pillow" and hit his head. Parker was later pronounced dead at Riley's Children's Hospital in Indianapolis.
July 8, 2019 | No Comments » | Topics: Story |
On Independence Day, six Tempe police officers stopped by the Starbucks at Scottsdale Road and McKellips for coffee. The officers paid for their drinks and stood together having a cup of coffee before their long 4th of July shift. They were approached by a barista, who knew one of the officers by name, because he is a regular at that location. The barista said that a customer "did not feel safe" because of the police presence. The barista asked the officers to move out of the customer's line of sight or to leave.

Disappointed, the officers did in fact leave.

This treatment of public safety workers could not be more disheartening. While the barista was polite, making such a request at all was offensive. Unfortunately, such treatment has become all too common in 2019.

We know this is not a national policy at Starbucks Corporate and we look forward to working collaboratively with them on this important dialogue.
July 3, 2019 | No Comments » | Topics: Story |
Belle Delphine is a British cosplayer and Instagrammer with 3.8 million followers.
On Tuesday, Delphine posted to her Instagram that she was now selling tubs of "gamer girl bath water"– small jars of water that she promises she has bathed in, sold for $30
Delphine emphasises on her online store that the water is "not for drinking and should only be used for sentimental purposes."
Multiple fans have taken to the Instagram post and asked hopefully if the water contains her urine.
July 3, 2019 | No Comments » | Topics: Story |
A black family fired an independent contractor they had hired for a job after he drove to their home with a giant Confederate flag affixed to his truck.
Allison and Zeke Brown of Atlanta, Georgia hire
d the man, whose name is Michael, to replace the brakes on their golf cart. When he arrived at their home on Saturday, an enormous rebel flag was attached to his truck.
"Hi, you know what, I do apologize, I know you've come from a very long way, but we're going to use someone else," Allison, 40, a radiation therapist, tells Michael, as captured in a video on her Ring app.