Story
April 16, 2019 | No Comments » | Topics: Story |
A 40 year old man is suing his parents for getting rid of his extensive collection of porn. He estimated it was worth $28,940.72, but he's seeking $86,822.16 in damages.
The case dates back to October 2016 when a divorce forced the plaintiff to move back into his parents' house. He stayed with them for 10 months, living rent-free, but doing chores to pull his weight.
Around 10 months later, the man got his own place and moved out of his parents' home. His folks had reportedly delivered some boxes to his new home
However, when the boxes arrived, the man noticed many a number of his possessions were missing – in particular, his vast collection of smut. The defendants reportedly told him they had destroyed the entire thing, which was enough to fill 12 moving boxes.
April 8, 2019 | No Comments » | Topics: Story |
An Instagram influencer recently had a meltdown on YouTube in which she begged people to stop reporting her Instagram account as it got deleted. Jessy Taylor had racked up 113,000 followers on the photo-sharing platform after her account got deleted. She posted a video of herself on YouTube crying and explaining how she was editing her pictures when her account was deleted and she couldn't do anything about it.
According to her, the account was deleted because people kept reporting every single post. She said that she tried to be a better person but it was of no use. The people who reported her account should have thought twice because of they kind of "ruined her life", narrated the influencer while wiping her tears. She said that she knew there were people who wanted her to do a 9-5 job and wanted her account gone.
April 8, 2019 | No Comments » | Topics: Story |
Jewel Shuping was born with perfectly healthy eyes, but she told Barcroft TV in a recent interview that growing up there was always something missing.
"By the time I was six I remember that thinking about being blind made me feel comfortable," she said. She fantasized constantly about losing her vision, and spent hours staring directly at the sun after her mother warned her that it would damage her eyes.
At first, Shuping simply pretended to be blind, going about with sunglasses on, her eyes closed, and using a cane to navigate. She also became fluent in braille. But after a while, that just wasn't enough.
"By the time I was 21 it was a non-stop alarm that was going off," she says in the video. So, she did the only rational thing: She got a sympathetic psychologist to pour drain cleaner in her eyes.
April 4, 2019 | No Comments » | Topics: Story |
Alaska has made public a video showing the illegal April 2018 killing of a black bear sow and her two cubs in their den by a father and son.
The video starts out with the father-son duo on skis spotting a mother bear hibernating in a tree hollow on Esther Island, in Prince William Sound. It's apparent from the audio that the bear is aware of the impending danger and makes sounds that indicate her fear. The two pull out their guns and fire several shots into the hollow, killing the bear even as the shrieks of her baby cubs fill the air. The father, Andrew Renner, then shoots the two cubs at point-blank range. Next, the men pull the bear's limp body out of the den. They pause for a victorious and bloody high-five, and a photo with the son holding up the bear's paw, before proceeding to carve the bear into pieces. Then they roll up the bear skin, stuff it into a plastic bag, and leave with the bloody remains of what was, just hours before, a beautiful animal hibernating in her den with her cubs.
April 1, 2019 | No Comments » | Topics: Story |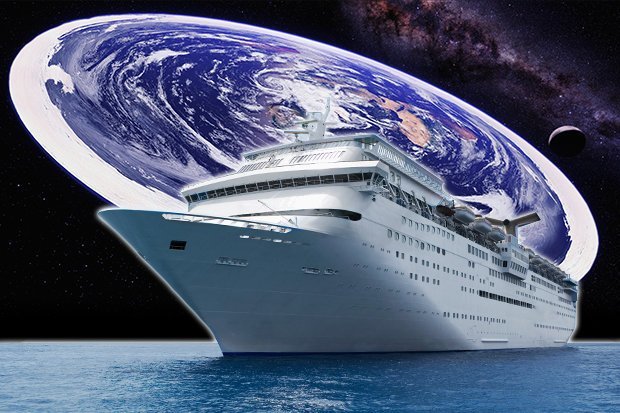 Conspiracy theorists who think the Earth is flat is organizing a cruise to Antarctica in a bid to prove that our planet is not a sphere.
The cruise is being organised by the Flat Earth International Conference, and promises to be "the biggest, boldest, best adventure yet". The plan is to sail to Antarctica, where flat earthers think they would find the frozen barrier that marks the edge of the world.
One of the movement's popular models of our planet's topography is the Earth is a large disk surrounded by an ice wall barrier in Antarctica that prevents things from falling off the planet's edge.
This ice wall is believed to surround the whole planet. Conspiracy theorists say it is a couple of thousands of feet thick and stands 164 feet.
"The earth is surrounded on all sides by an ice wall that holds the oceans back. This ice wall is what explorers have named Antarctica," the Flat Earth Society claims.
March 27, 2019 | No Comments » | Topics: Story |
A pilot slammed a small plane kamikaze-style into a Botswana clubhouse in a deranged bid to kill his wife, who was attending a baby shower there, according to reports. South African pilot Charl Viljoen of Kalahari Air Services had first shown up uninvited at the shower held at the Matsieng Aerodome, the club's spokesman, Mark Mansfield, told The Citizen.
It was reported that the husband and wife had a dispute that turned physical. He then drove 30 miles to an airport in Botswana's capital Gaborone where he got into an eight-seater Beechcraft King Air B200 plane. While flying back towards the club house he contacted a friend who was at the party and asked where his wife was. They warned other guests that Viljoen was on his way back in the aeroplane and when they saw him flying erratically they evacuated the building. After flying to the club house he started terrifying the guests by performing some low level stunts before crashing the plane into the building.
March 25, 2019 | No Comments » | Topics: Story |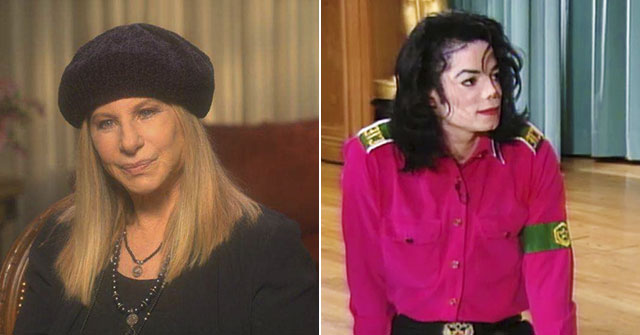 In a new interview with The London Times, Oscar-winning actor and singer Barbara Streisand says she "absolutely" believes the allegations of abuse by Robson and Safechuck, but puts more blame on their parents than Michael Jackson.
She added: "His sexual needs were his sexual needs, coming from whatever childhood he has or whatever DNA he has. You can say 'molested', but those children, as you heard say [the grown-up Robson and Safechuck], they were thrilled to be there. They both married and they both have children, so it didn't kill them."
Asked if she was angry with Jackson, she said: "It's a combination of feelings. I feel bad for the children. I feel bad for him. I blame, I guess, the parents, who would allow their children to sleep with him. Why would Michael need these little children dressed like him and in the shoes and the dancing and the hats?"
March 20, 2019 | No Comments » | Topics: Story |
A model who gave up her job is currently earning $159,000 a year by selling nude photos of herself online which were taken by her own mother. 22-year-old Beth Spiby used to work during the summers in Magaluf and used to work winters at the gift shop in Marks and Spencer until a colleague of hers told her about selling sexy pictures online.
The former store worker recruited her 53-year-old mother Jane to her help her take the daily photos and videos, in spite of her posing either nude or in lingerie for the content.
Mirror Online reported that Beth now had more than 1,000 followers who pay $16 a month just to get nude photos and videos of her which can earn her more than $13,000 a month. She recently hired a professional photographer to take most of her pictures and an assistant to do her social media posting but still gets her mom to click pictures if she needs her to.
"When I first started, she used to take them every day. Whenever I need an extra photo, she is happy to get the camera out and take a pic. Obviously, she doesn't do anything too explicit, because that would be crossing the line."
March 15, 2019 | No Comments » | Topics: Story |
A woman has revealed a list of "improvements" a man she met on Tinder sent to her after going on just one date together.
Kimberley Latham-Hawkesford, 24, from the UK, shared the "disgusting" list she received from her date, revealing the 15 reasons he had chosen not to message her, three months after their first and only meet up.
According to LadBible, the pair went for a coffee at a local cafe, where things got off to a good start, so they then went to a pub for dinner.
However, things quickly turned sour when her date went on to ask Kimberley whether she planned on having plastic surgery and suggesting places where she should shop before their next meeting.
The date was topped off horribly by her date kicking up a stink when Kimberley offered to pay, even showing her his bank balance on his phone.
Following the less-than-perfect first date Kimberley was surprised when she then received a message from her date three months on.
It read: "Hello Kimberley, I know we went on a date quite a while ago now but I'd like to explain why I haven't messaged you.
March 12, 2019 | No Comments » | Topics: Story |
A Greek man said on Sunday he would have been the 150th passenger on the Nairobi-bound Ethiopian Airlines Boeing plane that crashed killing all on board, except he arrived two minutes late for the flight.
"I was mad because nobody helped me to reach the gate on time," Antonis Mavropoulos said in a Facebook post entitled "My lucky day" in which he includes a photo of his ticket.
Mavropoulos, president of the International Solid Waste Association, a non-profit organization, was travelling to Nairobi to attend the annual assembly of the UN Environment Programme, according to Athens News Agency.
He was supposed to board the plane but he reached the departure gate just two minutes after it was closed.
He booked a later flight but was then prevented from boarding by airport staff.
"They led me to the police station of the airport. The officer told me not to protest but to pray to God because I was the only passenger that didn't board the ET 302 flight that was lost," Mavropoulos said in his post in which he admits being in shock.