Story
April 11, 2018 | No Comments » | Topics: Story |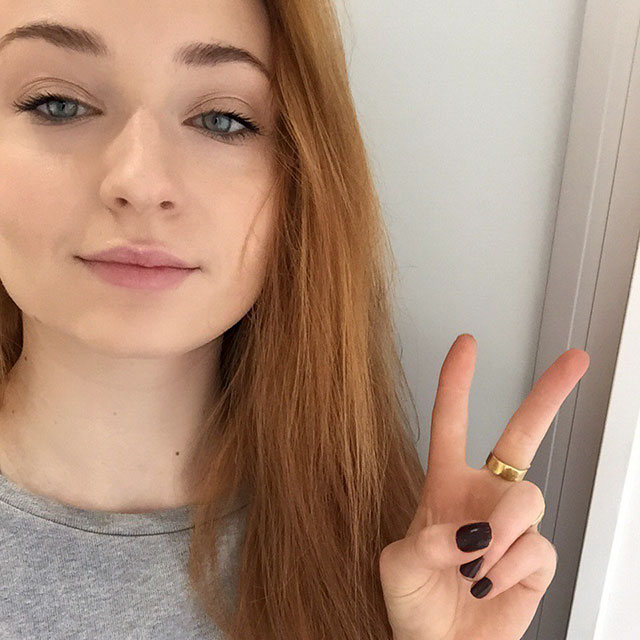 Game of Thrones actress a Sophie Turner has begun an Instagram account dedicated to reviewing sausages, of all things. The Brit posted a screenshot to her personal Instagram account of her new sausage account, "SophiesSausageReviews," and it already has six posts — and over 20,000 followers.
Turner's sausage account bio says it all: She is "passionate bout the saus" and it shows in her reviews. Turner is both honest and humorous in her evaluations of sausages, providing descriptions on size, color, taste, consistency, and crispness.
April 10, 2018 | No Comments » | Topics: Story |
"Does she need an ambulance?" asked the 911 dispatcher. "No, she's a nurse. She says to call an ambulance for the guy. He may be dead," responded the voice on the other end. 
In September 2006, Susan Walters (formerly known as Susan Kuhnhausen), was a 51-year-old ER nurse in Portland, OR. The man lying dead in her home was hired hit man, Edward Haffey. Haffey had been hired for $50,000 to murder Susan Walters by her husband, Mike Kuhnhausen. 
As an emergency room nurse for over 30 years, Walters was no stranger to self-defense.
In fact, the only words her attacker said to her were, "you are strong."
The Kuhnhausens had been unhappily married for 17 years. Walters endured years of mental and emotional abuse by her husband. Then, in 2006, she finally gained the courage to end the marriage and kicked Kuhnhausen out of their home.
March 28, 2018 | No Comments » | Topics: Story |
Last Friday, animal rights activists in Toronto conducting their fourth protest against a game-themed restaurant called Antler Kitchen and Bar got a response they didn't expect: one of the co-owners of the restaurant, who is also a chef, brought out a deer leg to a table in the front window and started carving it in front of the protesters.
One banner held by a protester read "Murder" in large, hot pink letters; another demonstrator held a sign that read "please add vegan steak to the menu."
The co-owner, Michael Hunter, who hunts moose and deer with a crossbow, not only carved the leg, but then sat down at the table and ate the meat in front of the protesters.
The protesters turned up to the restaurant to reach out to Hunter, asking him to 'Please add vegan steak to the menu' in chalk on the pavement outside his restaurant, but were met with 'taunting' and a sign that read 'venison is the new kale'.
Before the protest, the activists had posted on Facebook:
We will be holding our fourth protest at Antler. Last week was the first vegan menu board that they've had thanks to activists taking a stand for animals. It's a great start, but only a start. Antler serves the cruel foie gras, they also farm animals meant to run in the wild like deer. Literature to hand out will be provided. I have some signs but please make your own if possible. This is a peaceful, non-violent protest. We need people so please come if you can.
March 28, 2018 | No Comments » | Topics: Story |
(photo: @ozgomz)
One school district in Pennsylvania has sidestepped the debate over arming teachers with firearms by arming teachers, instead, with buckets of rocks. Blue Mountain School District Superintendent David Helsel thinks arming pupils with rocks will help thwart an attack from a school shooter.
"Protocol has been that students lie down, under desks and basically become passive targets on our classrooms," Helsel said. "We decided to empower our students with tools of self-defense if needed."
Helsel said the plan to use rocks came after staff members took the active shooter response training known as ALICE–alert, lockdown, inform, counter and evacuate. The training taught teachers and faculty to run from the shots, barricade the doors with desks and chairs and to use whatever's at their disposal and throw at the shooter, whether it be paper, pens or books.
"If an armed intruder attempts to gain entrance into any of our classrooms, they will face a classroom full of students armed with rocks and they will be stoned," he said.
However the rocks according Helsel is simply a last line of defense. According to the superintendent the most important thing is the safety of the students, which means getting out of the building is their number one priority, not throwing stones.
"We understand that a gun is much more deadly than a stone. It's our hope that we can somehow stop the ability of an armed intruder to enter our classrooms," he added.
Parents within the Blue Mountain School District reportedly like the rocks.
"At this point, we have to get creative, we have to protect our kids first and foremost, throwing rocks, it's an option," Dori Bornstein, a parent said.
March 26, 2018 | No Comments » | Topics: Story |
A married teacher is accused of having a sexual relationship with a 13-year-old student, according to ABC 15.
Brittany Zamora, 27, is facing nine counts of sexual conduct with a minor, two counts of molestation of a child, and one count of furnishing harmful material to a minor.
The victim's father called police after finding text messages on his son's social media that indicated sexual misconduct between the suspect and victim.
The allegations happened both on and off the campus of Las Brisas Academy Elementary School in Goodyear, Arizona.
Another student is believed to have witnessed Zamora having sex with the victim on campus, according to the TV station, citing court records.
"We all had suspicions, because they were really close," a unnamed student told FOX 10. "I hoped it was just rumors going around school."
The suspect was jailed under a $250,000 bond and ordered to not have contact with any minors.
According to FOX 10, the boy's parents discovered unusual Instagram messages between their son and Zamora. "The boy's parents found Instagram messages between him and Zamora. In some of the messages, the two stated they missed and loved each other."
March 5, 2018 | No Comments » | Topics: Story |
Sofie Hagen, a Danish-born and UK-based comedian has ignited heated discussions after publicly accusing Cancer Research UK of 'fat-shaming.' The organization claims it doesn't want to insult anyone, but hopes to raise awareness of the link between cancer and obesity. Hagen, however, says their campaign is "incredibly damaging."
The campaign image in question states "obesity is the biggest cause of cancer after smoking." Hagen shared the image on her Twitter Wednesday, bemoaning the ways this kind of messaging further stigmatize fatness.
March 1, 2018 | No Comments » | Topics: Story |
A former teacher who taught at New Smyrna Beach Middle School in Volusia County, Florida has was arrested on Wednesday on allegations that she had a sexual relationship with an eighth-grade student.
Police said that Stephanie Peterson, 26, was arrested on two counts of lewd or lascivious battery and one count of transmission of harmful materials to a minor.
The alleged relationship began in November, according to a press release from the Volusia County Sheriff's Office posted on its Facebook page.
Police said they spoke to the 14-year-old victim who told them that Peterson sent him nude photos. That's not all — she also allegedly picked him up at his home, around 11 p.m.on multiple occasions, and then brought him home a few hours later after engaging in a sexual encounter.
February 28, 2018 | No Comments » | Topics: main, Story |
A teacher at an Oregon elementary school has been awarded $60,000 by her school district as compensation for harassment she claims to have suffered on the job, including being referred to by the wrong pronoun.
According to The Oregonian, Leo Soell was born a woman, but now prefers to identify as "transmasculine" and "genderqueer," meaning she does not consider herself to be male or female. After getting breast cancer in late 2014, she had her breasts amputated to create a more masculine appearance and changed her name to Leo. Once she returned from medical school in May, 2015, Soell was fully public with her gender-neutral identity.
Once she returned to work, Soell claims she fell victim to relentless harassment from her co-workers. She says employees persisted in calling her hurtful terms like "Miss Soell," "lady," and "she." If a student asked Soell's sex, she says she was ordered to reply it was a private matter not suitable for discussion at school.