Story
May 10, 2018 | No Comments » | Topics: Story |
A woman said she felt fat-shamed when she was unable to ride Skull Island: Reign of Kong at Universal's Islands of Adventure in Orlando, Florida.
Angel Morales said she asked workers if she could ride the ride bench with one fewer person so that she wouldn't make anyone sitting beside her feel uncomfortable.
Morales said she felt humiliated when employees declined her request.
The theme park doesn't have weight restrictions, so Morales said she didn't know she couldn't go on the ride until she was about to board it.
Morales said she bought annual passes to the park last year and couldn't wait to check out The Wizarding World of Harry Potter.
"I couldn't fit on any of the Harry Potter rides because of my weight," she said. "I did a lot of bag-holding in Diagon Alley and that kind of thing."
She had hoped to ride the King Kong attraction, because its seat is a bench without a safety bar, but when she got to the front of the line, she told her daughters that she didn't think they'd fit without making others uncomfortable, Morales said.
A man waiting in line overheard their conversation and offered to wait for the next available ride so Morales could ride with her daughters.
During another trip to the park, Morales said she tried to spare herself from further embarrassment by asking workers if one fewer person could ride in her row.
May 9, 2018 | No Comments » | Topics: Story |
A male political theory professor said Friday he won't apologize to a female gender studies professor for a joke about "ladies' lingerie" he made while both were riding in a crowded elevator. 
From The Chronicle of Higher Education:
The fuss started when Richard Ned Lebow, a professor of political theory at King's College London, and Simona Sharoni, a professor of women's and gender studies at Merrimack College, ended up in the same crowded elevator during a conference at a Hilton in San Francisco last month.

She said she offered to press the floor buttons for people in the elevator, whom she described as mostly conference attendees and all, except one other woman, white middle-aged men. Instead of saying a floor, Lebow smiled and asked for the women's lingerie department "and all his buddies laughed," Sharoni wrote in a complaint, the details of which he disputed, to the association later that day.

"After they walked out, the woman standing next to me turned to me and said, 'I wonder if we should have told them that it is no longer acceptable to make these jokes!" she said in her complaint.

Sharoni, who wrote in her complaint that she has experienced sexual harassment in academe in the past and was shaken by the incident, said it took her a while to figure out that Lebow thought it was funny "to make a reference to men shopping for lingerie while attending an academic conference. I am still trying to come to terms with the fact that we froze and didn't confront him," she wrote.
May 3, 2018 | No Comments » | Topics: Story |
The Boy Scouts of America may not have the Thin Mints and Samoas, but they do get points for opening their doors to both boys and girls. For the past 108 years, their program for 11- to 17-year-olds has been known as the "Boy Scouts." But they're changing it to just "Scouts BSA" to signal that girls are welcome to join as well.
The gender-neutral term Cub Scouts will remain for the younger troops. So far, 3,000 young girls have joined Cub Scout troops in 170 clubs across America. Scouts BSA will start accepting female members next year.
Chief Scout Executive Mike Surbaugh said members of the groups will likely call each other just "scouts" instead of "boy scouts" or "girl scouts."
May 2, 2018 | No Comments » | Topics: Story |
Keziah Daum is an 18-year-old girl who recently received a lot of hate online for her dress. Many people were not happy about Keziah's choice to wear a stunning Chinese qipao to her high school prom. Things got really bad on April 22nd when she posted a picture of herself in the dress on Twitter. People started calling her dress a form of 'cultural appropriation' and 'casual racism'. Others  defended Keziah, saying that her dress is about people sharing their cultures and traditions, and bullying an 18-year-old girl just because of her dress is not a form of justice.
Daum's photos sparked a social media eruption. One tweetstorm against Daum's dress choice started off with the stark line, "My culture is NOT your goddamn prom dress."
Jeremy Lam then went into great detail about the history of the dress over numerous follow-up posts before ending his thread by saying, "I'm proud of my culture, including the extreme barriers marginalized people within that culture have had to overcome those obstacles. For it to simply be subject to American consumerism and cater to a white audience, is parallel to colonial ideology."
April 26, 2018 | No Comments » | Topics: Story |
A veteran who had his genitals blown off in an IED blast while serving in Afghanistan made history last month by becoming the world's first recipient of a full penis and scrotum transplant.
Nine plastic surgeons and two urological surgeons from Johns Hopkins Hospital in Baltimore, Maryland, completed the transplant after a meticulous 14-hour procedure, a hospital release said. The parts, which also included a portion of the abdominal wall, came from a deceased donor.
"We are hopeful that this transplant will help restore near-normal urinary and sexual functions for this young man," Dr. W.P. Andrew Lee, director of plastic and reconstructive surgery at the Johns Hopkins University School of Medicine, said in the release.
April 11, 2018 | No Comments » | Topics: Story |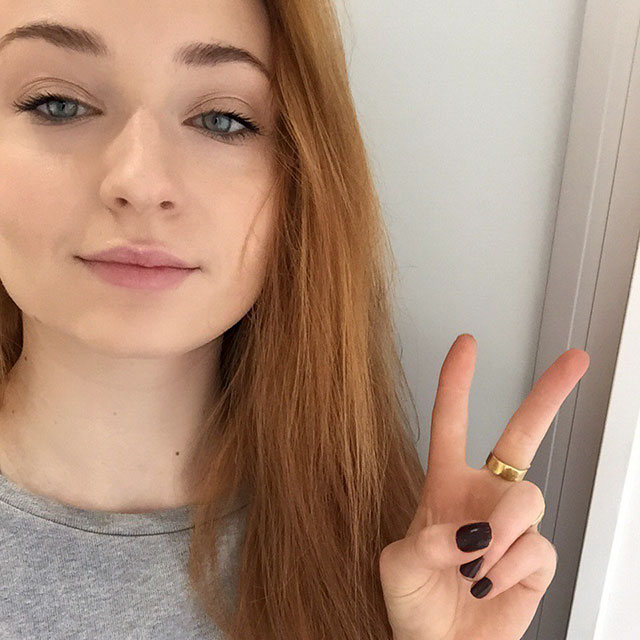 Game of Thrones actress a Sophie Turner has begun an Instagram account dedicated to reviewing sausages, of all things. The Brit posted a screenshot to her personal Instagram account of her new sausage account, "SophiesSausageReviews," and it already has six posts — and over 20,000 followers.
Turner's sausage account bio says it all: She is "passionate bout the saus" and it shows in her reviews. Turner is both honest and humorous in her evaluations of sausages, providing descriptions on size, color, taste, consistency, and crispness.
April 10, 2018 | No Comments » | Topics: Story |
"Does she need an ambulance?" asked the 911 dispatcher. "No, she's a nurse. She says to call an ambulance for the guy. He may be dead," responded the voice on the other end. 
In September 2006, Susan Walters (formerly known as Susan Kuhnhausen), was a 51-year-old ER nurse in Portland, OR. The man lying dead in her home was hired hit man, Edward Haffey. Haffey had been hired for $50,000 to murder Susan Walters by her husband, Mike Kuhnhausen. 
As an emergency room nurse for over 30 years, Walters was no stranger to self-defense.
In fact, the only words her attacker said to her were, "you are strong."
The Kuhnhausens had been unhappily married for 17 years. Walters endured years of mental and emotional abuse by her husband. Then, in 2006, she finally gained the courage to end the marriage and kicked Kuhnhausen out of their home.
March 28, 2018 | No Comments » | Topics: Story |
Last Friday, animal rights activists in Toronto conducting their fourth protest against a game-themed restaurant called Antler Kitchen and Bar got a response they didn't expect: one of the co-owners of the restaurant, who is also a chef, brought out a deer leg to a table in the front window and started carving it in front of the protesters.
One banner held by a protester read "Murder" in large, hot pink letters; another demonstrator held a sign that read "please add vegan steak to the menu."
The co-owner, Michael Hunter, who hunts moose and deer with a crossbow, not only carved the leg, but then sat down at the table and ate the meat in front of the protesters.
The protesters turned up to the restaurant to reach out to Hunter, asking him to 'Please add vegan steak to the menu' in chalk on the pavement outside his restaurant, but were met with 'taunting' and a sign that read 'venison is the new kale'.
Before the protest, the activists had posted on Facebook:
We will be holding our fourth protest at Antler. Last week was the first vegan menu board that they've had thanks to activists taking a stand for animals. It's a great start, but only a start. Antler serves the cruel foie gras, they also farm animals meant to run in the wild like deer. Literature to hand out will be provided. I have some signs but please make your own if possible. This is a peaceful, non-violent protest. We need people so please come if you can.
March 28, 2018 | No Comments » | Topics: Story |
(photo: @ozgomz)
One school district in Pennsylvania has sidestepped the debate over arming teachers with firearms by arming teachers, instead, with buckets of rocks. Blue Mountain School District Superintendent David Helsel thinks arming pupils with rocks will help thwart an attack from a school shooter.
"Protocol has been that students lie down, under desks and basically become passive targets on our classrooms," Helsel said. "We decided to empower our students with tools of self-defense if needed."
Helsel said the plan to use rocks came after staff members took the active shooter response training known as ALICE–alert, lockdown, inform, counter and evacuate. The training taught teachers and faculty to run from the shots, barricade the doors with desks and chairs and to use whatever's at their disposal and throw at the shooter, whether it be paper, pens or books.
"If an armed intruder attempts to gain entrance into any of our classrooms, they will face a classroom full of students armed with rocks and they will be stoned," he said.
However the rocks according Helsel is simply a last line of defense. According to the superintendent the most important thing is the safety of the students, which means getting out of the building is their number one priority, not throwing stones.
"We understand that a gun is much more deadly than a stone. It's our hope that we can somehow stop the ability of an armed intruder to enter our classrooms," he added.
Parents within the Blue Mountain School District reportedly like the rocks.
"At this point, we have to get creative, we have to protect our kids first and foremost, throwing rocks, it's an option," Dori Bornstein, a parent said.
March 26, 2018 | No Comments » | Topics: Story |
A married teacher is accused of having a sexual relationship with a 13-year-old student, according to ABC 15.
Brittany Zamora, 27, is facing nine counts of sexual conduct with a minor, two counts of molestation of a child, and one count of furnishing harmful material to a minor.
The victim's father called police after finding text messages on his son's social media that indicated sexual misconduct between the suspect and victim.
The allegations happened both on and off the campus of Las Brisas Academy Elementary School in Goodyear, Arizona.
Another student is believed to have witnessed Zamora having sex with the victim on campus, according to the TV station, citing court records.
"We all had suspicions, because they were really close," a unnamed student told FOX 10. "I hoped it was just rumors going around school."
The suspect was jailed under a $250,000 bond and ordered to not have contact with any minors.
According to FOX 10, the boy's parents discovered unusual Instagram messages between their son and Zamora. "The boy's parents found Instagram messages between him and Zamora. In some of the messages, the two stated they missed and loved each other."