Story
July 24, 2019 | No Comments » | Topics: Story |
Rep. Alexandria Ocasio-Cortez suggested that she is open to dissolving the Department of Homeland Security in an interview with The New Yorker.
The New York representative said Immigration and Customs Enforcement "and, frankly, the entire Department of Homeland Security" are "very large threats to American civil liberties."
"Would you get rid of the Department of Homeland Security, too?" The New Yorker's David Remnick asked
"I think so," she replied. "I think we need to undo a lot of the egregious mistakes that the Bush administration did."
July 23, 2019 | No Comments » | Topics: Story |
A vegan lifestyle blogger and personal trainer enriches her diet by drinking her friend's sperm every day, and she's encouraging other women to do the same.
Tracy Kiss, a British single mother and personal trainer, ingests a semen smoothie daily for the health benefits, which she claims are increased energy and a boosted immune system.
July 23, 2019 | No Comments » | Topics: Story |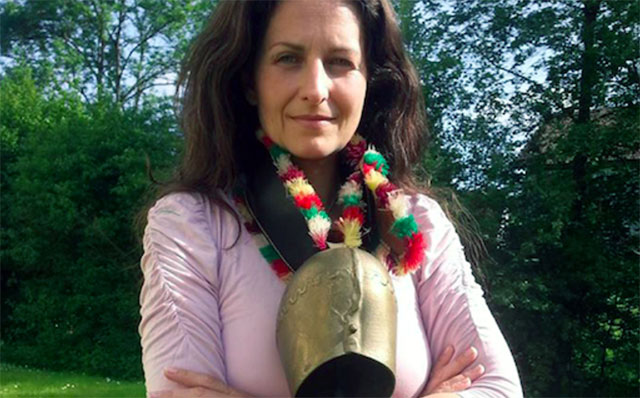 A Dutch vegan's application for a Swiss passport has been rejected because locals could not tolerate the woman, describing her as "annoying."
Nancy Holten, 42, was unable to get a Swiss passport for herself because a local committee of residents from the community of Gipf-Oberfrick in the canton of Aargau rejected her application, Yahoo News UK reports. In Switzerland, local communities often have a larger say in citizenship and passport applications than the federal government.
(more…)
July 23, 2019 | No Comments » | Topics: Story |
The Berkeley Council voted unanimously to replace more than two dozen terms often used in the city's municipal code with gender-neutral words.
Man-made will now be "human-made," "artificial," or "manufactured." Manpower will be referred to as "human effort."
Gendered pronouns like "he" and "she" will be replaced by "they" or "them."
Sororities and fraternities will now be called "collegiate Greek system residences."
There's to be no more firemen or firewomen, policemen or policewomen, repairmen or salesmen, or sportsmen. Instead, the code will refer to firefighters, police officers, repairs, salespeople, and hunters.
July 22, 2019 | No Comments » | Topics: Story |
A woman in Canada was forced to close her business following backlash for her refusal to wax the male genitals of trans activist Jessica Yaniv, formerly known as Jonathan Yaniv.
Yaniv filed a complaint with the British Columbia Human Rights Tribunal seeking financial restitution.
According to Yaniv, estheticians should be obliged to provide a service like waxing to a female-identifying trans person and religious and cultural views should not interfere with the ability to access a service.
"The people that discriminated against me are forcing their beliefs on society," said Yaniv, who is representing herself, while cross-examining her own mother who she called as a witness to the tribunal.
July 22, 2019 | No Comments » | Topics: Story |
A police officer acquitted of murder after shooting an unarmed man in a case that shocked the nation was briefly rehired so he could get a pension, reports said Friday.
Officer Philip Brailsford shot and killed Daniel Shaver in January 2016 in the hallway of an Arizona hotel after police received a call about a man pointing a rifle out of a window.
It was later revealed the 'rifle' was a pellet gun the 26-year-old used for his pest-control work, and he had been showing it to other guests in his room.
Bodycam footage made public following the trial showed Shaver on his knees complying with the officers' instructions over the course of several minutes and saying "please don't shoot me."
July 18, 2019 | No Comments » | Topics: Story |
July 16, 2019 | No Comments » | Topics: Story |
A British designer has unveiled a piece of furniture that she believes could be the solution to manspreading.
Manspreading occurs when a man sits with his legs spread wide apart in a way that invades the space of others, with women typically bearing the brunt of this practice. Instances of manspreading can frequently be observed on public transport where men can be seen occupying two, or even three, spaces as a result of their wide-legged stance.
According to feminists, manspreading may appear to be an innocuous practice, but is actually a problematic assertion of patriarchal power.
July 16, 2019 | No Comments » | Topics: Story |
The U.S. Air Force has now offered a word of caution to the more than a million people who said they would be attending the Facebook event "Storm Area 51, They Can't Stop All of Us" in September: "Area 51 is an open training range for the U.S. Air Force, and we would discourage anyone from trying to come into the area where we train American armed forces," spokeswoman Laura McAndrews told The Washington Post. "The U.S. Air Force always stands ready to protect America and its assets."
July 15, 2019 | No Comments » | Topics: Story |
Hundreds of protesters gathered in Aurora on Friday evening to march to the ICE detention facility where illegal and undocumented immigrants are being housed. They also removed the U.S. flag, replaced it with a Mexican flag, and spray painted graffiti on a Blue Lives Matter flag before it was seen flying upside down on the flag pole.
Footage of a demonstration outside of the Aurora, Colo., facility posted Friday shows dozens of protesters cheering as a Mexican flag was raised on a pole in front of the building.