Story
March 4, 2019 | No Comments » | Topics: Story |
Brittany Zamora allegedly had sex with a student three times at Las Brisas Academy Elementary School in Goodyear, Arizona.
The 27-year-old appeared in court on suspicion of eight counts of sexual conduct with a minor, two counts of child molestation and one count of transmitting obscene material. 
Zamora's text messages to the boy were revealed to the police and presented to the court during her first court appearance.
She is alleged to have asked if he wanted to have sex with her, saying she wanted him "all day long" and saying to she wanted to "quit" her job to be with him.
In one exchange between the pair, Zamora told the boy she wanted him 'every day with no time limit'.
February 25, 2019 | No Comments » | Topics: Story |
A wrongfully convicted California man received $21 million after spending 39 years in jail for being accused of killing an ex-girlfriend and her son nearly four decades ago.
Craig Coley, 71, was sentenced to life in prison without parole for the 1978 murder of his former partner, Rhonda Wicht, and her 4-year-old son, Donald, at their apartment. However Coley has always maintained his innocence, and was pardoned in 2017 by California's then-governor, Jerry Brown, based on exculpatory DNA evidence found by investigators. The 39 years Coley spent behind bars was the longest prison term ever overturned in California, the statement said. 
Coley has spoken to law enforcement officials about evidence collection, and has met with parents of prisoners who maintain their innocence, according to Mike Bender, a close friend and former police detective in Simi Valley, a community just outside Los Angeles. Bender had pushed for Coley's release for nearly three decades after he became troubled by aspects of the case.
California authorities awarded Coley $1.95 million last year — $140 for each day he spent in prison. At the time, it was the largest payout for a wrongful conviction by the state's Victim Compensation Board.
February 25, 2019 | No Comments » | Topics: Story |
A man pulled over for a traffic stop, rolled his window down, drew a handgun and opened fire on cops before being fatally shot by a deputy, graphic video released Wednesday by a sheriff's department in Northern California shows.
Napa County Sheriff's Deputy Riley Jarecki was on patrol when she came across 43-year-old Javier Hernandez Morales sitting in the parked car she deemed suspiciously parked. Jarecki then proceeded to walk over to the other side of the vehicle and ask Morales to roll down the window.
In the video, Morales compiles but then appears to fire at least one shot at Jarecki and misses. Jarecki radios for help, retreats to the car's passenger side and returns fire, unloading her weapon and killing Morales in a hail of bullets.
This video is an unsettling reminder of just how fast things can become life or death.
February 20, 2019 | No Comments » | Topics: Story |
A vegan couple have been arrested after almost starving their newborn child to death by reportedly only feeding him a potato-based formula.
Julia French, 20, and 31-year-old Robert Buskey were taken into custody in Titusville, Florida. Titusville police accused the couple of knowing their five-month-old son was malnourished, but doing nothing about it as the couple were charged with neglect with great harm, and could face further charges.
When the baby was seen by doctors back on February 5, the boy was diagnosed as being malnourished, reportedly "lethargic and not crying", according to an arrest affidavit from Brevard County, Florida. After being recorded at birth at 7lbs 9oz, police investigators say that the five-month-old baby was only 8lbs 8oz when his parents were arrested.
The reason for this baby's malnourishment appears to be the switching from a doctor-prescribed formula to a potato-based mash, the recipe for which seems to have been taken from the internet. French and Buskey reportedly chose not to feed the baby the formula, even after reassurances that the formula would fit in with their vegan lifestyle.
February 18, 2019 | No Comments » | Topics: Story |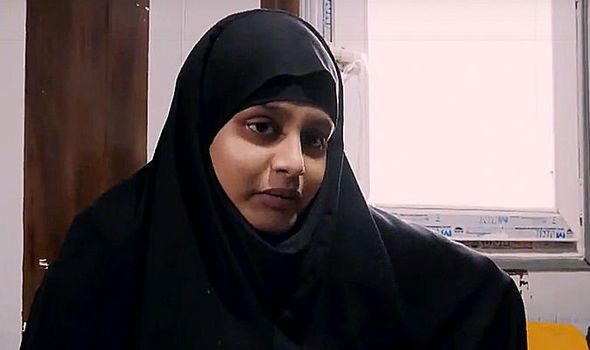 A British female who left the UK for Syria as a minor in 2015 to join the Islamic State says she has no regrets about joining the terror group but is pleading to return to her country, London-based media reported on Wednesday.
Shamima Begum, along with her schoolmates Kadiza Sultana and Amira Abase, made headlines in 2015 when they flew from London's Gatwick Airport to Turkey and then traveled into Syria.
Begum and Abase were both 15 at the time, while Sultana was 16. Two months prior to their journey, two other girls, also from the East London neighborhood of Bethnal Green, also arrived in Syria for the same reason. All of them reportedly married foreign Islamic State militants.
Begum, now nine months pregnant, explained to the Times of London that she initially settled in Raqqa, the Syrian capital of the group's self-proclaimed caliphate.
"I could not endure the suffering and hardship that staying on the battlefield involved. But I was also frightened that the child I am about to give birth to would die like my other children if I stayed on. So I fled the caliphate," Begum said in an interview conducted in the al-Hawl refugee camp in northeastern Syria.
"Now all I want to do is come home to Britain."
February 18, 2019 | No Comments » | Topics: Story |
"Empire" actor Jussie Smollett allegedly paid two brothers $3,500 to stage an assault against him, going so far as to rehearse the attack with them.
Smollett has claimed that two white men in ski masks reportedly approached him, yelled out racial and homophobic slurs ("Aren't you that faggot Empire nigger?"), then began to attack him with an unknown chemical substance. Before fleeing the scene, one of the men wrapped a rope around Smollett's neck, as if forming a noose. They then yelled, "This is MAGA country."
Detectives are following up on information provided by the brothers while they were in custody for two days this past week, the source said.
At least one of the brothers bought the rope at Smollett's request. Smollett also paid for the rope at Crafty Beaver Hardware Store, located in the Ravenswood neighborhood, the weekend prior to the incident, sources reportedly claimed.
The brothers, who appeared as extras on "Empire," were allegedly paid $3,500 to participate in the attack, and then promised they would receive an additional $500 after returning from a trip to Nigeria, the sources claimed. They traveled to Africa shortly after the attack, per the report.
February 15, 2019 | No Comments » | Topics: Sports, Story |
West Virginia law enforcement officer Kristen Richmond survived the fight of her life and gives credit to the self-defense training she pursues outside of work.
Richmond, a three-stripe BJJ white belt at West Karate of Weirton in West Virginia, has been training jiu-jitsu since August of 2016.
Here is Richmond's story:
Early this morning I found myself in a full-out fight with a 5'11, 195lb collegiate male athlete who was gooned up on an unknown drug (I'm assuming some sort of dissociative anesthetic). It was me and him for about five minutes. During said altercation, my glasses were shattered and knocked off my face, none of my radio transmissions got out, and a ton of equipment was stripped from my vest and duty belt. I managed to stay in the fight and maintain some control despite exchanging punches and knees with the subject. I secured one of the subject's hands in cuffs and maintained that grip throughout the majority of the fight. I also released my K9 partner and she did exactly what she trains to do; however, all the K9 bites, punches, knees, and baton strikes did not deter this guy. He wasn't there. The drug had consumed every part of him. After about 5 minutes of fighting, my partners finally found us (due to lack of comms) and, after several more minutes of fighting, we were able to secure him in cuffs ending the fight.
February 12, 2019 | No Comments » | Topics: Story |
Sisters Anna and Lucy DeCinque, who are known as the world's most identical twins, have revealed that they take it in turns to have sex with their shared boyfriend.
The 33-year-old siblings from Perth, Australia, also revealed that they are both present while one is making love with their partner of eight years Ben Byrne.
The sisters appeared on the latest episode of Australian TV programme Hughesy, We Have a Problem, where they discussed their relationship with the mechanic who they first started dating in 2012.
The sisters, who live with Ben and their mother said on the show: 'We sleep in a king size bed, bigger than a king size bed – about six inches more.'
They said that they would sleep either side of Ben and when host Dave Hughes asked if they were both present when the other had sex they replied 'yes.'
Lucy added: 'There's no jealousy in the relationship if Ben will kiss Anna he will kiss me Lucy.' 
Anna added:  'Ben accepts us he doesn't mind that we dress alike and want to be together, he doesn't judge us.
'We always have each others backs there's always two against one. He gets double the love double the attention.'   
February 11, 2019 | No Comments » | Topics: Story |
A Massachusetts woman was found guilty of involuntary manslaughter for sending her boyfriend dozens of text messages urging him to kill himself.
In 2014, Conrad Roy III was found dead of carbon monoxide poisoning. Investigators later discovered a barrage of text messages from the then 17-year-old Michelle Carter encouraging him to take his own life.
Carter's lawyers argued that Roy had a history of depression and suicide attempts and was determined to end his own life. He said Carter initially tried to talk him out of his plan and urged him to get professional help.
The following is a transcription of messages between the teens on the day Conrad Roy committed suicide.
February 11, 2019 | No Comments » | Topics: Story |
A Colorado jogger strangled a juvenile mountain lion in the foothills of Horsetooth Mountain northwest of Denver, acting in self-defence after the predator attacked him, authorities said on Tuesday.
The man was running on a trail when the juvenile cougar attacked him from behind, biting and clawing his face, back, legs and arms, state and local officials said in a joint statement late on Monday.
During the struggle, the man strangled the wild animal with his bare hands, according to Colorado Parks and Wildlife spokeswoman Rebecca Ferrell.
"There was some wrestling going on and the cat did latch onto his arm but he was able to choke it," she said.
The size of the cougar was unclear, Ferrell said, because other animals fed on the carcass before wildlife officers arrived. But it is believed it was a male.