Story
January 30, 2019 | No Comments » | Topics: Story |
A man from Minnesota was arrested after his wife was discovered dead in their home following a methamphetamine-fueled "death party" that he had hosted for her after he checked her out of the nursing home she was in.
58-year-old Duane Arden Johnson was arrested on January 25 for criminal neglect after he called 911 and reported that his wife, 69-year-old Debra Lynn Johnson, had died. The authorities found Debra's body inside the couple's home on January 24 in the town of Searles, southwest of Minneapolis. 
The Free Press reported that Johnson told the authorities that he had medicated his wife with meth and that they had a "death party" because she didn't want to take her last breath in the nursing home that she had been living in at the time.
He told the officers that they had meth, were "rocking out" to metal band Quiet Riot, and had sex in the hours before his wife died.
January 28, 2019 | No Comments » | Topics: Story |
A comedian turned down a London-based university gig after the school asked him to sign a "behavioral agreement" before the performance.
Russian-born comedian Konstantin Kisin received the agreement from the event's organizer, university society UNICEF on Campus, along with an invitation to perform at London's School of African and Oriental Studies (SOAS), according to BBC. He tweeted that the contract "nearly" made him "puke."
The "no tolerance policy" listed several topics including "racism, sexism, classism, ageism, ableism, homophobia, biphobia, transphobia, xenophobia, Islamophobia or anti-religion or anti-atheism. If any such topic was covered, it must be done in a "respectful and non-abusive way."
January 28, 2019 | No Comments » | Topics: Story |
A Texan who says he offered to work as an English teacher for the Islamic State and was captured earlier this month in Syria by U.S.-backed forces said he witnessed executions and crucifixions during the more than three years he spent with the terrorist group.
A Muslim convert, Warren Christopher Clark, 34, was being held in northern Syria after being captured during the campaign to liberate the last pockets occupied by ISIS in Syria, the coalition of militias known as the Syrian Democratic Forces said.
Clark, a former substitute teacher from Sugar Land, Texas, said the FBI has been in contact with him but he does not know what will happen to him next. He said he never fought for ISIS and said he was detained nearly a dozen times for refusing to take up arms.
Each time, Clark said, ISIS let him go and he suffered no abuse at their hands. But he admitted offering to work for them as an English teacher.
NBC News reported last year that Clark's résumé was found at a house in Iraq and was later obtained by the Program on Extremism at George Washington University. In a cover letter, Clark said he was hoping to obtain a job teaching English to students in territory seized by ISIS.
January 24, 2019 | No Comments » | Topics: Story |
A 27-year-old man was arrested in Utah on Saturday after threatening to shoot up a public place, specifying that he'd kill every woman he sees. Christopher Wayne Cleary wrote his threats in a Facebook post, which several women brought to the attention of the Denver police, according to The Denver Post.
Cleary, who was visiting Utah from Colorado, had reportedly posted the following threat to his Facebook:
"All I wanted was a girlfriend, not 1000 not a bunch of hoes not money none of that. All I wanted was to be loved, yet no one cares about me I'm 27 years old and I've never had a girlfriend before and I'm still a virgin, this is why I'm planning on shooting up a public place soon and being the next mass shooter cause I'm ready to die and all the girls the turned me down is going to make it right by killing as many girls as I see. There's nothing more dangerous than man ready to die."
January 23, 2019 | No Comments » | Topics: Story |
German model Martina Big, who has had melanin injections to make her skin tone darker and look more African, has claimed that she's changed her race. During a recent interview, Big said that she now identifies as black and spent seven weeks in Kenya to learn "tribal culture." Moreover, the woman told the co-hosts of the show This Morning that she and her white husband Michael's future children would be born black, citing some doctors.
"My children will be black. We are not having plans, but I am discussing with my doctor to see if my body is okay, will I be able to breastfeed, what the baby will look like", Big told host Holly Willoughby
"I'm trying to think genetically how that is possible," Holly pointed out. "If you give birth to a white child will you somehow think it's not connected to you?"
"No," Martina shot back.
"It's a mix of Michael and me. I'm pretty sure it will be black or milk chocolate or a little bit light, it doesn't matter."
January 23, 2019 | No Comments » | Topics: Story |
A Taiwanese social media star known as the "bikini hiker" for her swimwear-clad mountain treks has died after plunging into a ravine.
Gigi Wu, 36, who amassed 14,000 Facebook followers by posting selfies when she arrived at mountain summits, fell into a ravine Tuesday
Wu is believed to have frozen to death eight days into a 25-day hike through Taiwan's Yushan National Park after falling 65ft into a gully on Saturday afternoon and injuring her leg.
Wu managed to contact emergency services and give them co-ordinates of her location, but poor weather conditions hampered rescue efforts.
"Due to bad weather, three rescue helicopters were unable to reach her, and Nantou County Fire Department travelled to meet her on foot," says Taiwan News.
After a 28-hour trek through perilous conditions, rescuers found Wu's lifeless body yesterday. She had apparently died of hypothermia in zero-degree temperatures overnight. Her body was airlifted from the scene of the accident.
January 22, 2019 | No Comments » | Topics: Story |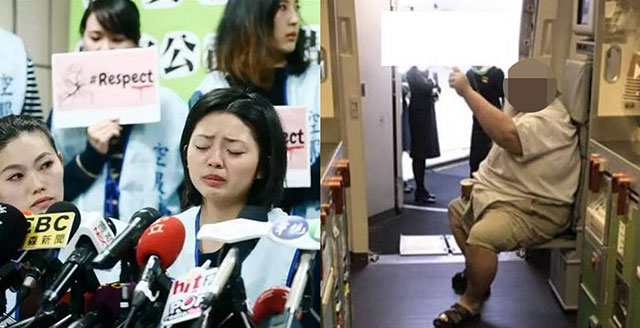 A flight attendant says she was left traumatized after she was forced to wipe the ass of an obese passenger after he used the bathroom on a flight between LA and Taipei.
In social media posts and at a later press conference, the flight attendants detailed the nightmarish experience which took place upon a flight from Los Angeles to Taipei that was operated by Taiwanese airline EVA Air on Saturday.
The male passenger, described as being an American weighing around 440 lbs, boarded the plane on a wheelchair and asked to be placed on a row with three free seats. Later, he made a more unusual request, asking for help in the bathroom, explaining that he recently had surgery on his hand.
Unable to fit inside the economy class bathroom, he was escorted to the business class one where he soon pressed the emergency assistance button, calling the flight attendant inside to pull his underwear down. The cabin crew for the flight was entirely female and the women were initially very reluctant, but the man insisted and pleaded, threatening to relieve himself on the floor, until he finally got his way.
January 21, 2019 | No Comments » | Topics: Story, WTF |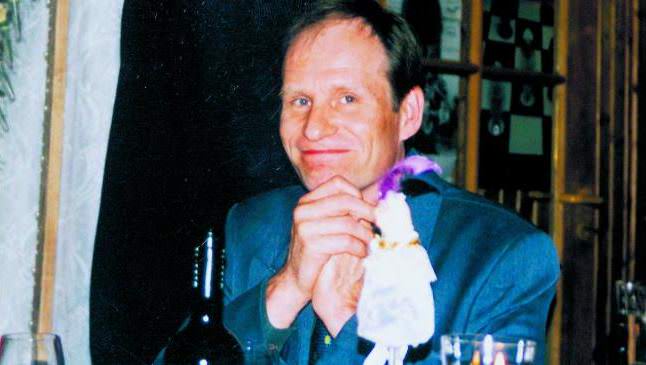 Armin Meiwes, a computer technician living in the German town of Rotenburg, was born December 1, 1961. He was described by neighbors as being "very childlike", friendly, and a sensitive person. Little did Meiwes' neighbors know that their local friendly handyman had some very dark secrets of his own. Armin Meiwes had a taste for human flesh, and his trial went down as one of the most extraordinary trials in German history.
Meiwes's childhood was far from normal. He lived alone with his mother until she died. His mother kept a close eye on Meiwes accompanying him on dates and even on Army training excursions. Meiwes described his childhood as "lonely" and he longed for a brother as a companion.
Meiwes began posting advertisements on The Cannibal Café website in 2001. The Cannibal Café website (now offline) contained forums where visitors could post their fantasies about cannibalism and being eaten. Meiwes used the screen name "Franky", a fantasy friend he had invented during his lonely childhood. His message was simple. "Looking for well-built 20 to 30 year old to be slaughtered and then consumed." Several people responded to his posts, some for play, some serious.
January 21, 2019 | No Comments » | Topics: Story |
A Chinese man who sold his kidney for an iPhone and iPad as a teenager now faces a life with renal disease after his remaining kidney failed.
Wang Shangkun made headlines in China at the age of 17 after it emerged he had sold a kidney on the black market, following a back-alley procedure, to get his hands on the latest Apple gadgets.
Perhaps tempting fate, at the time, Shangkun questioned "Why do I need a second kidney?" Now, eight years on, at the age of 25 his remaining organ has failed due to complications most likely related to his initial surgery.
Because of the kidney failure, Shangkun now spends days in bed at a time and is forced to rely on regular dialysis to stay alive.
In 2011, Shangkun's case became a national scandal, when, as a teenager, he made contact with gangs engaged in the black market trade of organs in an online chatroom.
Speaking to CNTV.cncn, Wang said: "At the time, I wanted to buy an iPad2, but I didn't have any money."
January 14, 2019 | No Comments » | Topics: Story |
A student accused a yoga club at the American University of "cultural appropriation" causing the club to shut down immediately.
Maya Krishna took offense to an event in October, seeing the touring group Viva Kultura, who was invited by the yoga club, perform on campus for its "India Day" festival.
The Bhakti Yoga and Vegetarian Club that had been active on the University's campus had to dissolve due to that one complaint filed by Krishnan.
In an op-ed, Krishna accused the yoga club of "cultural appropriation," on account of the group- Viva Kultura being "almost entirely comprised of white European dancers,"
"Having my culture represented by an almost entirely white troupe of dancers is incredibly frustrating. Additionally, the director, and other representatives of the theater company absolve themselves of cultural responsibility by saying that the point of the show is to increase exposure of Hinduism and its traditions. Hinduism is not widely practiced by white people. Hinduism is not widely practiced by Europeans. Hinduism is practiced mostly by South Asian people, who are historically not white and have faced discrimination for that. "