Story
December 5, 2018 | No Comments » | Topics: Story |
Forbes has released its list of top YouTube earners from June 2017 to June 2018, and at the top of the list is someone who can barely read: seven-year-old Ryan of the channel Ryan ToysReview. The tyke, along with the help of his parents, raked in an estimated $22 million from his toy unboxing channel, pre-taxes, after making $11 million last year.
Ryan used to be such a fan of toy review videos that when he was four, he asked his parents if he could make one himself. They acquiesced, only to watch their son's channel grow into an empire that now has 17 million subscribers and literally billions of hits. And it all started with a viral video in which he plays with a lot of toy cars. It's been watched 934,621,669 times.
Seven-year-old Ryan's mother quit her job as a high school chemistry teacher to work full-time on her son's channel. Forbes said that 15% of Ryan's earnings go into a protected account which he cannot access until he becomes an adult.
December 3, 2018 | No Comments » | Topics: Story |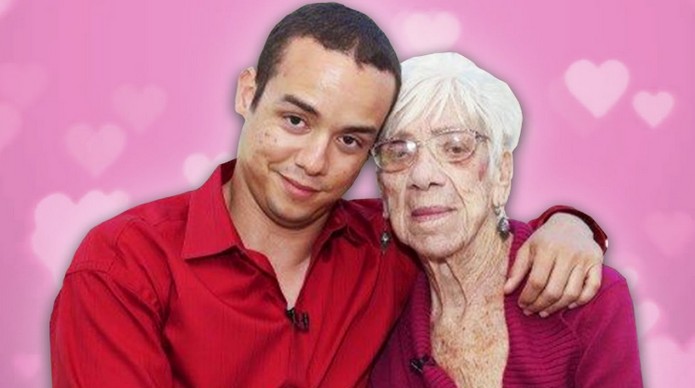 They say love is blind, but I'm finding it extremely difficult to wrap my heard around this man's taste in relationships
Kyle Jones, 31, has been in a casual (and sexual) relationship with 91-year-old great-grandmother Marjorie McCool for the past 5 years and, despite the 60 year age difference, says they are perfect for each other,
"Everyone's brain is wired differently, some guys prefer blondes, some brunettes, some like other guys – I like old ladies," said Jones.
"Often, the things women are so self-conscious about is what I'm into. I like the neck lines and wrinkles.
"Women worry about their boobs sagging but I think the natural hang looks great. I'm really not a fan of plastic surgery.
"I don't like to say grey, I'm a fan of platinum hair. I prefer it natural."
December 3, 2018 | No Comments » | Topics: Story |
A teacher in Florida said she was fired for refusing to give students a minimum 50 per cent credit on assignments they never completed.
Diane Tirado has been a teacher for over 17 years and began teaching Grade 8 at a school in Port St. Lucie since the start of the school year
However, she said she was fired midway through September for not giving students a half credit, even though they didn't complete their work.
"If there's nothing to grade, how can I give somebody a 50 per cent?" Tirado told local CBS12 News.
The 52-year-old explained she had given her students two weeks to complete a project, with some of the students failing to hand the assignment in.
Tirado discovered the "no zero" policy in the West Gate student and parent handbook after many of her students did not complete the assignment. The handbook showed a grading rubric with columns labeled as "Grade," "Percent," "Grade Point Average" and "Definition" from left to right. Letter grade A is between 90-100 points, B is 80-89, C is 70-79, D is 60-69, F is 50-59 and incomplete is 0.
Below the rubric in red uppercase letters said: "NO ZEROS- LOWEST POSSIBLE GRADE IS 50%."
November 29, 2018 | No Comments » | Topics: Story |
 A woman says a Southwest Airlines agent in Southern California mocked her 5-year-old daughter's 'Abcde' name when they were preparing to board a flight home to Texas.
The girl's name is spelled with the first five letters of the alphabet and is pronounced Ab-city
Traci Redford was preparing to pre-board a flight from John Wayne Airport in Orange County to El Paso, Texas, reports Los Angeles TV station KABC.
"The gate agent started mocking my child's name, laughing, pointing at me and my daughter, and talking to other employees," Redford told KABC.
"So I turned around and just said 'Hey, I can hear you. If i can hear you, my daughter can too. I'd appreciate it if you'd just stop'."
Redford said the agent also took a picture of the boarding pass with her daughter's name, pronounced "ab-city," and posted it to social media, said the report.
November 29, 2018 | No Comments » | Topics: Story |
A man from Texas sued a woman for $17.31 – the price of a cinema ticket – after she irritated him by texting during a movie.
Brandon Vezmar, 37, of Austin, claimed Crystal Cruz was "a threat to civilised society" after she used her phone to read and send text messages "at least 10-20 times in 15 minutes" 
"It was kind of a first date from hell," he told the Austin American-Statesman, saying she started about 15 minutes after the movie began. "This is one of my biggest pet peeves."
Mr Vezmar asked Ms Cruz to stop but she refused. He suggested she step outside to use her phone, after which she left the cinema and never came back.
The 35-year-old woman also drove away in her car, in which she had driven them both, leaving him without a ride home, he said.
A few days later, he messaged her asking for the price of a ticket but she refused because "he took me out on a date", she said.
November 28, 2018 | No Comments » | Topics: Story |
An unnamed couple, who lied about abusing their son to cover up their crimes when the child went to the police, have been sentenced to prison after the Reading Crown Court heard how they started sexually assaulting the boy, who is now in his 30s, from the age of 11. At the time of his arrest, the boy's father told the authorities that he wanted to keep his son "on the straight and narrow."
"To try and steer him in the right direction and not to go to the way of being gay, because there was like, sort of, tendencies for him to be gay."
Prosecutor Ruby Silva told the jury that the couple used to force their son to watch the two of them having sex and even performed sexual acts on him to prevent him from turning gay. 
Daniel Dowling, now 36, is telling his story publicly, which started when he was 11. He was playing a board game with his father and his stepmother, Annette Breakspear, and the father suggested that the loser of the game would take off their clothes.
When Breakspear was naked, Richard told his son to touch her body.
"I think that night was a tester of how I'd react because intercourse started after that," Daniel said.
November 28, 2018 | No Comments » | Topics: Story |
J.R.R. Tolkien's famous and influential series, The Lord of the Rings, has been accused of purporting racism and discrimination due to its depiction of orcs.
Appearing on the Geek's Guide to the Galaxy podcast, hosted by Wired magazine, science-fiction author Andy Duncan states his views on The Lord the Rings concerning racism during a conversation about his work Senator Bilbo:
But it's hard not to miss that repeated notion in Tolkien that some races are just worse than others. That some peoples are just worse than others. And this seems to me, in the long-term, if you embrace this too much, it has dire consequences for yourself and for society. So, Senator Bilbo is a parody in which you have a racist demagogue stomping around the world of the halfings in a sort of desperate holding pattern to keep at bay all the change that is coming about as they resolve the Lord of the Ring.

Think about it this way. I'm not questioning that in this parodic middle-earth-like setting that I am imagining, I am not questioning that there was a Sauron, anymore that I am not denying all that bloodshed and all that wickedness that needed to be beaten back any more than I would be, in our world a holocaust denier. On the other hand, I can easily imagine that many of those people that were doing the Dark Lord's bidding were doing so out of simple self-preservation and so-forth. That a lot of those creatures that were sort of raised out of the Earth by Sauron, had not a great deal of choice in the matter of what to do. So, I had this very complicated sense of the politics of all that."
November 26, 2018 | No Comments » | Topics: Story |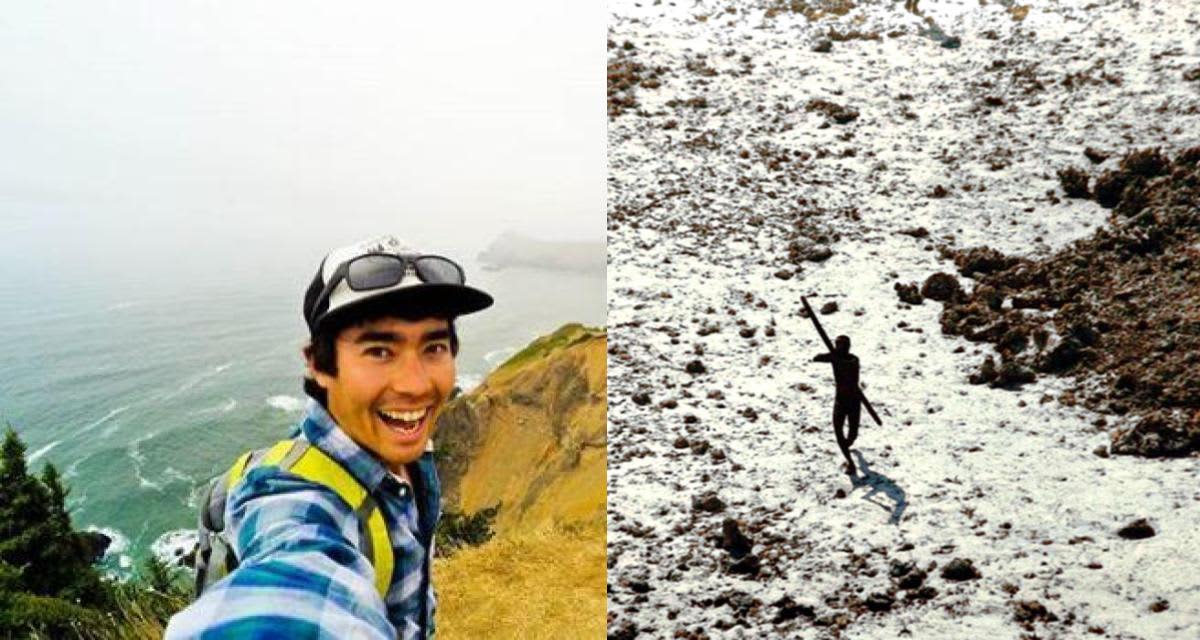 Last week, we learned of John Allen Chau—a missionary who was killed by an isolated, Indigenous tribe after he illegally invaded their remote island. Now a Christian organization is demanding retribution for the death of the John Allen Chau. International Christian Concern crafted a statement on the "murder" of the missionary by tribesmen on North Sentinal Island. Even though the Indian government protects the Sentinelese, the group is demanding that the Indian government holds the "murderers" responsible.
In a statement uploaded on November 20th, International Christian Concern outlined their take on the death of John Allen Chau. Even though laws prohibit travel to the island, the group wants the Indian government to charge the Sentinelese with murder.
A spokesperson for International Christian Concern said:
"We here at International Christian Concern are extremely concerned by the reports of an American missionary being murdered in India's Andaman and Nicobar Islands. Our thoughts and prayers go out to both John's family and friends. A full investigation must be launched in this this murder and those responsible must be brought to justice."
November 21, 2018 | No Comments » | Topics: Story |
An American tourist was killed by a tribe on a remote island in the Indian Ocean as soon as he set foot on their home.
The American missionary named John Allen Chau had travelled to North Sentinel Island – one of the world's most isolated islands – with the intention of converting the people who live there to Christianity.
North Sentinel Island is situated within the Andaman Islands and to say the people of this particular island wish to be left alone is something of an understatement.
The 27-year-old paid fisherman to help him get across to the island, but it appears as if he was killed by the locals as soon as he arrived there.
The indigenous people of North Sentinel are protected by law and it is illegal to go over to the island – not that you'd want to, given that they have a reputation for killing anyone who tries.
November 19, 2018 | No Comments » | Topics: Story |
A 70-year-old man charged with robbing a Kansas City, Kan., bank said he did it because he preferred a jail cell over living with his wife.
According to court documents, Ripple handed a teller a note that read, "I have a gun, give me money."
After the teller handed him nearly $3,000 in cash, Mr Ripple waited in the lobby for police to arrive. 
When a bank security guard approached him, Ripple told the guard, "I'm the guy you're looking for."
The guard took the money from Ripple and held him until police arrived, which wasn't long, because Kansas City, Kan., police headquarters is on the same block.
When he was questioned later by investigators, Ripple told him that he and his wife had argued and he "no longer wanted to be in that situation."
"Ripple wrote out his demand note in front of his wife … and told her he'd rather be in jail than at home."