Video Games
February 13, 2020 | No Comments » | Topics: Video Games |
December 17, 2018 | No Comments » | Topics: Nostalgia, Video Games |
November 6, 2018 | No Comments » | Topics: Video Games |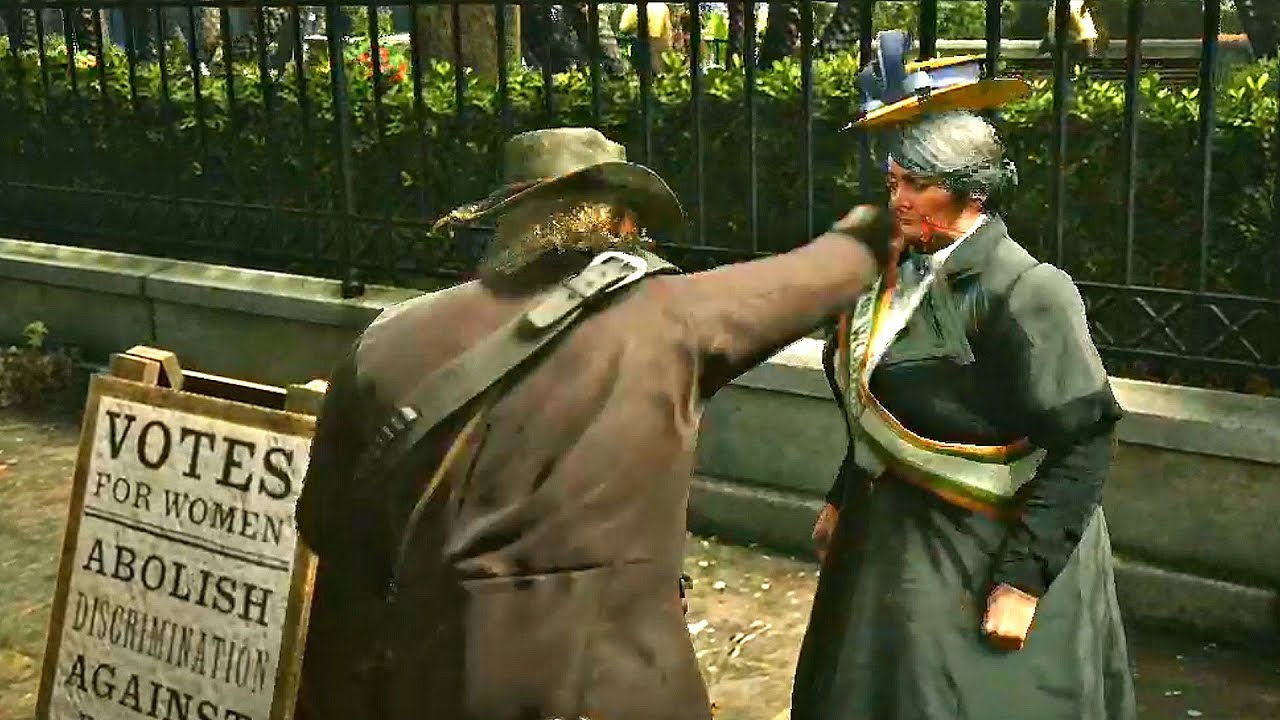 Red Dead Redemption 2 gives the player the choice to act in a variety of ways, with their actions ultimately affecting their moral rating and the way they are perceived by other characters.
Some gamers are now using free will to attack a suffragette character who can be seen in the the industrial city of Saint Denis, campaigning for her right to vote. Standing beside a 'Votes for Women' sign on a public street, a woman can be heard shouting "let me vote! I can say this all day!" over and over again. She has quickly gained the title of one of the more annoying characters in the game.
A YouTuber by the handle Shirrako uploaded a video entitled, 'Red Dead Redemption 2 – Beating Up Annoying Feminist', where he punches the woman in the face. Check out the video below.
August 7, 2017 | 2 Comments » | Topics: Video Games |
Contra (1987)
A lot of people remember this game as being relatively easy, and it could be – assuming you cheated. The famous Konami code would give you 30 lives, but if you instead tried to play without it, you are given only three lives, and any random pixel coming at you could spell doom. With no regenerating life, no armor, and no cover, all you can do in this game is run and run and run.
February 16, 2017 | No Comments » | Topics: Video Games |
Bo Jackson was not only the best player in Tecmo Super Bowl, he was the best player in any sport in any time in every single fictional and non-fictional dimension. Bo Jackson was to Tecmo Super Bowl as Shakespeare was to literature. Bo Jackson was to Tecmo Super Bowl as Mozart was to music. Bo Jackson in Tecmo Super Bowl was the epitome of what every man, woman, child dreams they could be. He would send young kids and grown men crying into shame when their defenses tried to master the Raider offense he chaired. Players using him have been able to rush for 800-900 yards per game and run all over the field on one play and run out the time of a whole quarter without being tackled. In the game Jackson is simply unstoppable. Even though Tecmo Bo, as he came to be known, had only one play designed for him, he would regularly peel off 80-yard runs. Even if the opposing player called a play designed to stop him, Jackson was able to bust through multiple defenders for a 20-yard gain. If you gave the ball to Bo Jacksonand you DID NOT score, it was a comment on your own imperfections as a human being. A buddy of mine recounted the time when his brother used Bo to blast him with 95-yard game-winning run, saying he was "helpless as Bo shed about 500 tackles at once and strolled into the end zone"….it took him many, many years to get over that one. Greatest game ever, greatest player ever.
December 21, 2016 | No Comments » | Topics: Video Games |
December 20, 2016 | No Comments » | Topics: Video Games |
August 2, 2016 | No Comments » | Topics: Video Games |
December 23, 2015 | 2 Comments » | Topics: Video Games |
November 19, 2015 | No Comments » | Topics: Nostalgia, Video Games |
I'm still stuck in the 90's. I don't think I will ever get over it. The carefree days of playing video games, taking a break when the ice cream man rang his jingle and not having to worry about bills, insurance, rent, office politics, and the myriad of other bullshit that comes with being a grown up. The only comfort I can take is remembering the good ol' days and the good ol' days consisted of a lot of video game playing, specifically NES. Here's a selection of 10 awesome NES games, the boss fights and the ending to help take you back to those carefree days.
Contra