November 2, 2018 | No Comments » | Topics: Compilation |
November 1, 2018 | No Comments » | Topics: Links |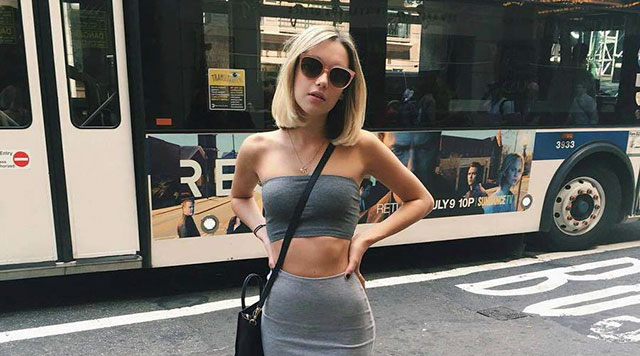 A damn fine collection of bewbs, awesomeness and everything in between – Leenks
Secrets of people who stay happy in the worst circumstances – Fast Co
The best office chair is an investment at over $1,000, but if you sit for long periods, the expense is well worth it for something that will likely last more than a decade – Amazon
Big Bro Disciplines His Little Brother For Disrespecting Their Mother! – Worldstar
Danica McKellar (Winnie Cooper in The Wonder Years) Slave Leia Costume – Reddit
The 100 greatest foreign-language films – BBC
How To Invest When You Are Broke – Mel Magazine
Best Supplements for a Healthy Looking Complexion – Skincare
Dddddddamn. Brutal – Streamable
This is why McDonald's fries don't taste as good as when you were a kid – Insider
10 Strange Facts That Can Shake Up Your World – Brightside
The Epic Final Season of 'GoT' Will Have the Biggest On-Screen Battle Ever – VICE
Whitey Bulger's Fatal Prison Beating: 'He Was Unrecognizable' – NY Times
The Ferrari Of Blenders – Amazon
Next level school girl costume – GFY
15 Qualities of Mentally Tough People – Success
What Is Rimming? Here's a Handy Beginners' Guide – Mens Health
Watch Red Hot Chili Peppers play surprise Halloween concert at school assembly – Consequence Of Sound
20 signs she's not worth your time – Muscle And Fitness
Danny Amendola got dumped by Olivia Culpo after he was spotted with Bianca Peters – Sports Gossip
Slutty Halloween Roundup of the Day – Drunken Stepfather
What Is a 401(k) Retirement Plan? – The Motley Fool
David Lee Roth and Ozzy Osbourne's insane 'cocaine challenge' of 1978 – Dangerous Minds
How A Big Expensive House Can Ruin Your Life And Path To FIRE – Financial Samurai
My Life Cleanse: One Month Inside L.A.'s Cult of Betterness – GQ
J-Lo Flashing Her Half-Naked Body – G-Celeb
All 73 Songs Sia Has Written for Other Artists, Ranked – TIME
Public Service Loan Forgiveness: How to Qualify (and Why So Few People Do) – The Simple Dollar
November 1, 2018 | No Comments » | Topics: The Dumping Grounds |
November 1, 2018 | No Comments » | Topics: Poll |
What's the biggest age gap you'd be willing to date?
©
November 1, 2018 | No Comments » | Topics: WTF |
So, I met this beautiful woman about 7 months ago at an alumni function. We hit it off and honestly she's everything I could ask for. I'm not sure if I'm still in the honeymoon phase, but so far everything is working out and she even moved in with me two months ago with no problems.
However, this past holiday season she started doing something gross. Honestly, it's so disgusting I haven't even asked my friends or family for help on this matter. On Christmas Eve, I woke up pleasantly surprised to see that she was cooking breakfast. But, when I looked at my scrambled eggs, it looked really really sketchy. It looked way too moist. My gf told me she used a fancy cheese which is why it was extra moist and smelly. I believed her and ate it. The texture was absolutely horrendous, but taste-wise it was fine. She beamed and started planning our holiday.
Then on New Year's Eve, we were cuddling and doing couple things. She brought strawberries and whipped cream. We did some fun with the whipped cream and she fed me the strawberries. Then she chewed up a berry and fed it to me. I thought it was weird, but I was so horny I didn't mind. We finished the rest of the berries in the same manner, and the subsequent sex was AMAZING.
But… now she's starting to chew her food and feed it to me. Sometimes not in a sexual manner. Steak, chicken, salad, eggs, etc. It's so disgusting. When I tell her to stop she starts crying and says I don't love her enough. All of our fights were about this issue. I eventually eat some and its so gross. I recoil whenever I think about the texture.
Help??? I thought maybe she needs to talk to a therapist or maybe I should contact an ex of hers to see if he went through something similar. She is perfect for me except for this one issue.
November 1, 2018 | No Comments » | Topics: Life Experiences, TRUTH |
I once had it all – literally what seemed to be the pinnacle of my life or so it seemed. We just purchased a beautiful new home in a great area of the city. Zero debt plus 6 figures in the bank. Cute new car. Great position at work. To the outside world, we seemed like the "it" couple. Then everything came crashing down.. fast and HARD!
Marriage dissolved almost overnight. I lasted ONE year in that brand new house. ONE. For reasons too long to list, my 14 yr relationship with what was supposed to be my "life" partner dissolved. And with it, I also lost my immediate family – goodbye brother and mother (dad croaked years ago).
SAME effin time, my work decided to let me go – AFTER dedicating 10 years of my life to them and being promoted 4–5xs. I didn't see it coming at all. It was almost like I was blindsided. I was in the middle of a monster release, was working around the clock – so much so that my European counterparts were convinced I never slept. My developers, everyone was BLINDSIDED that THEY (VPs, CTO, etc) chose to cut me off. Me and my barely 6 figure salary. I believe I was paid about high $90k then.
November 1, 2018 | No Comments » | Topics: Man-Up |
(photo: @quillofspirit)
There is never a perfect time for you to take action. There is never a perfect time for you to launch that project, to spend time with your family, to write a book, change your habit, or embrace a new habit. Once you acknowledge this, you will get a lot more meaningful work done everyday.
I'm too tired. I don't have the time. I am not capable. Someone else will do it. It's too late now. Now is not the right time. I am not talented. I am not ready. I'm too scared. Nobody will help me. What if I fail. I don't feel motivated. I'd rather do nothing. I don't have the money..yet!
It's easy to come up with excuses and justify not getting started. The longer you fill your head with rationalizations and empty excuses, the less time you have to take action.
It's easy to say, "I will start when I have more experience, money, time and resources". By this time next year, you will have a lot more excuses.
November 1, 2018 | No Comments » | Topics: Art |
November 1, 2018 | No Comments » | Topics: Funny Pictures |
November 1, 2018 | No Comments » | Topics: Funny Pictures |
When my kids believe they have to leave their Halloween candy in the kitchen "so mice don't get it"