September 12, 2013 | No Comments » | Topics: main, The Dumping Grounds |
Soldiers, Sailors and Airmen of the Allied Expeditionary Forces:
You are about to embark upon the Great Crusade, toward which we have striven these many months. The eyes of the world are upon you. The hopes and prayers of liberty-loving people everywhere march with you. In company with our brave Allies and brothers-in-arms on other Fronts you will bring about the destruction of the German war machine, the elimination of Nazi tyranny over oppressed peoples of Europe, and security for ourselves in a free world.
Your task will not be an easy one. Your enemy is well trained, well equipped and battle-hardened. He will fight savagely.
But this is the year 1944. Much has happened since the Nazi triumphs of 1940-41. The United Nations have inflicted upon the Germans great defeats, in open battle, man-to-man. Our air offensive has seriously reduced their strength in the air and their capacity to wage war on the ground. Our Home Fronts have given us an overwhelming superiority in weapons and munitions of war, and placed at our disposal great reserves of trained fighting men. The tide has turned. The free men of the world are marching together to victory.
I have full confidence in your courage, devotion to duty, and skill in battle. We will accept nothing less than full victory.
Good Luck! And let us all beseech the blessing of Almighty God upon this great and noble undertaking.
- Dwight D. Eisenhower
September 12, 2013 | 3 Comments » | Topics: Compilation |
September 12, 2013 | 1 Comment » | Topics: Interesting |
September 12, 2013 | 4 Comments » | Topics: GIFs |
Russian Spetsnaz vs Russian car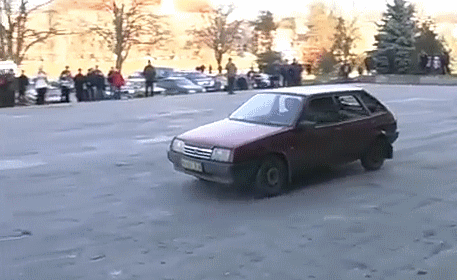 I got a kiss!
September 12, 2013 | No Comments » | Topics: LOLs |
September 12, 2013 | 4 Comments » | Topics: Babes |
September 12, 2013 | 1 Comment » | Topics: Motivation |
I don't know you. I don't know a thing about you. I don't know where you come from, where you're going, or why you do what you do. I don't know if we'd get along if we met. But there is one thing that I do know: You are capable of much more than you have been led to believe.
As I am writing this, there are 7 billion people walking and breathing on our humble rock. The overwhelming, vast majority of them will pass through their 720,000 hours like a match struck in the wind. Hardly noticed, scarcely remembered.
Tomorrow, as you go about your day, take your time to look around. Are there a lot of people around? What do you see? You see mediocrity. You see average. You see everything about yourself that you hate, that you fear, but that you have been conditioned to believe is acceptable. Fine. Enough. A good job.
I'm here to tell you that you will NOT settle for what is fine. You will NOT settle for a good job. Fine is for the loser. Fine is for the guy who skipped the last set of his workout because he just didn't feel like it. Fine is for the guy who cheated on his diet (this goes for you too, you skinny fuk) because he just couldn't do it anymore. Fine is for the guy who took a nap instead of sprinting around town in the torrential downpour. Fine is for the guy who got the job, but not the one he wanted. That guy made second place. He has never embraced pain, personal sacrifice, or thrown himself into the fires of dedication. Most importantly, and starting today, this guy is NOT YOU.
You are not this person. You are destined for greatness. You have it inside of you, and you know it. You have always known it. You have felt it as a faint thumping in your gut. It is clawing, scratching, struggling to be set free. It needs your help. As long as you hold yourself to the standard of "average", that is all you will ever be. In your dreams you aren't average, so why the Fuk are you settling for it now? What should you be doing right now? What is eating at the back of your skull? Go do it! You know what it is, soldier. The time to act is now. You will burn. You will suffer. Your demons will not be defeated easily. Every step of the way they will whisper in your ear that you aren't good enough. That you are not meant to succeed. "Just give up," they will mutter, "you will never be the best." "NO," you will reply. You will embrace suffering. You will finish that last repetition. You will claw through the agonizing pain. You will destroy the mediocre pussy in your head. You will break boundaries. You will rise above the rest. You will realize your potential.
You are no average man. Now go do what you were destined to do. End of fuking story.
September 11, 2013 | No Comments » | Topics: main |
Meet Trotter, The Most Stylish French Bulldog On The Internet – Ned Hardy
12 Things You Didn't Know About Boobs – Knowd
9 Superhero Movies That Almost Happened – Crowd Ignite
Marines training around the world in high-res (159 HQ Photos) – The Brigade
Audrina's Partridge Bikini Pics of the Day – Drunken Ninja
Gio Ott Sure is Hot – G-Celeb
Ashley Greene Caught Sunbathing Topless – Celebrity Ninja
20 People Giving TMI On Facebook – Smosh
Female Teachers Accused of Having Relationships with Their Students (40 pics) – Linkiest
All you wanted to know about Paulina Gretzky – Leenks
Professional Begging: First World Edition – Double Viking
This can't be real….or can it? – Ehowa
Jenny McCarthy still has really large breasts – Celeb Slam
Underboob is One Way To Get Motivated – Bro My God
Jason Mayhem Miller Arrested for the 3rd time this month – Cage Potato
15 Fit Girls In Yoga Pants – Regretful Morning
Street Fighter – Where Are They Now? – Unreality Mag
6 Common Mistakes Guy Makes With Girls – Uncoached
The 7 WORST Owners in All of Sports History – The Smoking Jacket
The 25 Funniest Restaurant Names Ever – World Wide Interweb
Illinois Big10Ten: Natalie – Big 10 Tens