April 11, 2018 | No Comments » | Topics: Man-Up |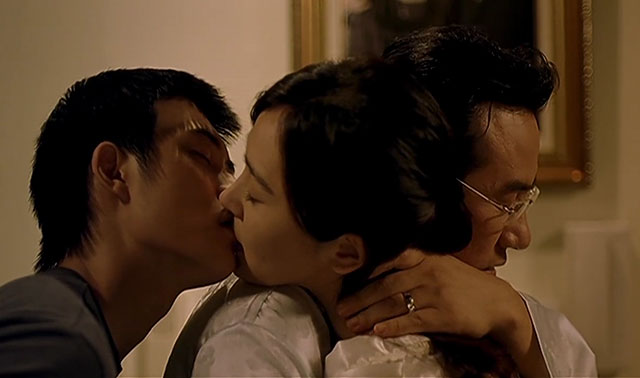 11 Signs That Your Girlfriend Might Be Cheating On You
Remember when you were young and you thought love was this invincible, bulletproof force that was immune to outside influence, impervious to evil and capable of overcoming all obstacles? And, then you found out your girlfriend was sleeping with your best friend since a week after you met, and that bubble was ruptured, never to be restored again. 
Sorry. Maybe we got a little personal on that one. Maybe, you're one of the lucky few who remains a fool for love, and the wool has yet to wear away before your eyes. We hate to single-handedly destroy your remaining naivete, but women do cheat. Thankfully, more often than not, these kind of things don't often happen without some sort of warning. Or in some cases, many. Here are intimations of infidelity that should tentatively raise flags:
Your Intuition
 Your gut feeling may also be an indicator that something is wrong somewhere. If you have worked on overcoming your jealousy but still feel something is not right and have that sinking feeling in the pit of your stomach or you find yourself looking for excuses for your partner's behaviour-then pay close attention to other things on these signs of cheating spouse for a recurring pattern. Pay close attention to the signs and your instinct but make sure you don't confuse signs with proof.  
March 28, 2018 | No Comments » | Topics: Man-Up |
Life is tough sometimes.
Every now and then, life tends to throw you a curveball and a woman wants to be able to rely on her man to remain strong no matter what happens.
She doesn't want to have to be the strong one or "the man" and take care of a scared, sensitive or insecure guy who can't handle the pressures of life as a human being. She wants to be able to relax into being the more emotionally sensitive and vulnerable one, rather than having to be strong for her guy because he is weak.
All across the world, women are naturally attracted to the emotional strength in men (e.g. confidence, determination, high self-esteem, calm under pressure, etc) and turned off by the weakness (e.g. insecurity, shyness, anxiety, nervousness, etc).
When a woman can see that her man always remains emotionally strong no matter how tough life gets or how much she tests him (e.g. by being less affectionate, throwing tantrums, etc), it deepens her respect and attraction for him in a profound way.
She can look up to him and respect him as the man in the relationship, rather than looking down on him and feeling as though she's gotten herself involved with a half a man or a wimpy guy who isn't emotionally strong enough for a woman like her.
March 12, 2018 | No Comments » | Topics: Man-Up |
Most guys make the mistake of making friends with a girl first in the hopes of working it into a meaningful relationship later.
This couldn't be more wrong. Not only are they wasting their time and money on the girl, but they are also digging their own graves.
These men wait around with their heads down in the hopes that she will change her mind and become romantically interested in them. However, these men fail to recognize the most basic facts: If she wasn't interested in you romantically in the beginning, what makes you think she will change her mind later?
What makes you think she's not using you as a surrogate boyfriend until she finds somebody she really wants?
What makes you think that she isn't just around for the ride while you spend your money and time on her?
The "Friendship Zone" is a trap… a trap so elaborate and strong that freeing yourself out of it is about as easy as climbing Mount Everest.
To her, being friends with you means she doesn't have any sexual attraction towards you or have any romantic interest in you. You're simply around to kill boredom or until she finds something else better to do.
She may at one point in time have found you attractive, but since she's spent enough time with you, she now believes you are as challenging as a game of checkers with her grandma. You simply do not stir the electricity in her body and that's why you are who you are: A Friend!
March 7, 2018 | No Comments » | Topics: main |
What's The Difference Between Sex And Making Love?
(photo: @kidposhh )
I had no idea what the difference was between sex and making love until I was 23.
I was with an older gentleman at the time and he asked me
"what's your definition of making love? I replied, rose petals and candlelight. He said that's your definition of making love? Wow, there is a lot I need to teach you.
Clearly I was missing the emotional experience of sex that's shared with someone you truly care for and love. As a teenager my only reference to sex was pron, that's how I learned how to have sex.
As years went on, I now have a very clear understanding of how sex and making love are very different acts.
Sex is bio-mechanical and instinctive, we all know how to do it. Love making is slow, sensual, not goal oriented which allows us to experience the metaphysical being of oneness, this type of love making is truly an art in itself.
Many men I speak to and coach still have no idea what the difference is, because the majority use porn as an educational tool.
For a man becoming a great love – maker is about having the proper attitude and knowing how to use your erection as an instrument of romantic expression.
To become a great lover, you must first understand the difference between ordinary sex and making love.
February 20, 2018 | No Comments » | Topics: Man-Up |
A man's attractiveness is inversely proportional to how needy he is. The less needy he is, the more attractive he will be to women on average. The needier he is, the less attractive he will be to women on average.
Neediness is when a man places a higher priority on others' perceptions of him than his perception of himself. A needy man's actions and words will therefore be primarily motivated by impressing and winning approval from others. Non-neediness is when a man places a higher priority on his own perception of himself than the perceptions of others. A non-needy man's actions and words will therefore be primarily motivated by embodying his own values and desires.
Neediness, therefore, infiltrates all behaviors because it is what inspires and instigates all behaviors. A lack of neediness also infiltrates all behaviors for the same reason. Because it underlies all of your actions and words, to be non-needy is to be more attractive, in every way. It defines and resonates in everything you say and do, the way you stand, the way you smile, the jokes you tell, the people you associate with, the car you drive, the wine you drink, the jacket you wear.
February 14, 2018 | 1 Comment » | Topics: Man-Up |
by George P.H.
The first time I fell in love, I was 13. I wanted her to like me back so much I was prepared to do anything. I did my best to be nice, kind and giving – but none of it worked.
So I spent 2 years watching my first crush date asshole after asshole. She'd fall for the cheaters, the jerks and the guys who disrespected her. Every time, I was the one she cried to when things went wrong for the Nth time.
I didn't get it. Here I was, giving her so much and ready to give more; we'd be great together… But she kept choosing them over me. She wasn't the only one; over the years, many of the girls I liked ended up with assholes.
So when I finally decided to get with women, the first thing I wanted to know was, "why do girls like assholes so much?" – and whether I had to become one to be loved.
Here are the answers to those questions.
1. Girls Like Assholes because They're Strong
Assholes have tough, dominant personalities. They're not afraid to assert themselves over other people – in fact, they rarely show fear at all. They take what they want from life and don't care what anyone thinks of them.
This is incredibly attractive because girls want to be with men who make them feel safe and protected. They like strong guys who know what they want and aren't afraid to take it. Assholes have all those qualities – and so women choose them.
February 5, 2018 | No Comments » | Topics: Man-Up |
We all know about the running joke that romantic relationships are a source of misery.
We grew up on shows like Married With Children where Al Bundy hated having to hang out with his wife Peg. We hear friends challenge each other with, "You're so whipped!" And serious couples give us ominous warnings such as, "Don't get married." or "It's all good now, but wait until the honeymoon is over."
These may make us laugh but they also reinforce that our partners are a burden on our lives.
It's true that maintaining a happy, healthy relationship takes work. But that doesn't mean it has to suck.
The secret lies in finding a relationship that makes life easier and more fulfilling for you.With a compatible partner and mutual support, your relationship should decrease outside stresses, increase productivity, and improve the quality of your lives. 
February 2, 2018 | 1 Comment » | Topics: Man-Up |
Why is it that women flock to some men and ignore others?  Is it because of looks, confidence, humor, enthusiasm, personality, status, etc?
Depending on the circumstances and the girl, any one of these 'reasons' could be the deciding factor, but that's not what's important.  What's important is that these are all symptoms of something deeper, something more fundamental.  They are the outward expression of a single 'rule' for attracting women.
The problem with most dating advice is that it focuses on developing or exhibiting these traits and ignores the actual cause of these traits.  It focuses on ways to 'fake it' and get around your inability to attract women. 
Some advice involves lying or making up stories to make you seem more attractive.  Other advice involves various flavors of changing who you are to make a girl like you. 
These methods can work in the short term, but that doesn't make them right, and in the long term, they usually leave you unhappy because you are rejecting who you really are just so you can get a girl to like you.
The key to becoming attractive is to avoid studying tricks and tactics and work on the inner cause of what makes you an attractive person.