January 2, 2020 | No Comments » | Topics: Story |
A dead man's children vented their rage at him for abandoning them and their mother 40 years ago by slapping him dragging his body out of his coffin at his funeral.
In the video a man and a woman could be seen opening the coffin and dragging the corpse out. They even slapped the man's face a few times after opening the lid of the coffin. After leaving their father's body on the floor, they berate him for almost a minute
October 28, 2019 | 4 Comments » | Topics: WTF |
Ed Gein (pronounce 'Geen' with a hard G) was born on August 27, 1906 in La Crosse, Wisconsin. His father was a timid alcoholic, and his mother was fanatically religious. Gein and his older brother, Henry, grew up in a household ruled by their mother's puritanical preachings about the sins of lust and carnal desire.
Ed ran the family's 160-acre farm on the outskirts of Plainfield, Wisconsin after his brother died in 1944. When his mother died in 1945, Ed was a thirty-nine-year-old bachelor, still emotionally enslaved to the woman who had tyrannized his life.
September 30, 2019 | No Comments » | Topics: Story |
(photo by caitlynnmcconnellsmit)
Now, according to Jewish civil rights organization the Anti-Defamation League, the "OK" hand symbol has gone from prank to a hate symbol associated with white supremacy.
July 23, 2019 | No Comments » | Topics: Story |
June 4, 2019 | No Comments » | Topics: Art, Story |
In 1979 Marina Abramovic, an as yet unknown performance artist living in Soviet Russia, created one of the most controversial, fascinating, and dangerous performance pieces in art history. She called it Rhythm 0, and it was as much a work of daring contemporary art as it was a massive social experiment that pulled the veil on human nature, and laid bare the consequences of leaving ourselves, our bodies and our lives in the hands of strangers.
For six hours, she put her life and body completely in the hands of strangers, turning herself into an object to be used, as one wished. During this time she agreed to remain passive, and unresponsive until the experiment was over. Abramovic decided that she would just quietly and limply observe. For the audience, there were no immediate consequences.
At first, only photographers were going near her.
May 30, 2019 | 1 Comment » | Topics: Story |
A 27-year-old man from New Delhi, India, wants to take his parents to court for bringing him into this world without first asking for his consent.
Raphael Samuel is an anti-natalist, a person who believes that people should abstain from procreation because giving birth to sentient beings without asking for their consent is morally wrong. Samuel doesn't have anything against children or life itself, he simply believes that a life form which has not given its consent to live should not be brought into the world and thus to be subject to the hardships of life. Because he considers himself a victim of life without "forced life", the young Indian plans to take his parents to court.
May 27, 2019 | No Comments » | Topics: Story |
37-year-old Lilybeth Marvel first noticed there was something wrong with her son Carlito about two years ago, when he began staying up late at an internet cafe near the family home in Nueva Ecija, the Philippines. Things got progressively worse as time went by, to the point where the 13-year-old now spends days on end with his eyes glued to a monitor playing his favorite "battle royale" video game, Rules of Survival. Last week, Mrs. Marvel was filmed delivering her son's breakfast to the internet cafe and hand feeding him while he continued to play, because he had been there for over 48 hours.
April 18, 2019 | No Comments » | Topics: Life Experiences |
Mechanophilia is a paraphilia involving a sexual attraction to machines such as bicycles, motor vehicles, helicopters, ships, and aeroplanes
1. The tailpipe isn't the only option! If it interests you, get hold of a silicon sleeve or some other masturbation tool to make life easier on your tool. Note: a possible sleeve is a Hand Job Stroker by Calexotics, obtainable from CloneZone (wank toys dept). Typically a rubber, silicon or similar sheath can also be used elsewhere, especially for cut gentlemen.
2. For those who enjoy the body of a car, licking, kissing, caressing and the normal actions of foreplay work well.
January 28, 2019 | No Comments » | Topics: Story |
A Texan who says he offered to work as an English teacher for the Islamic State and was captured earlier this month in Syria by U.S.-backed forces said he witnessed executions and crucifixions during the more than three years he spent with the terrorist group.
A Muslim convert, Warren Christopher Clark, 34, was being held in northern Syria after being captured during the campaign to liberate the last pockets occupied by ISIS in Syria, the coalition of militias known as the Syrian Democratic Forces said.
Clark, a former substitute teacher from Sugar Land, Texas, said the FBI has been in contact with him but he does not know what will happen to him next. He said he never fought for ISIS and said he was detained nearly a dozen times for refusing to take up arms.
Each time, Clark said, ISIS let him go and he suffered no abuse at their hands. But he admitted offering to work for them as an English teacher.
NBC News reported last year that Clark's résumé was found at a house in Iraq and was later obtained by the Program on Extremism at George Washington University. In a cover letter, Clark said he was hoping to obtain a job teaching English to students in territory seized by ISIS.
January 22, 2019 | No Comments » | Topics: Story |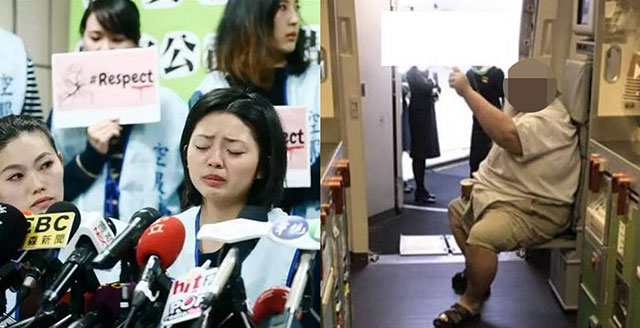 A flight attendant says she was left traumatized after she was forced to wipe the ass of an obese passenger after he used the bathroom on a flight between LA and Taipei.
In social media posts and at a later press conference, the flight attendants detailed the nightmarish experience which took place upon a flight from Los Angeles to Taipei that was operated by Taiwanese airline EVA Air on Saturday.
The male passenger, described as being an American weighing around 440 lbs, boarded the plane on a wheelchair and asked to be placed on a row with three free seats. Later, he made a more unusual request, asking for help in the bathroom, explaining that he recently had surgery on his hand.
Unable to fit inside the economy class bathroom, he was escorted to the business class one where he soon pressed the emergency assistance button, calling the flight attendant inside to pull his underwear down. The cabin crew for the flight was entirely female and the women were initially very reluctant, but the man insisted and pleaded, threatening to relieve himself on the floor, until he finally got his way.