June 13, 2018 | No Comments » | Topics: Life Experiences |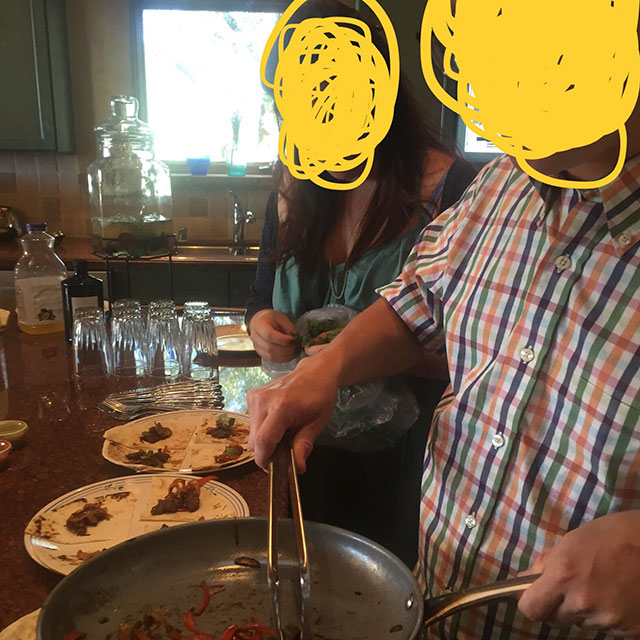 Why?
So my friends and I always had this joke, If you could try human flesh in an ethical and health way, would you. And we always said of course. Well the opportunity came up and I called them on it
What drugs made you decide that it was a good idea to do that?
The drugs were not a factor in the decision That being said, contemplating my death while tripping through space and time while on ketamine in the helicopter did change my outlook on life
You said you only invited people you knew well. Did that feel like an intimate thing? Having people eat you?
It really was. There were some people very dear to me there, who supported me through that time and who's friendship I will cherish.
January 15, 2018 | 2 Comments » | Topics: Story |
Business owners are very conscious when it comes to online reviews. It only takes a scathing review on social media to cast a shady reputation on a business. So it's not surprising that this seller, who was identified as Zhang, took it very badly when a customer gave him a low rating – he took it so bad he travelled more than 500 miles just to meet and punch her! If there was a championship for overreacting, this guy most definitely would be the winner.
It all started when Xiao Li, a woman who loved shopping online, decided to order some clothes from an online shop, but later decided to write a complaint comment on the Taobao internet marketplace. The reason? Her order was delayed for four days.
Zhang, the shop owner, apparently became furious, because his ratings went down. He even threatened to murder his customer.
December 26, 2017 | 4 Comments » | Topics: Story |
A priest in South Africa is currently under fire after feeding his congregation rat poison, claiming that they were all above death.
Priest Light Monyeki from Soshanguve, South Africa thought it was a good idea to give the worshipers a bottle of water laced with deadly rat poison Rattex claiming that they will receive nourishment to their bodies and heal their sickness. He was the first to take a sip, then a multitude of congregants joined in to have a drink.
December 18, 2017 | No Comments » | Topics: Story, WTF |
There comes a time in every man's life where he decides that having sex with 1000 cars does not give him the emotional fulfilment he so desires. This is what Edward Smith, 63, realized after giving up his lothario ways and committing to his one true love; Vanilla, a Volkswagen Beetle. Sure, he had his fun; by his own estimate he's given over 1000 cars a good rogering over the past 48 years. But Vanilla's seductive alabaster exterior and voluptuous curves blew away all of the competition.
December 12, 2017 | 15 Comments » | Topics: Story |
A man who vandalized a Florida mosque and left a slab of raw bacon on its doorstep has been sentenced to 15 years in prison on a hate crime conviction.
Michael Wolfe, 37, pleaded guilty on Tuesday to criminal mischief to a place of worship, a case considered a felony hate crime, Todd Brown the spokesman for Florida's 18th Judicial District said.
CCTV footage from January 2, 2016 captured a man with a shaved head wearing camouflage clothing smashing windows, cameras and lights with a machete knife at the mosque in Titusville, near Cape Canaveral.
Hate groups have been using pork products to desecrate mosques in the USA due to the Muslim faith's prohibition of them, according to the Council on American-Islamic Relations (CAIR).
November 21, 2017 | 20 Comments » | Topics: WTF |
Chloe Jennings-White of Utah says that she's known from a very young age that she is supposed to be disabled, even though she has always been perfectly healthy.
"I think it was about 4 years old that I first consciously knew that my legs are not supposed to work. I'm not supposed to be able to walk," Jennings-White told ABC 4 in Utah.
Jennings-White is 58-years-old and has degrees from both Cambridge and Stanford Universities. She's an accomplished research scientist and is happily married. So why the desire to be permanently disabled?
October 19, 2017 | 7 Comments » | Topics: WTF |
Fuck everything about this shit….
Gov. Jerry Brown signed a bill Friday that lowers from a felony to a misdemeanor the crime of knowingly exposing a sexual partner to HIV without disclosing the infection.
The measure also applies to those who give blood without telling the blood bank that they are HIV-positive.
Modern medicine allows those with HIV to live longer lives and nearly eliminates the possibility of transmission, according to state Sen. Scott Wiener (D-San Francisco) and Assemblyman Todd Gloria (D-San Diego), authors of the bill.
"Today California took a major step toward treating HIV as a public health issue, instead of treating people living with HIV as criminals," Wiener said in a statement. "HIV should be treated like all other serious infectious diseases, and that's what SB 239 does."
(more…)
September 11, 2017 | 1 Comment » | Topics: WTF |
It's hard to imagine why anyone would voluntarily infect themselves with one of the deadliest viruses in human existence, but for "Los Frikis" – a Cuban punk community living under the regime of Fidel Castro during the 80s and 90s – injecting themselves with HIV-infected syringes was the easiest way to escape persecution and police harassment.
Los Frikis, the name than became synonymous with punks, metalheads and pretty much anyone who didn't fit in with mainstream Cuban society, came together during the late 1980's. Their music, dressing style and culture were influenced by that of similar communities in the United States and other European countries, something that didn't sit well with Fidel Castro's communist regime. Most of the bands also sang in English, which only made things worse for Frikis in general. Although the language was purely an aesthetic choice, speaking English in those days was considered a huge no-no.
Breaking social norms was a risky affair in 1980s Cuba, and the Frikis paid a high price for it. Many of them were rejected by their families, harassed, arrested and forced to do manual labor for their "crimes". Los Frikis would meet in safehouses located in run-down areas, but other than that they didn't have many places where they felt accepted. Tired of the constant persecution, many of them  took up a form of protest that can only be described as extreme – infecting themselves with HIV by injecting the blood of their sick friends into their veins.
August 22, 2017 | 4 Comments » | Topics: WTF |
Ed Gein (pronounce 'Geen' with a hard G) was born on August 27, 1906 in La Crosse, Wisconsin. His father was a timid alcoholic, and his mother was fanatically religious. Gein and his older brother, Henry, grew up in a household ruled by their mother's puritanical preachings about the sins of lust and carnal desire.
Ed ran the family's 160-acre farm on the outskirts of Plainfield, Wisconsin after his brother died in 1944. When his mother died in 1945, Ed was a thirty-nine-year-old bachelor, still emotionally enslaved to the woman who had tyrannized his life.
The house soon degenerated into a madman's shambles. He remained alone in the enormous farmhouse, haunted by the ghost of his overbearing mother, whose bedroom he kept locked and undisturbed, exactly as it had been when she was alive. He also sealed off the drawing room and five more upstairs rooms, living only in one downstairs room and the kitchen.
August 10, 2017 | 6 Comments » | Topics: WTF |
In 1979 Marina Abramovic, an as yet unknown performance artist living in Soviet Russia, created one of the most controversial, fascinating, and dangerous performance pieces in art history. She called it Rhythm 0, and it was as much a work of daring contemporary art as it was a massive social experiment that pulled the veil on human nature, and laid bare the consequences of leaving ourselves, our bodies and our lives in the hands of strangers.
For six hours, she put her life and body completely in the hands of strangers, turning herself into an object to be used, as one wished. During this time she agreed to remain passive, and unresponsive until the experiment was over. Abramovic decided that she would just quietly and limply observe. For the audience, there were no immediate consequences. 
At first, only photographers were going near her.
The premise of "Rhythm 0" was deceptively simple: Abramovic would stand still for six hours straight while the people who came to see her were urged to do whatever they wanted to her using one of 72 objects that she had placed on a table.