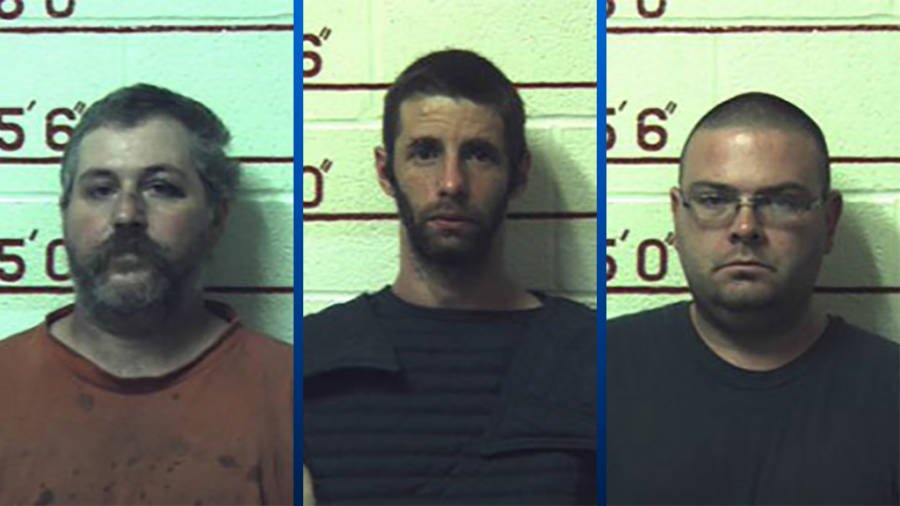 Three Pennsylvania men are facing more than 1,400 counts of allegedly having sex with multiple animals.
According to CBS News Pittsburgh,  Terry Wallace, 41, Marc Measnikoff, 34, and Matthew Brubaker, 32, have been arrested. While serving a search warrant, police found a large volume of homemade videos. The Clearfield County District Attorney's Office stated a 16-year-old boy living on the property at Mouse Lane told state police the men were all having sex with animals. 
The suspects allegedly forced the boy to hold the animals down while the men performed intercourse repeatedly for a period of about four or five years. He also described a "v" shaped pen that was designed to specifically be used to facilitate the sexual activity, according to the police report.
The animals included dogs, horses, a cow and a goat.
The boy described his horrid living conditions in the trailer park that he shared with his father, where he had no access to electricity and collected rainwater so that he could take showers.
Clearfield County District Attorney William A. Shaw Jr. said there are currently no allegations of the boy being sexually molested and that authorities have no reason to believe that he was. "Right now, we don't believe the juvenile was sexually victimized," Shaw said.
The teen is currently in protective custody. The State Police and the Society for the Prevention of Cruelty to Animals are caring for the animals and preparing to move them to a safe place.
In Pennsylvania, engaging in any form of sexual intercourse with an animal is penalized as a misdemeanor of the second degree. They face a maximum of two years in prison and a $5,000 fine for bestiality, although they may face a harsher sentencing taking into account the alleged crimes committed against the boy and the prolonged period of time that the criminal activity took place.