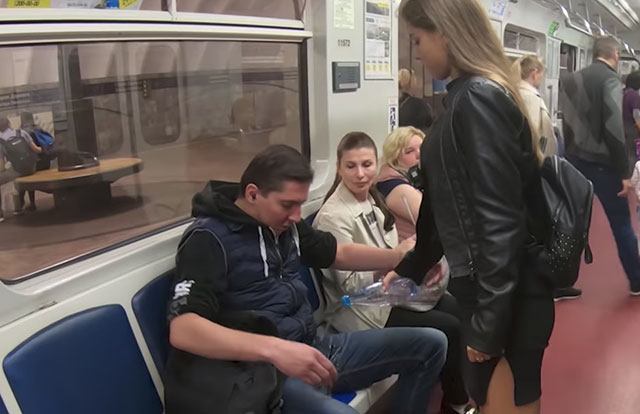 20-year-old Anna Dovgalyuk has been pouring the substances onto men while on the metro in St Petersburg, Russia, as she believes they're guilty of 'gender aggression' on public transport.
Anna accuses Russia of being slow to deal with the problem, saying manspreading – men sitting with their legs spread – is being 'fought around the world – but hushed up here'.
Instead, she decided to take matters into her own hands and has been targeting men who sit with their legs spread wide while on the train.
This is my new video manifesto, dedicated to the problem of manspreading," Dovgalyuk says in the video. "Men demonstrating their alpha-manhood in the subway with women and children around deserve contempt. If you publicly show what kind of macho you are, we will publicly cool you off!"
By cool off, Dovgalyuk means pouring "about 30 liters of water mixed with 6 liters of bleach" into the laps of any man she catches with his legs too wide on public transportation. The video shows this in action: Dovgalyuk pours the solution from a water bottle onto unsuspecting men, horrifying them and onlookers. According to the video, she doused 70 men total.
The idea is to give the manspreaders a huge crotch stain marking them for their misdeeds. The video claims that the bleach solution is "30 times more concentrated than the mixture used by housewives when doing laundry. It eats colors on the fabric in a matter of minutes, leaving indelible stains."
Anna shared the video of her targeting men on the train and explained it was directed at all men who manspread often. She said it was 'so everyone can immediately understand which body part controls the behaviour of these men'.
Anna added the video was 'on behalf of everyone who has to endure the manifestations of you declaring your macho qualities on public transportation'.
Anna has previously brought attention to her activism by flashing her underwear to commuters to raise awareness for upskirting laws in Russia.
She explained: "I am a social activist who advocates for women's rights and against discrimination in any form."
Rumours circulated how Anna's video of her pouring bleach on men was staged, and she'd used actors, but the feminist denied the claims: "My action is absolutely real."