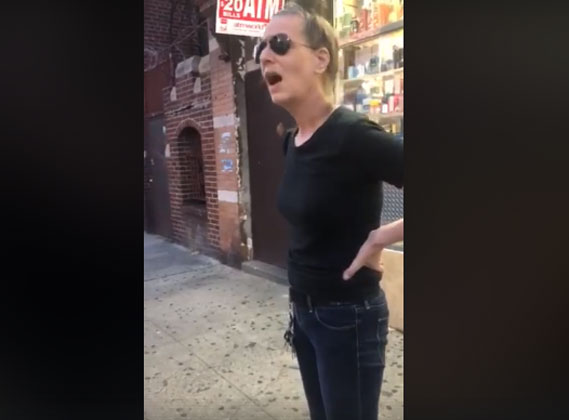 A woman who called the police on a 9-year-old black boy, claiming he inappropriately touched her, apologized to the child on Friday.
The incident took place in Brooklyn on Wednesday, when the woman, 53-year-old Teresa Klein called the police after she thought the child grabbed her behind.
She quickly earned the nickname "Cornerstore Caroline" by 37-year-old Jason Littlejohn, a Flatbush native who took footage of the incident outside the bodega, a video that has since gone viral on Facebook.
"I was just sexually assaulted by a child," Klein said in the video while on the phone with the police. The boy and a second child both started crying as other eyewitnesses began to challenge Klein about what actually happened. "The son grabbed my ass and she decided to yell at me," Klein then said, referencing the child's mother.
Klein went back to the store on Friday to purchase cigarettes and speak with reporters. Urged by a reporter, Klein viewed the bodega's security camera footage from Wednesday, which showed that when the child turned around to talk to someone, his backpack brushed Klein's backside when she was bending over the counter.
Klein attempted to explain her actions, saying that she was upset with how the boy's mother addressed her. "I understand how it looks, but she escalated it and then I lost my temper at her, not at that child," she said.
Afterward, she spoke with a reporter and apologized, saying, "Young man," she said, "I don't know your name but I'm sorry."