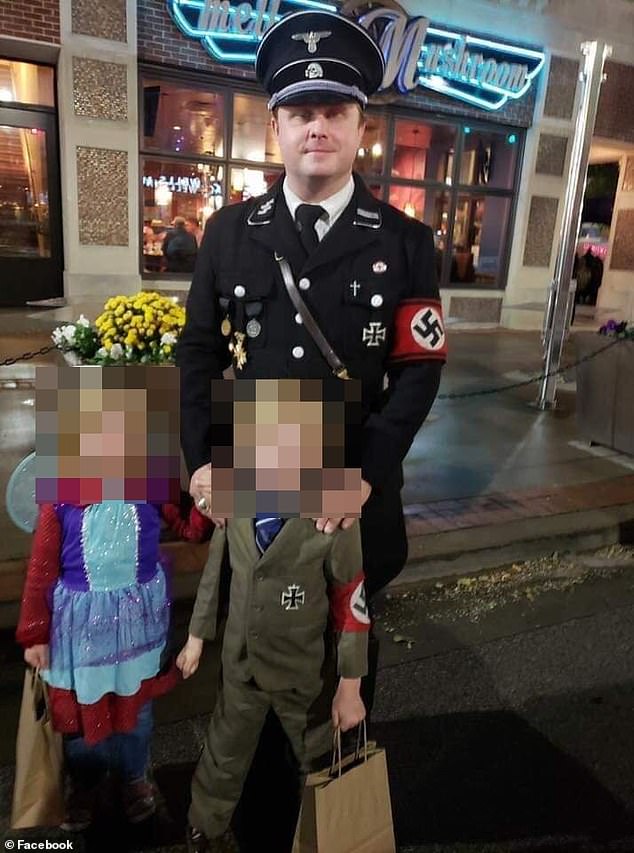 A Kentucky man posted online that he and his 5-year-old son were mistreated while dressed as Nazis for a Halloween event.
The photo, which was taken on the way to a children's trick or treat event in Owensboro on Thursday, shows Bryan Goldbach dressed as a Nazi soldier and his son as Adolf Hitler.
When photos of the father and 5-year-old were uploaded to Facebook, they sparked an immediate backlash.
Goldbach initially tried to defend his choice, writing that "anyone who knows us knows that we love our history, and often dress the part of historical figures.
"We saw people dressed as murderers, devils, serial killers, blood and gore of all sorts," he wrote in a Facebook post. "Nobody batted an eye. But my little boy and I, dress as historical figures, and it merits people not only making snide remarks, but approaching us and threatening my little 5-year-old boy. Yes liberalism is alive and well. And we had the displeasure of dealing with the fruits of the so called "Tolerant Left.""
It wasn't long until the controversial photograph and post went viral, and surprisingly people didn't take the costume in the way Goldbach was hoping.
While Goldbach dressed as a Confederate soldier for Halloween last year, he denied being a racist, referring to white supremacy as "disgusting."
The father said it didn't occur to him that the photo would stir as much controversy as it did but acknowledged that he didn't think the idea through. He has now apologized saying he regrets the decision.
"I wasn't trying to make a statement or put my son in any position," Goldbach said, according to The Owensboro Times. "It was bad judgment. I want people to know I am sorry."
"I think it was in bad taste for me to let my child to wear that, probably for me to wear that. It didn't occur to me. I thought it was a bad decision on my part," ABC-affiliate WEHT Eyewitness News reported him as saying.
Here's a nice family photo that recently surfaced on the internet: