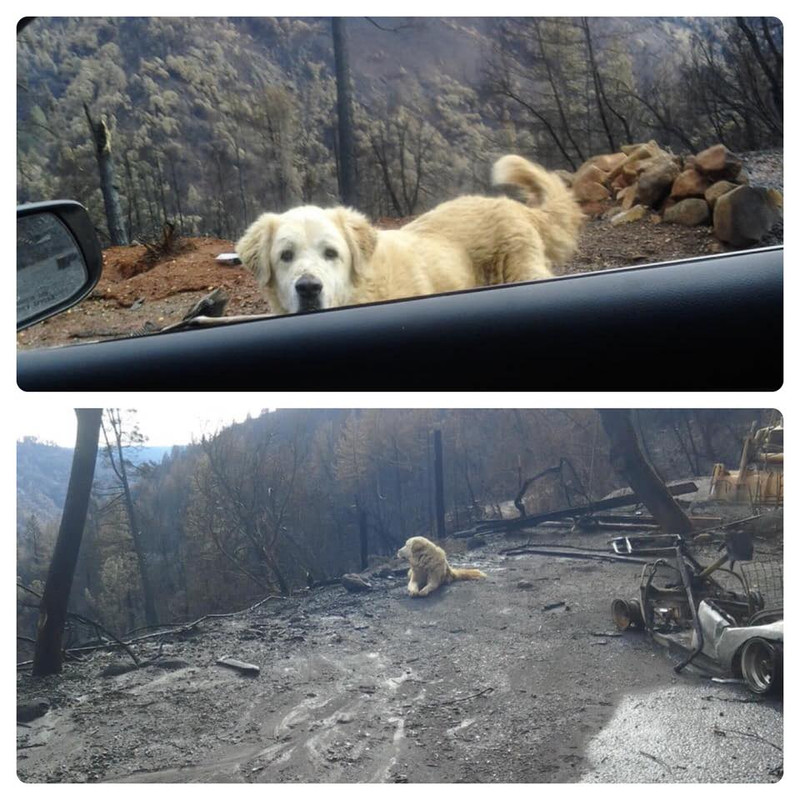 A dog that survived the catastrophic Camp Fire in Northern California reportedly waited at the ruins of its property for nearly a month until its owner returned.
K9 Paw Print Rescue took to Facebook to share the heart-warming story, writing: "Madison's parents were unable to get home to him when the Camp Fire spread. They hoped and prayed he would be OK.
"When they finally got clearance to go back to the lot where their house once stood….Madison was waiting there for them as if he were protecting his former home. Never give up!"
Shayla Sullivan, a rescue worker who has helped looked after animals caught up in the tragic fires, commented on the post to say that she was keeping an eye out for Madison and his brother Miguel, who had been reported missing by their owner.
Shayla said the outdoor guard dog was apprehensive and kept his distance. Sullivan left food and water for him regularly until Gaylord got back on Wednesday. She also helped locate Madison's brother Miguel, another Anatolian shepherd that was taken to a shelter 85 miles away in the confusing aftermath of the wildfire.
The dogs reunited Friday when Gaylord came back to the property with Miguel and brought Madison his favorite treat: a box of Wheat Thin crackers.
Gaylord told news station ABC10 she couldn't ask for a better animal.
"Imagine the loyalty of hanging in in the worst of circumstances and being here waiting," she said.
"Their instinctual job is to watch the flocks and we're part of them," Gaylord said about her dogs. "It's a comforting feeling."
The  Camp Fire started on November 8 and tore through more than 150,000 acres of land before it was finally put on December 6.
Thousands of people were forced to flee their homes as hundreds of firefighter worked tirelessly to get the flames under control.
Eighty-five people lost their lives in the fire and three injured firefighters were injured.