Nothing is sacred to Instagram influencers seeking likes. Just a couple years after selfie-takers earned infamy for the so-called "yolocaust" trend, which involved social media users taking inappropriate selfies at the Holocaust Memorial in Berlin, Instagrammers are back at it again with the latest trend of taking sexy selfies at the site of the Chernobyl disaster.
HBO's latest miniseries Chernobyl has generated a renewed interest for the accident site among people the world over. The former site of the nuclear power plant at Pripyat in Ukraine has now predictably become a sort of pilgrimage site.
Reuters reported several Chernobyl tour agencies have experienced a 40 percent rise in trip bookings since the series debuted in May.
The spooky grounds of the exclusion zone have become the unusual backdrop for a series of photos by influencers on the hunt for an online following on the social platform.
Some users are even posing half-naked at the site, with one Instagram user named nz.nik standing topless in an unzipped hazmat suit and a thong as she makes sexy poses at the disaster site.
One Instagram influencer from Austria, Julia Baessler—who enjoys 320,000 fans on the platform —came under fire online after posting photos of herself posing in the control room of the No. 4 reactor that exploded.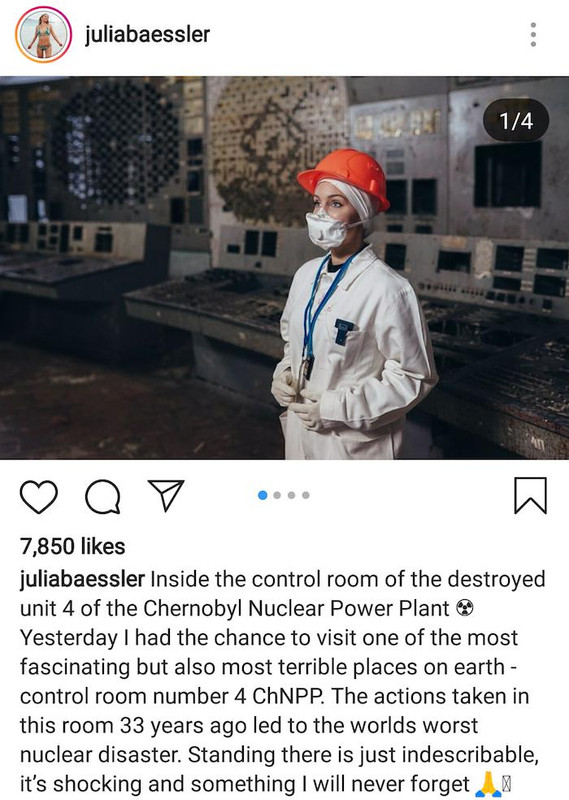 Baessler deleted many of her Chernobyl posts after becoming the subject criticism blasting her and other users of exploiting the disaster for social media likes.
The new trend has even sparked an intervention by HBO series' creator, Craig Mazin, who issued a notice to influencers that they should be more sensitive. Writing on Twitter, Mazin said:
It's wonderful that #ChernobylHBO has inspired a wave of tourism to the Zone of Exclusion. But yes, I've seen the photos going around.

If you visit, please remember that a terrible tragedy occurred there. Comport yourselves with respect for all who suffered and sacrificed.

— Craig Mazin (@clmazin) June 11, 2019
According to official estimates, 31 people died in the Chernobyl meltdown, which was the world's worst nuclear disaster when it occurred in April 1986. However, some estimate 4,000 dead to upwards of 90,000.
Related Posts: