deadmau5
House/Techno
deadmau5 is a Canadian producer of the electronic music genres of House and Techno, and has become a household name because of his extravagant live shows and signature mouse-head. An innovator (and cynic) of live electronic performances, deadmau5 is not afraid to take advantage of any and all technologies available to him: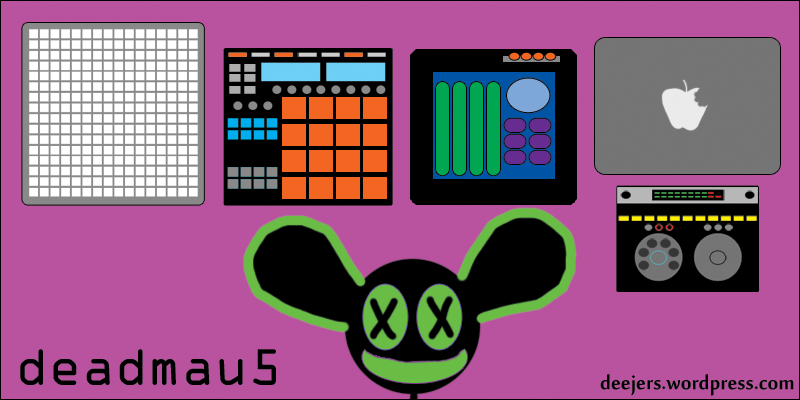 deadmau5 has some of the most spectacular live shows in the world, and he uses an incredible amount of technology to make them happen. (From left to right: 16×16 monome, Native Instruments Maschine, JazzMutant Lemur, Apple MacBook Pro, & Pioneer EFX-1000 Controller.)
Skrillex
Electro House, Dubstep
Skrillex, a former post-hardcore singer/songwriter, began creating digital productions and has been a major contributor to bringing electronic music back into the mainstream. Having been nominated for a total of eight Grammy awards and leaving with six, Skrillex is showing no visible signs of slowing down. Here's what his live rig looks like: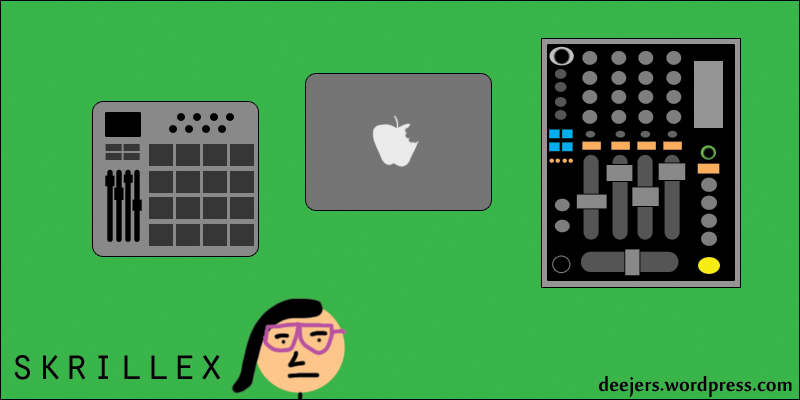 Although not widely known as the most technically-skilled artist, Skrillex has gained massive success and helped bring modern electronic music into the popular culture. (From left to right: M-Audio Trigger Finger, Apple MacBook Pro, & Pioneer DJM-800 Mixer/MIDI Controller.)
Where you can hear Skrillex: Skrillex's Official YouTube Channel
Flying Lotus
Experimental Electronic, Hip Hop

Flying Lotus comes from Los Angeles, California and proves how enormous sounds can be made on a small laptop. You might have heard his beats in-between cartoons on Adult Swim or you might not have heard of him at all – either way I suggest you check out Flylo. If you are fortunate enough to see him play live, here is what you'll most likely see lying in front of him: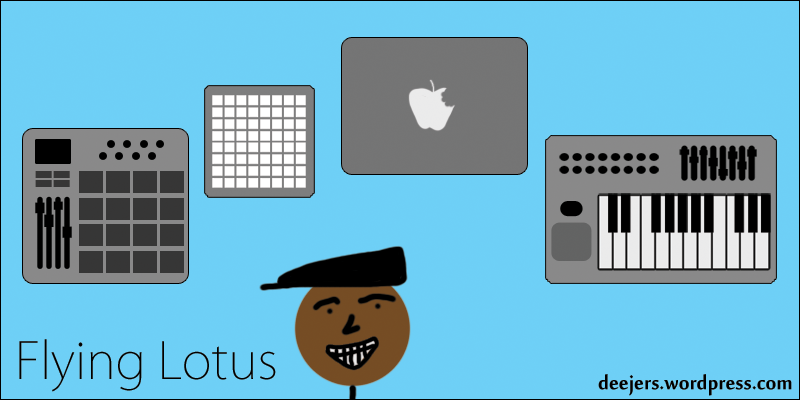 Flying Lotus utilizes technology while still maintaining a very organic and human feel to his music – a lot of this is due to his practice of recording and playing beats without any computer correction or editing. (From left to right: M-Audio Trigger Finger, monome 40h, Apple MacBook Pro, & Novation ReMote 25SL Keyboard.)
Where you can hear Flylo: Flying Lotus' Official Website
Bassnectar
Breakbeat, Drum & Bass, Dubstep

Bassnectar aka DJ Lorin hails from Santa Cruz, CA and has been playing his electronic music in huge live settings for over a decade. In the last few years he has become known for putting on insane live shows and playing his loud, bass-heavy music to the masses. If you've seen Bassnectar live and had a second to stop dancing and look his way, then you would've seen him headbanging in front of these: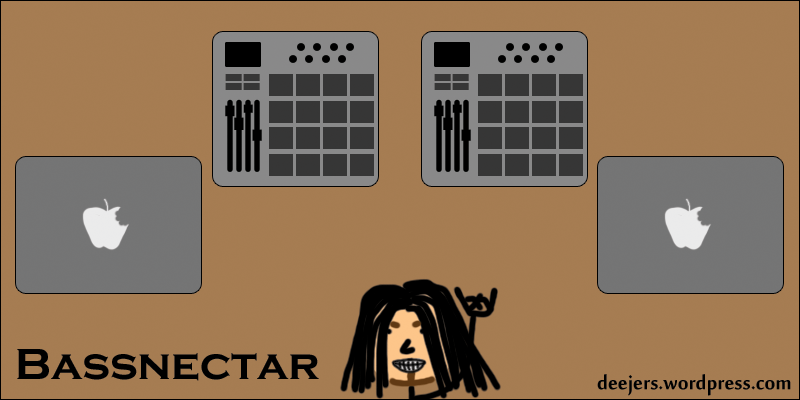 Bassnectar chooses to dual-wield Apple MacBook Pros and M-Audio Trigger Fingers during his bass-heavy shows – this allows for the creation of more complex sets and improved reliability in the case of something going wrong.
Where you can hear Bassnectar: BassnectarLabs YouTube Channel
Pretty Lights
Electronic Funk, Hip Hop, Dubstep
Pretty Lights comes from Colorado and brings some incredible funkiness into the broad genre that is electronic dance music. If you're ever able to look away from the light show that accompanies his live performances (and gives him his name), then you're going to see Pretty Lights jamming on a variety of controllers: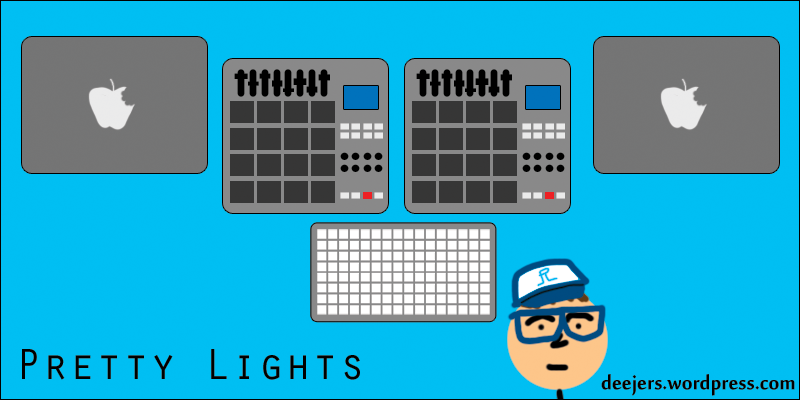 Pretty Lights has embraced technology as a means of creating his music. For live shows, he connects two Akai MPD32 drum pads and an 8×16 monome grid controller to two Apple MacBook Pros and gets funky.
Where you can hear Pretty Lights: Pretty Lights Music
Daft Punk
French House, Electro House

Daft Punk is a mysterious duo of robotic Frenchmen that have been pushing the limits of electronic music since their formation in the early 90s. In 2007, they went on tour with a new, and very complex, live set-up that used an impressive amount of technology. If you were somehow able to get inside the Daft Punk "pyramid" on their Alive tour, then you would have seen them working in a futuristic cockpit consisting of these devices: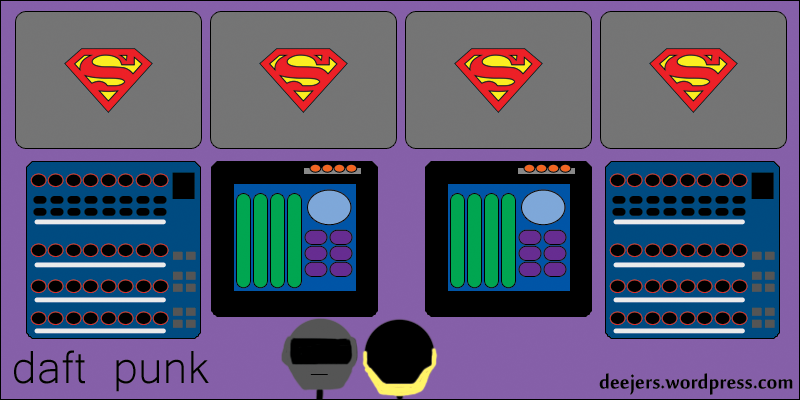 The robotic duo known as Daft Punk has long been an innovating force in electronic music; receiving multiple awards and becoming a huge influence on electronic artists and music today. For their Alive 2007 tour, they created a stunning live performance using a variety of devices and controllers. (Top row: Daft Punk's "Super Computers." Bottom row: 2 Behringer BCR2000 Controllers and 2 JazzMutant Touchscreens.)