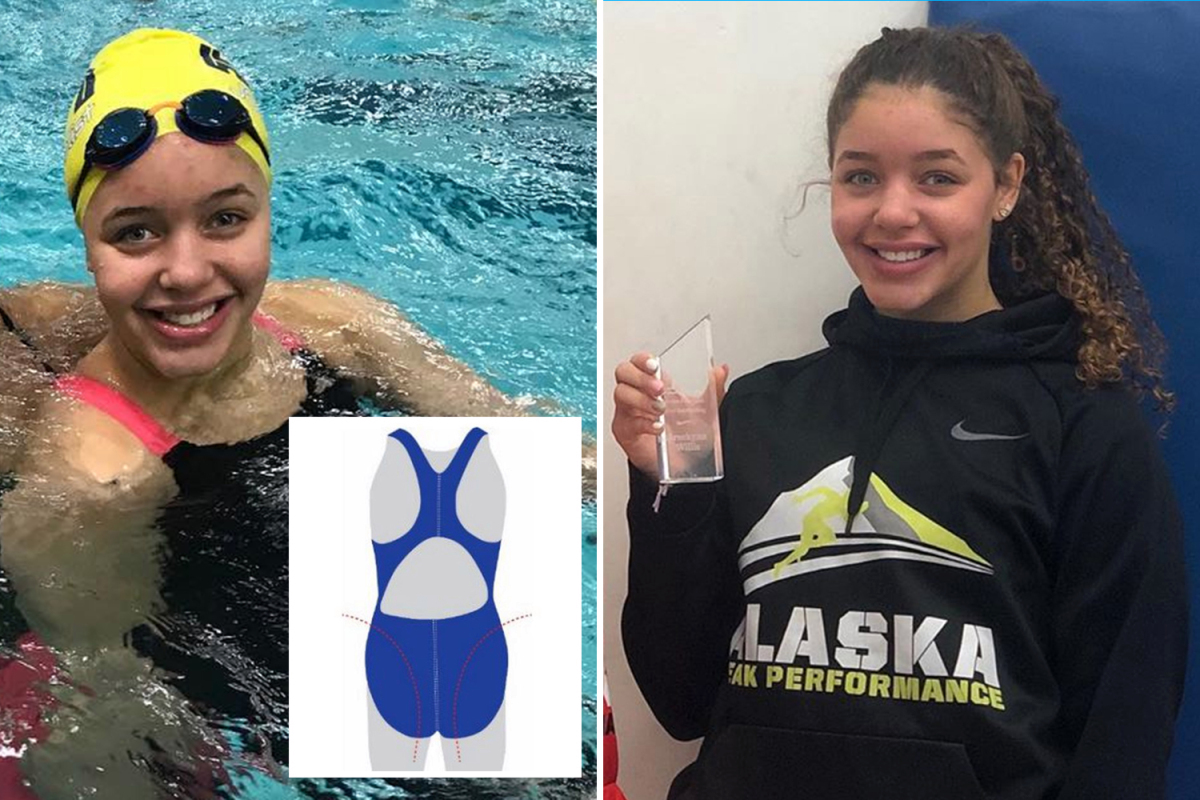 After months of training and conditioning in preparation for a high school swimming competition, a 17-year-old student has been told that her victory was overturned through disqualification as a result of an apparent swimsuit wedgie.
The incident at Dimond High School in Anchorage, Alaska, has stirred up accusations of racism, with people claiming the naturally "curvy" mixed-raced student cannot control the way certain swimsuit fit her.
Breckynn Willis, 17, had won her match during the swim meet on Friday, but what later told her victory had been overturned for a swimsuit violation. Speaking to Anchorage Daily News, Annette Rohde, an official at the swim meet revealed that the head referee told her that Willis' swimsuit "was so far up I could see butt cheek touching butt cheek."
Rohde revealed how she then "froze in disbelief" hearing the ruling and the reasoning behind it. She continued: "I told her, 'I need to know how you're defining this, because this is going to blow up.'"
Following the decision, some people are claiming that Willis and her sisters – who are all successful mixed-race swimmers in the city – were targeted as a result of their skin tone and naturally curvier body shape.
In a Medium post, Lauren Langford – a coach at West High School in Anchorage – wrote:
"This young lady and her sisters are being targeted not for the way they wear their suits but for the way those suits fit their curvier, fuller-figured bodies.
"They are being targeted not because they are wearing their suits to be scandalous … but rather because their ample hips, tiny waists, full chests, and dark complexions look different than their willowy, thin, and mostly pallid teammates.
"Some will argue this has nothing to do with race, but when the same officials targeting these girls have been heard saying that so-and-so white girl also shows too much skin but has never been disqualified for a similar violation the racial facet of this issue cannot be ignored."
Speaking to The Washington Post, Landford also said that Willis had been accused of pulling her swimsuit up on purpose: "The fact that she's been told she's intentionally trying to draw this sexual attention has really crushed her."
The Anchorage School District provided a statement on Monday that said they are "reviewing the disqualification of a student athlete" and that they are having "an ongoing national discussion" regarding athletes' uniforms.
– UPDATE – 
Per KTUU, the Alaska School Activities Association has reversed Breckynn Willis' disqualification. The decision came less than an hour after the Anchorage School District announced its formal appeal on behalf of senior Breckyn Willis and her team.