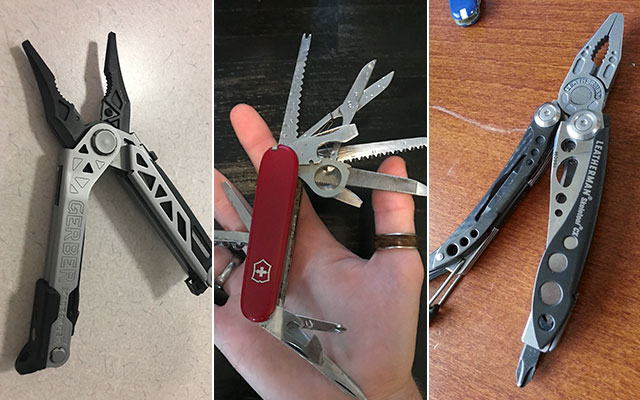 Multitools are an excellent on-the-go alternative compared to having to always carry around a bulky set of tools. With such a huge demand for multitools, perhaps it comes off as no surprise that there's literally hundreds of multitools available on the market. Here are some multi-tools that simply stand above the rest.
The Leatherman Wave Plus is widely considered as one of the best bang for the buck multitools on the market. Why? Because it comes with a comprehensive set of tools at an affordable price and is backed by one of the industry's most extensive warranties.
18 different tools for you to choose from and use. This includes pliers, a wire stripper, a bevy of knives, spring-action scissors, rulers, cans, screwdrivers, and so much more. The Wave Plus is also designed to only need one-hand to operate. This means that you won't have any trouble using the tool, regardless of your situation.
To top it all off, the Wave Plus is backed by a 25-year warranty by Leatherman, one of the longtime leaders when it comes to multitools.
Pros:
• Plenty of options to choose from when it comes to aftermarket accessories
• Constructed using high-quality materials
• Relatively affordable price tag
Cons:
• Expensive aftermarket bits and pocket clips
Gerber has a clear winner with the Suspension Multi-Plier.
Even when pitted against its more established competition, the Suspension's combination of a low price point and a surprisingly comprehensive set of tools – it comes with 12 tools, including a set of screwdrivers, a dedicated wire cutter and stripper, as well as needle-nose pliers that's designed for tight spaces — makes it one of the best tools tool for everyday tasks and light professional work.
The stainless steel construction and aluminum butterfly-opening handle gives it a solid feel, but it does come with some added and noticeable heft when tucked inside the pockets.
Pros:
• Comes with just the right amount of features for most people
• Rounded design makes the Suspension more ergonomic and easier to handle compared to most multitools
• Excellent combination of features and high-quality construction at a low price
Cons:
• Bulky and heavy for its size
Take what makes the Wave+ so good, make a couple of acceptable compromises, and lower the price tag by almost half, and you get the Leatherman Wingman.
14 tools, including bottle and can openers, a ruler, screwdrivers, knife, and pliers, are more than enough for the average joe. To top it all off, the Wingman comes with an integrated pocket clip and a package opener. The latter will prove its value much more often than most would like to admit.
Considering how easy it is to lose multitools, the Wingman is a handy device that won't hurt as much to replace.
Pros:
• Budget-friendly
• Solid construction quality
• Expansive tool selection
Cons:
• Mid-grade steel lone blade comes with a hybrid straight/serrated edge that will require frequent sharpening
The Fieldmaster is one of Victorinox's most recognizable products.
Packed into the Fieldmaster's 3.5-ounce body is 11 tools that create as many as 15 different total functions. This includes the standard set of tools, such as a bottle opener, screwdriver, a pair of scissors and some razor-sharp blades. But in case of an emergency, you also get access to a reamer awl, a parcel carrier, or even a wood saw, among many other things.
Pros:
• Sleek, compact design
• Lifetime warranty stainless steel implements
• Swiss-made quality and durability
Cons:
• Phillips head screwdriver has an awkward placement
• The lack of a corkscrew can be a deal breaker for certain people
Far more bulky and less compact compared to its smaller brother, the Suspension, the Gerber Center-Drive comes with full-size tools. This includes a set of full-sized pliers, knife blade, and screw driver, among many other things. This makes it one of the few multitools that could legitimately replace your bulky tool box of full-sized tools.
The Center-Drive has an extra-long 3.2 inch magnetic bit driver that opens to align with the center axis of the tool – giving you all the torque and rotation of a traditional screwdriver
While not as compact as other non-full-sized multitools, the Center-Drive can still fold small enough to fit inside most pockets and doesn't weigh as much so as to constantly remind you that you're carrying around a full-sized multitool.
Pros:
• A full-sized multitool without the bulk and heft of most conventional full-size multitools
• Fully-magnetic and replaceable standard-sized bit set
• Designed and built for everyday and heavy-duty use
• Features far more screw driving tools than most people would ever need
Cons:
• Screwdrivers aside, the Center-Drive has a rather average feature set that pales in comparison compared to other more comprehensive multitools
Some multi-tools are built to cater to as many users as possible. Others are built for a specific set of users.
The Leatherman Skeletool definitely fits the latter audience.
Weighing less than 5 ounces, the Skeletool comes with a removable pocket for ease of access, as well as a design made specifically for one-handed use.and as many as 7 tools. This includes a knife, a large exchangeable bit driver, a carabiner or bottle opener, pliers, and wire-cutters. The Skeletool even comes with an extra bit, which you can find conveniently placed inside the handle.
Plus, because it's from Leatherman, you can expect the same high-quality construction finish and build quality as the company's other products. Not to mention, it also comes with Leatherman's very own 25-year limited warranty.
Pros:
• One-handed, ergonomic design means that you won't have a hard time accessing all 7 tools, regardless of the situation
• 25-year limited warranty from Leatherman
• Extremely lightweight at just 5 ounces
Cons:
• The Skeletool's toolset might be too specific for most people
"Efficiency."
That's one good way to describe the Gerber Dime.
Unlike other multitools that try to pack as many tools as possible into a single package, the Dime only comes with 10. But all of those 10 were carefully handpicked and designed to be as accessible and easy to use as possible. Plus, at just 2.24 ounces, the Dime is easily one of the lightest multitools in our round-up, and arguably, on the market.
For safety, the Dime comes with an auto-locking mechanism. This means that you won't have to worry about the accidental cut or scratch when the multitool closes on you during use.
The Dime is a multitool that's good-looking as it is functional. The best part? It's topped off with an attractive price tag.
Pros:
• Lightweight and compact design (weighs only 2.24 ounces)
• Affordable
• Convenient and accessible butterfly-style opening
Cons:
• Diminutive design results in a weaker structure and smaller tools, especially when compared to other larger and heavier multitools
• Bad ergonomics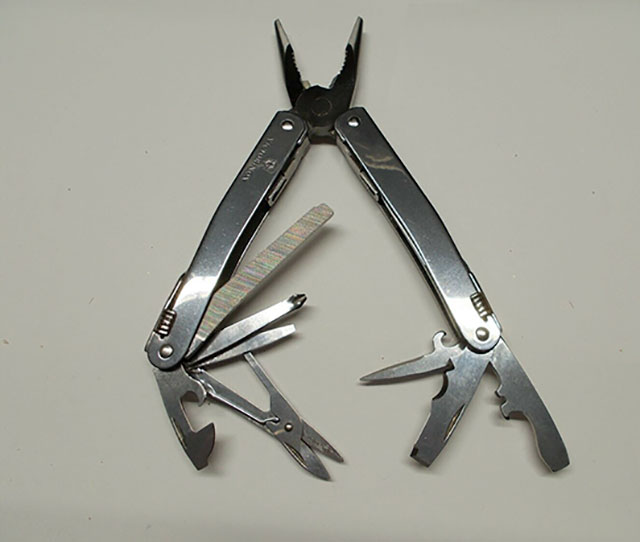 A full-sized butterfly-style multitool, the Spirit X is as reliable as any of Victorinox's multitools.
The Spirit X comes with a long plain-edge knife, separate saws for both wood and metal, long needle-nose pliers, built-in wire cutters, spring-loaded scissors, as well as a suite of expect tools like a set of screwdrivers, a bottle and can opener, and far more.
The unique bent-like design of the Spirit X also helps make it stand out and give it an ergonomic grip.
Pros:
• Bent-like design makes the Spirit X easier to use and gives it more torque, especially when using the pliers and other fold-out tools
• Comes with as many as 22 different tools
• Surprisingly lightweight for a full-sized multitool at 8.7 ounces
• Backed by a lifetime warranty by one of the industry's leading brands
Cons:
• While an excellent alternative to Leatherman's other offerings, the Spirit X doesn't really stand out in any way
• Sophisticated design comes with a premium price that most people can't afford
SOG's PowerAssist multi-tool isn't the lightest multitool out there. You'll definitely feel its hefty inside your pockets. However, if you can get past that one small gripe, it's hard to find fault in what the PowerAssist brings to the table.
Aggressively designed, thanks to its black oxide-finish, the PowerAssist is actually very user-friendly.
The PowerAssist comes with a wide assortment of features, including as many as 16 different functions built-in. It's also designed with SOG's very own patented Compound Leverage system to give you the necessary grip and torque when using the numerous tools without necessarily exerting more effort than you typically would.
A favourite among many DIY enthusiasts and professionals, the PowerAssist is one of the best multitools if you can look past its weight.
Pros:
• Comes with a comprehensive set of tools, including as many as 16 built-in functions
• Patented Compound Leverage system for extra grip and torque
• All-stainless steel construction with black oxide finish gives it a unique, aggressive design
Cons:
• Easily the heaviest multitool on our list at 9.6 ounces
We've already featured two in our round-up, specifically the Spirit X and Fieldmaster. Both are definitely great for both hardcore users and the average person. But for those looking for a more compact option that doesn't compromise on features, the SwissChamp is hard to beat.
With as many as 33 functions built into its 3.6-inch frame (when closed) and weighing only 6.5 ounces, the SwissChamp's list of features is expansive, to say the least.
Look to the SwissChamp if you want everything that you'll ever need in a multitool – and then some.
Pros:
• Comes with 33 built-in functions, including a pressurized ballpoint pen and a magnifying glass, among numerous others
• Pocketable size at 3.6 inches
• The SwissChamp is surprisingly affordable considering the amount of built-in features it comes with
Cons:
• Comes with a bit of heft at 6.5 ounces
The Leatherman Squirt is small in size but packs a big punch.
One of the few multitools that are small enough to put inside your pockets without significantly limiting space, the Squirt only measures a little over 2 inches when closed. It also only weighs around 2 ounces. But don't let that fool you. It comes with as many as 9 built-in tools, including but not limited to a number of screwdrivers, wire cutters, pliers, and a surprisingly sharp 1.6-inch knife.
For those starved for space, few can compare to the Squirt.
Pros:
• Easily the best tool for people who're not looking for something that will take up too much space inside their pockets
• Despite its small size, its tools are just as reliable as that of other bigger and full-size multitools
Cons:
• Small size leads to a compromise in construction quality and ergonomics
Multitools can and will prepare you for just about anything. You should literally never leave home with it.
Hopefully, with the multitude of options that we carefully reviewed and recommended, you'll find it easier to buy a multitool that fits your budget, preferences, and needs the best.