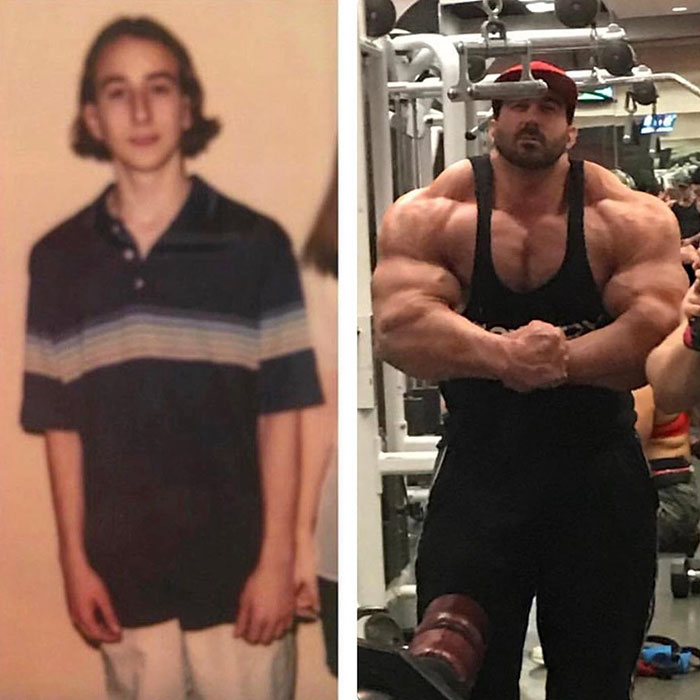 350lbs Bodybuilder Is Tired Of People Saying He Took Steroids To Achieve His Transformation
Golias is one of the biggest bodybuilders in the world. Weighing in at a beastly 350lbs, Golias works as an online coach in Las Vegas.
Golias says he didn't like what he 'saw in the mirror' as a child so decided to do something about it. He trained six days a week for 10 years to transform his body.
The 6'3″ bodybuilder, who lives in Las Vegas, Nevada, credits his training regime for 'saving me from taking my own life'.
I quickly became addicted – I work out six days a week for an hour and a half. Once I started seeing results and getting attention it made me feel alive and accepted which I never felt.

The only problem is that I became obsessed and was never satisfied- I wanted more and more.
For Craig gym training has provided an outlet to build his confidence.
I had low self-esteem and I wanted something to feel better about myself. I was a very skinny boy; I didn't like what I saw in the mirror.

I struggled with depression and the gym is what saved me from taking my own life. I decided to go to the gym and work on my body, abs, chest, cardio, a bit of everything.
Golias went from David to Goliath, but he's sick and tired of people giving steroids all of the credit for his hard work and dedication
"I find it amazing how drastic the human body can change with hard work and dedication. Can't believe the arm in the left picture can actually turn into the arm in the right picture. Everyone wants to point finger and say "I can look like that if I took juice too" the question is…then why don't you? Because you don't have the dedication or genetics? Or maybe your just a hater? Either or it takes a lot of time and effort to be a bodybuilder so instead of bashing someone or saying they don't look to your caliber of physiques why don't you give support? Or encouragement to keep on going! The smart people on here know it's a lot of hard work and discipline. I try my best to encourage everyone to keep going and remind them that there doing great! Let's keep it positive! And motivate each other to follow there dreams! We're all busting out asses here! We're all eating our asses off and we're all training hard as hell! Let's keep it going and never give up till we are where we all want to be!"