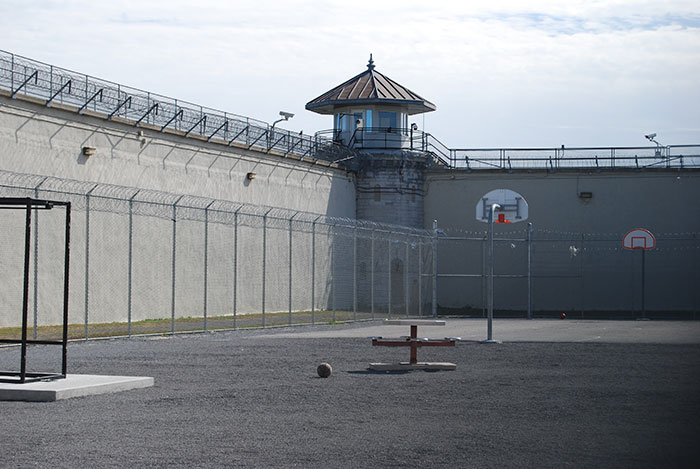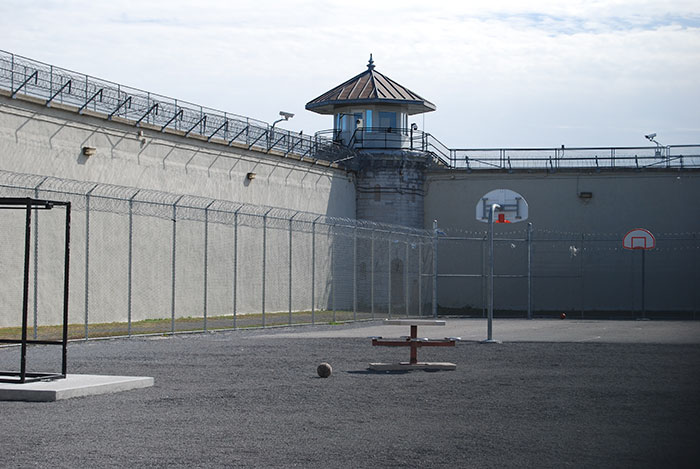 How do people who aren't tough get by in prison?
It all has to do with how you carry yourself.
Problems arise when people act hard and tough when they are not. The thing is that some one WILL "check your nuts" if you portray yourself to be something you're not. And if you're running around with your chest out, that is just asking for trouble, especially if you ain't tough.
Think of it like this: you claim to be a prize fighter, so you dedcide to step in the ring with Iron Mike. Now what do you think will happen. Next thing that happens (after you're exposed as being weak, but like to act tough) is that the vultures come out to pick away at what remains of your body and soul.
Acting tough is literally like challenging anyone and everyone to a fight, so you better be able to stand up. That doesn't mean you have to win, but you will have to fight back if you are to gain respect. I know plenty of dudes that aren't good fighters, but because they physically stick up for themselves and won't be "bullied" dudes leave them alone.
People look for easy prey. Some people don't fight back. This only leads to continued predatory acts being perpetrated against you by certain types of people. But the toughest dudes are generally extremely humble, quiet individuals who don't go looking for problems (watch out for the quiet guys). Quiet does not equate with weakness, yet people often make that mistake.
Also, it is important for me to note that there are LOTS of non-violent, "weak" people in prison who do just fine. The prison population is full of regular people that made some bad choices in their lifes. You're in prison for breaking a law (usually non-violent ones), which doesn't make you some automatic bad-ass, so don't act like one. Despite what most might think: criminals often have great characters and despise all fakeness.
So, unless you are a snitch, child molester, or "cell theif", then you shouldn't have any worries. Stay quiet, mind your business, and observe your surroundings BEFORE you start interacting with people. That way you see how things work and how predatory situations develop. If you aren't a bad dude, but you're not tough, there may even be people who stick up for you in those situations.
If you're a good dude, then you should go to someone you trust (relatively), or at least know (in some way), and explain the situation to them to see what you should do, or if they can help. Sometimes all it takes is a conversation to settle things peacefully. But, whatever you do, don't ever pay any "rent" (extortion), unless you feel like paying more and more. This will only open the door to worsening occurances. I should also explain to you that I'm a "convict", which simply means that I don't go to the police/guards for help. That said, if you ARE a child molester, etc: you're on your own.
– Frank Negus Staples
How do prisoners get so muscular despite having proper nutrition and workout equipment?
By constantly working out. I worked out regularly in prison because I saw weak guys get stabbed and overwhelmed and sometimes even killed. Weak people don't fare very well in there so you gotta try to get your body to a point where you are physically prepared for any eventuality.
You gotta be innovative and persistent. I used my legal books (about 60 pounds worth) as a weight for me to curl. And if I was in the "hole" or the SHU I would work on a very extensive calisthenics program. Pushups, situps, elevated pushups, 6-count burpees with 5 pushups in between, upside down pushups against the wall, back arms against the sink or toilet rim, rolling my mattress up tightly to sit in the corner and use as a heavy bag.
The diet in California prisons probably won't allow you to gain a bunch of weight or muscle, but it is about as nutritionally balanced a diet as you can probably expect.
They usually have a dip bar and pullup bar on just about every yard. Whether in the hole or in the general population. Becoming proficient in the above exercises is a challenge for anyone, but if you stay consistent in your exercise program your body will grow naturally.
My muscles just grew over time. I never did any steroids or protein or anything like that. When I went to prison in 1983 I was about 165 lbs. I was 20. By the time I was 30 I was lifting about 500lbs. on the bench. That was 10—25lb. weights on each end of a bar that couldn't hold anymore on it. But they took weights in 1995–96. It hurt deeply. But it also forced me to do much more cardio work which, in turn, I think has been very helpful in keeping me in top form.
I'm now in my early 50's but no one believes it when they look at me. So getting physically fit in there basically keeps you at the top of the food chain and, if you're a non-affiliated prisoner like I was, it is really important to stay at the top of the food chain. I think it not only helps to preserve ones looks…it helps to extend one's life as well.
– Mac Tatum
Is it easy to get tattoos in prison?
Absolutely. There is some great work being done. A professional artist was available when I was in, but not cheap. He was doing 30 years for armed robbery and assault on a peace officer. He charged $30 for a sleeve. Each needle was made for the person getting the work done and he let you keep the needle, so if it was dirty it was on them not him. He knew all the guards and which ones let him work without any problems. Some even allowed inmates from other sections to get work done.
– J.R. Johnson
How do prisoners get tattoos?
Depending on the accessible materials they basically forge a tattoo gun and harvest ink.
Ink is most commonly made from soot. Pieces of plastic (from a chess or checkers set) are melted in a confined area, a piece of paper is held above the burning plastic to collect the soot. The soot is then scraped off and mixed with lotion or baby oil. Thus creating your ink.
Needles are made from the spring inside a pen. The spring is unraveled and sharpened, then wrapped with thread to hold ink.
The actually tattoo gun is made from beard trimmers (available to buy on commissary).
The motor is taken from the trimmers and attached to a makeshift bracket.
A hollow tube (from a pen most often) is attached to the bracket as well. The needle is guided through the tube and attached to the motor. When the motor is turned on it will rock the needle back and forth in the tube.
The last step (if available) is an A/C power adapter. This is used to control the intensity of the tattoo guns motor. Helpful with shading and general smoothness in the tattoo lines.
You are now ready for your prison tattoo. Find a private area and a lookout to alert you to the presence of a correctional officer. Sterilize your needle (using a lighter and wiping off carbon deposits) and your masterpiece begins.
– Christopher Isani