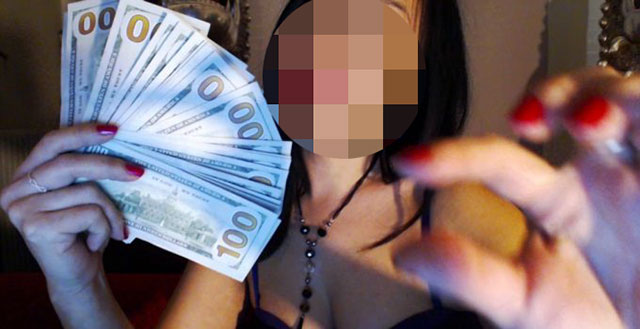 What does a financial dominatrix do?
Basically I control a handful of men and in return they hand over cash, credit card numbers, gifts, etc. These men come to me 100% willing to give these things, but are tortured and aroused by the idea at the same time. I brainwash/humiliate/blackmail them into giving me more and more.
I can allow a food budget or pick out certain things for them to eat and the goal of this is for them to use as little of their own money as possible so that they can give it to me. It's not at all forced–they literally beg for more ways to control them. They WANT these things done to them.
Sometimes they try to run away and claim that they cannot or should not continue the practice, but they always end up coming back. In the end, I become their addiction.
What is wrong with these guys?
You'd be surprised to find that most of these men are relatively normal despite their odd (to most, insane) fetish. Of course you have your nutty ones that want to squander away their life savings and ruin their marriages.
How does one get into this profession?
I got into this profession somewhat by chance. I was introduced to a sugar daddy dating site by a friend of mine and I posted a profile simply to see what it was about. I ended up not being very interested in what those men had to offer, so I stopped visiting and neglected my profile for a while. One day I checked it and found a message from a man who was interested in financial domination and he thought (I suppose judging from my profile) that I would be the perfect mistress for him. He introduced me to the entire lifestyle and I kind of just went from there.
How do you find your 'customers'?
I have a couple of profiles on different types of dating sites (regular, sugar daddy, fetish, etc.) and in my descriptions I am very clear about what I'm "in to" and what I'm looking for. The customers find me.
I know some mistresses who post ads that say things like "Findom mistress looking to rape your wallet and suck you dry. Give all of your money to this beautiful goddess. I'll take every last cent you wimp." and then boom, 15 messages pop up in your email with men begging for you to take their money.
Is there a shortage of women willing to take money?
Well, there was before. Now the market is getting flooded as shows like Dr. Phil take on topics such as "sugar babies" and "mistresses" and all of that. More women are becoming aware that there are men out there that will pay for just about anything. I definitely thought it was strange that men would reply so quickly, but the thing about these men in particular is they are literally begging for you to take from them. They crave your dominance and for you to put them through the wringer. Maybe that's why they're scouring the internet all day to find a woman that will.
Are many of these people older 50+ or are there some younger ones?
Both. There was a med student that wanted to give me the last $80 per week he had, even if it meant he went hungry. I didn't let him.
How many men have given you money or gifts?
Over the past year and a half that I've been doing it: 17. Some gifts/sums of money have been small, and some have been large.
How much do you make from this? Are we talking a couple hundred a week, or is this a high-paying job?
It varies really. A lot of it depends on how many men I have paying tribute to me at one time and how much they are willing to throw at me. It can range anywhere from $600 one week, to $5,000 the next. It really just depends. Overall, I'd say I make a nice chunk of change.
How much do you think you've made from your profession overall?
Probably about $65,000, give or take.
Is this done in person? What does your interaction entail?
It is mostly over the internet and through text messages. I've had some interaction via Skype, but it's mostly email. I've had phone calls simply so they could hear my voice. I've only met one man in person, and that was so I could force him to take money out of the bank. All of these interactions come at a price.
Interactions differ for each man. There isn't really much of anything physical on my end, but for them it is erotic. I've seen a few of them masturbate, and I've taken photos for blackmail. If we talk, it is me barking orders or making them do something degrading or humiliating. They are absolutely, 100% aware that I am catering to a fetish. They want me to care for them, but they know that I wont. That's all part of the fetish. Some of them want me to treat them like little girls and have me act like the mommy trying to make them good girls. It can get pretty bizarre.
I have one "pay piggy" that I have complete control over. Our interactions consist of emails and texting, and the occasional phone call. I have him on a strict diet and food budget so that he may save as much money as possible to give to me. I make him listen to a recording of my voice every night before he goes to sleep on a constant loop so that I am the last thing he thinks about before he goes to sleep. I make him email me every morning when he wakes up worshiping and praising me so that he starts the day thinking about me and all the ways he is grateful that I am in his life. I make him pay tribute to me at the beginning of every week. I have him masturbate to pictures of me but tell him he is not allowed to ejaculate. He wants me to brainwash him.
I think the fact that this can be done without any in-person contact is part of the reason why it's so appealing.
I assume you get a lot of creeps as customers. How do you handle really creepy situations at work?
I do get creeps sometimes. If I start to feel uncomfortable, I sever all contact with a simple message: "I appreciate your interest, but I'm afraid that I can no longer participate in this arrangement. I truly hope you find what you are looking for." Usually they reply back that they understand and that's that. Sometimes I get men who are willing to beg and plead or they try to negotiate. I'll just ignore them. I haven't had any scary encounters and I hope I never do. Is it worth mentioning that I have my concealed carry and am constantly packing.
Do you have any motivations beyond that of monetary/material gains? Is there an emotional / erotic aspect in it for you, or is that purely on the male end?
My motivation stems purely from the gains. This was never my fetish–it was introduced to me by someone else whose it was. But I mentioned in another reply that I have gotten aroused by a few exchanges. The longer I do it, the more I get into it, I think.
When have you gotten aroused?
I made a man give me $700 and in return as a gift for being a loyal "piggy", I sent him a pair of worn panties. A few days later he sent me a picture of himself wearing them (at my request–humiliation goes a long way in this business) and for some reason it turned me on. After that, he felt the urge to send me another $300.
Do you have a day job or is this a full time gig?
I have a day job. This is just something I do to make a little extra on the side.
Do you pay taxes on your earnings or is it under the table?
I do file my taxes. On paper I do "personal consulting" and I have a lovely accountant.
Do you have a boyfriend?
I do have a boyfriend and he knows. He thinks it's kind of funny and doesn't really care. Plus, he loves that I have the extra money because he sees some of the perks (ie I offer to pay for dinner more and things like that).
Is there something you wouldn't do?
I will never knowingly bankrupt or take a man for all that he is worth to the point of destitution. Of course, there is no way for me to know if a man does not have the resources to continually throw money at me, but if I can, I will steer clear of ruining his life.
When I see someone who has a problem/addiction so strong that they are going to destroy themselves because of it, I turn them away for good. The men that keep coming back to me are the ones that have a fetish for it and can afford to keep it up. I am aware of the damage that this particular kink can cause for some men and I try my best not to encourage their behavior any further by cutting all contact.
I am not heartless or cruel–I am simply playing a part in an erotic humiliation fetish.
What do you say to the people who call you a whore?
A whore sells themselves. I am not selling my person. I am selling a fetish lifestyle that does not involve me engaging in any form of sexual activity. I do not consider myself to be a whore.