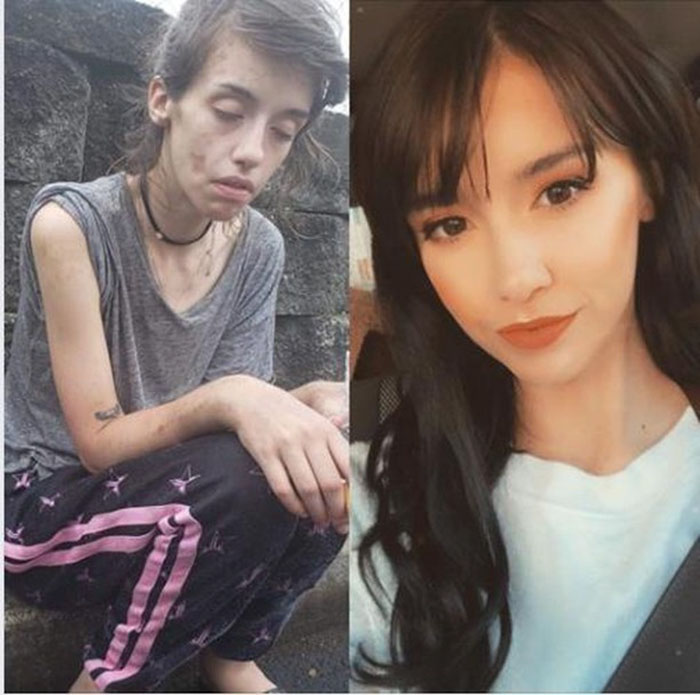 From dying in the streets from a heart infection, sleeping in my car starving for days at a time, turned away from the hospital left to die because they wouldnt treat me, abandoned by everyone and everything, I found the strength to get clean, get treatment at a different hospital, got the heart surgery I needed, and from there I stayed clean even though I was still homeless. It's been a rough ride but it's now been six months since then!! I've come so far. Yesterday I finally moved in to a shared house and my own little space and bought myself some nice things for it! I'm so happy. I thought I would be dead by the end of the year last year. But I'm thriving more than ever. It's cool to be back to living.⠀
6 months clean and sober
I am a recovering addict, and raging alcoholic.
4 years and 4 months sober, I've had days of nothing but good times and bad, went through a heck of a time on my road the last few years and the last year.. I have hurt others and myself with my past choices, even after I decided to get sober I still had some upsetting times and things I wish could have been better. But I am here, I am standing and I am breathing and I am coming for my future with arms wide open.. never be afraid to ask for help, it may just save your life as it did mine
826 days sober
I've been to jail, rehab, detox and the psych ward. I've overdosed and nearly died more times than I can actually remember. Is this what defines me? Or do years of sobriety and fatherhood define me? I was a lost kid with no solution to an insidious disease.
Growing up I was happy and social however there was always an emptiness there. I started using drugs and alcohol and the emptiness went away. I had found a solution to any negative feelings I'd had. I found a way to hide. Eventually, the solution turned into the problem. After years of hell and pain I found some other gentlemen that had been through the same thing. I started to listen to them, to do what they were doing. In sobriety, I stepped outside my comfort zone (it took me a while) and I started trying to be of service to others.
Today i'm grateful for the pain and the hell. I'm grateful for the overdoses and the jails and the psych wards. Today I'm present for my son who has never seen his father drunk or high. This wasn't supposed to happen for me. To anybody struggling, there is a solution. Look for it.
I lived for 12 years shooting drugs daily Intravenously, 12 years of absolute hell. I finally hit rock bottom and checked myself into rehab January 5th 2019. As I walked into the rehab scared and broken I saw the same 911 dispatcher that took my mothers call the night she died. I quickly learned she worked for this rehab, and it was all the confirmation I needed that I was meant to be here. After 90 days of hard work, healing, and tears I finally graduated…..on my Fathers birthday no less. I was able to take that say away from him, and make it my own special day.
I am blessed beyond measure today.
Looking at my life 3 years ago I honestly never thought I would get to where I'm at today. The arrests, the hospital stays, the loss of trust, and unhealthy relationships became something that was normal for me. I've been in and out of the rooms before, but my inability to relinquish control had turned everything positive in my life into pain, confusion, lies, and deception. I knew deep down inside that I was capable of finding a way out, but all those big dreams, all the begging, and pleading became nothing more than an afterthought because the heroin, methadone, and the lifestyle had become my master.
A lot can and has changed in three years. On 08/01/2016 I made the decision to change everything that I thought I knew about the 12 steps and the design for living that everyone had always talked about. I went to school, got a job in treatment as support staff and in 2 short years have been able to work my way up to therapist at the facility that saved my life and gave me too many chances to count. I became a father in sobriety, and today I get to show up for my son, I can also say that he's never seen me loaded and that's something that I hold with pride today. Three years seems like a bit of time but it's only a drop in the bucket. I know that the homeless days and the sleepless night are only as far away as I wish to keep them. God gets all the credit. Because I can't take credit for something I've never been able to achieve on my own.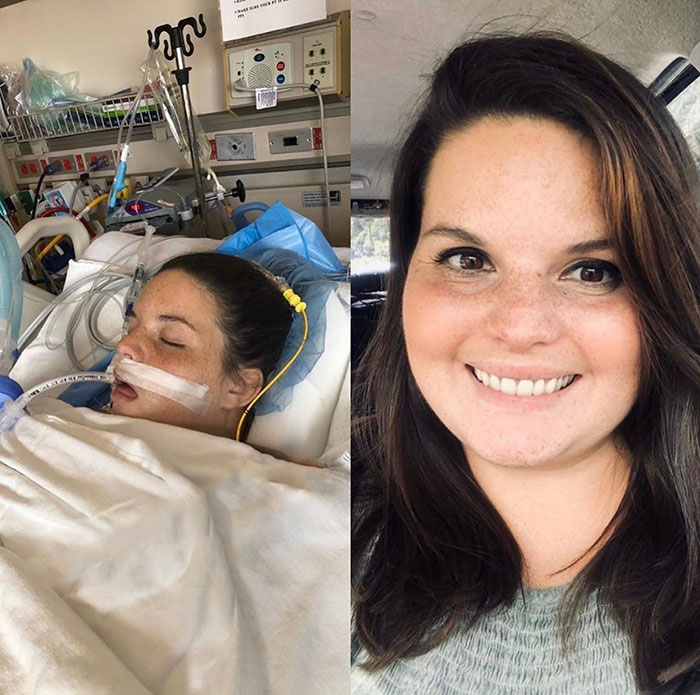 I grew up loving God and singing in church. Drugs do not discriminate and this is the end result of IV crystal meth addiction. MRSA attacked my bloodstream, my lungs, and the tricuspid valve inside my heart. It took 7 weeks of antibiotics through a PICC line and me being stuck in a hospital room for me to wake up. It took open heart surgery for me to be ready to listen. Only by the grace of God was I able to make it out. The picture on the right is of me now. My life is so different today in recovery, and I finally know what happiness is. So I'm here to tell you, that if you're in recovery and you're running away from your old life, RUN HARDER. If you're trying to get clean, TRY HARDER. If you feel like you'll never be able to do it, remind yourself of my story. THIS CAN AND WILL HAPPEN TO YOU. There is a way out, please take it!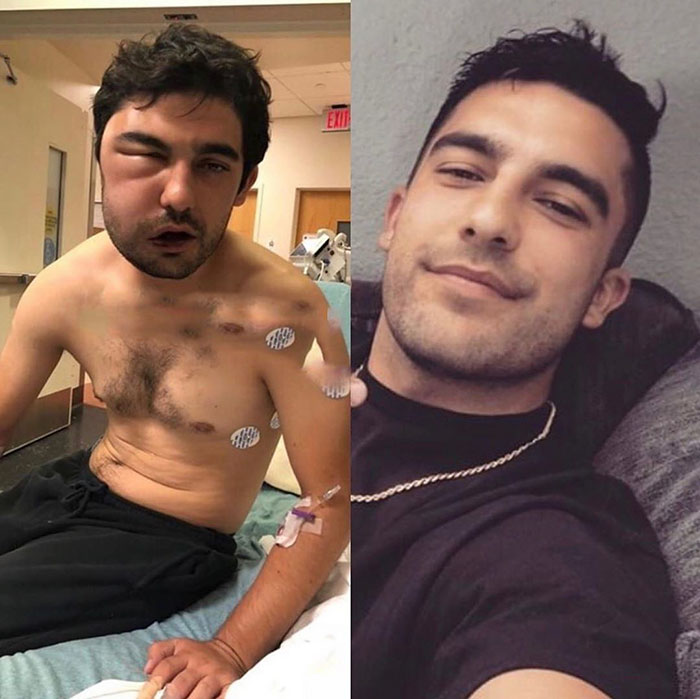 8 months ago I overdosed and almost lost my life. The doctor said he didn't know how I survived. I was in the ICU for 10 days and my face was partially paralyzed. I got out of the hospital and immediately started using again. Broken and beaten I eventually sought professional help, and after that I moved into a sober living. Today, I am 84 days sober. My face healed and my life has changed in so many ways. The journey hasn't been perfect, but it definitely has been worth it. Show this picture to your family and friends. This is the end result of drugs. I am one of the lucky ones.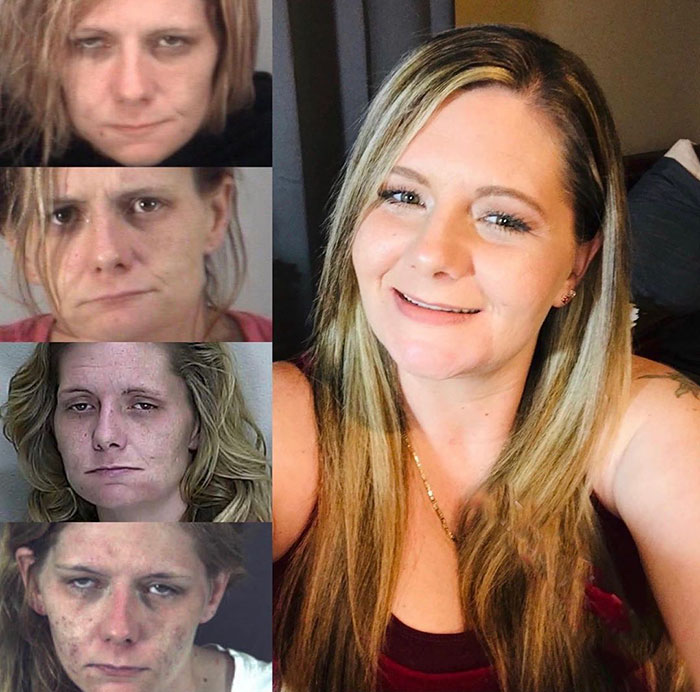 I'm Lindsey Stanley McShane I'm a recovering alcoholic and drug addict.
On 04/17/17 I was arrested once again for possession which I know was divine intervention. I knew I was done that day because I tried to take my own life in the back of the police car.
I was sure I had swallowed enough Methamphetamines, heroin, and sedatives to take my life. I had no regard for my life or anyone I cared about.
The paramedics administered Narcan which has been done at least 4 times in booking. I have been on Nancy Grace for leaving my teeth in a stolen car. I was so lost in that lifestyle and addictive behavior I believed there was no way out for me except die.
After I detoxed on the cold county jails floor one more time. I decided to go to the meetings and the women that brought the meetings gave me hope that they believed I could get better.
One of them even came to get me the day I was released gave me a safe and sober place to start my recovery.
I have had career opportunities that a person with my past should not have been able to obtain since sober. I have regained custody of both my children. I have been able to get my drivers license back after 9/12 years of not having one. I had to be the decision maker for my ex husbands' will and testament which was a very emotional and difficult thing to do. I didn't have to drink or drug over any of it!
I called women in recovery; they helped me and loved me while I walked through the difficult days. I'm so grateful for the mercy and grace given to me! The day I thought my life should've ended was truly the day it just began."
My drug addiction landed me in some dangerous places in search of my next fix. On December 23rd, 2016 I was robbed in a hotel room by a girl I knew. She stabbed me in the side of the head over money. The hotel room was packed but everyone left me there. When I finally got to the hospital they didn't believe I would make it through the night. I pulled through with 13 staples in my head. Half my face was sagging and I was very confused about why this happened to me. It took six months to heal. I suffer from memory loss, lightheadedness, and PTSD. I walked out of the hospital with nothing but the clothes on my back. I had a decision to make. Stay the same or change everything? I made a decision to change. Now, I have been sober for three years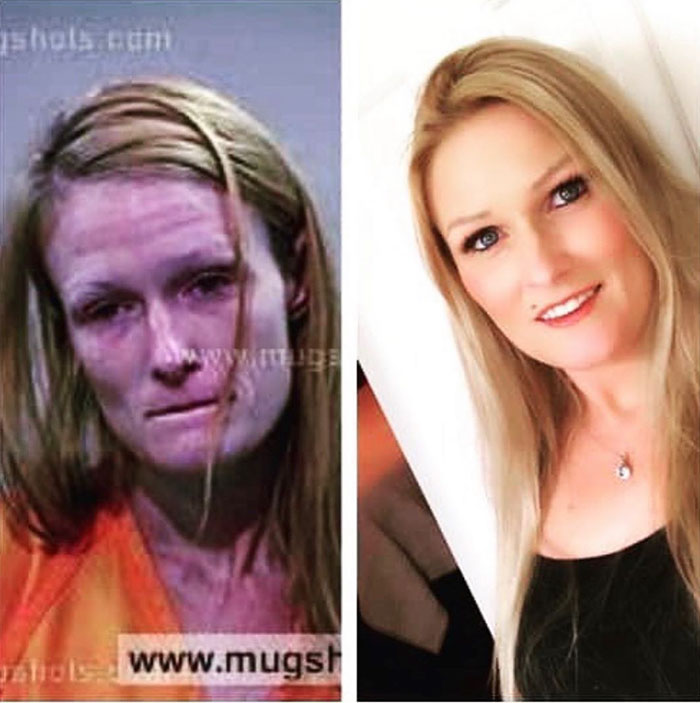 My name is misty and I'm an alcoholic and addict. Been sober since 6-15-15 by the grace of God. I walked in to a free women's detox center completely beaten. I was gonna die in the streets if I didn't do something different. I did what my sponsor said, sat my ass still, and this is the results. Sober, a mother, friend, model employee, and FREE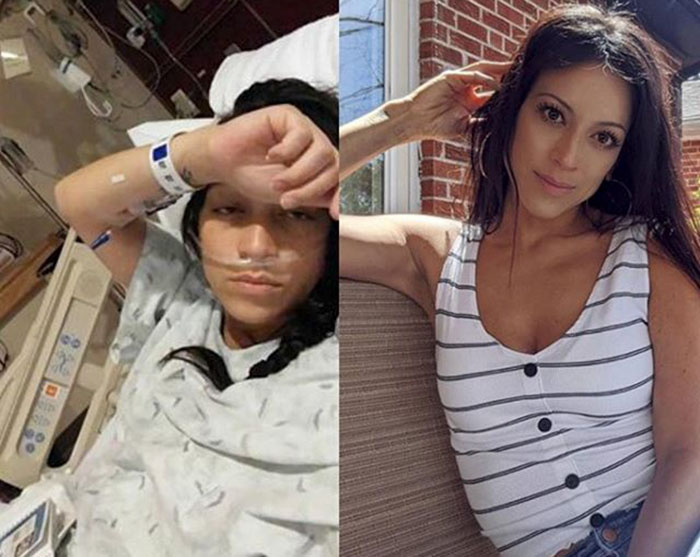 today marks my 1 year of Sobriety, being 100% clean and sober, and I couldn't be more blessed than I am today especially having come this far.
"When there is no peril in the fight there is no glory in the triumph"
I just remember looking back at the many times that I attempted to quit drinking and doing drugs and relapsing over and over and over again. I thought to myself could I ever stop? Being hospitalized a few times for drinking too much still did not make me realize I needed to quit. It was the feeling of feeling like I was worthless, like I was nothing and like I was doing nothing with my life that made me want to snap out of it and make a change. Alcohol was my demon. It changed who I was and made me see the world in twisted ways. I had actually accepted that drinking my life away and doing drugs was my life. It was my normal.⠀
⠀
But now I can safely and proudly say that I am so thankful to have overcome the toughest battle of my entire life. Getting completely sober was the best gift I could have ever given to myself aside from having my son. I am thankful everyday that I can see and feel things with a clear mind and spirit, and I know that whatever I feel is coming from within the most honest feelings I have ever felt as a human being. I lost a decade of my life but I have come too far now to give it all up and I will always continue my journey remembering my experiences and memories in my sober life today. I hope and pray for each of you that are struggling with addiction to know through my story that you can come out of the deep hole that you are in and you can triumph over anything. I promise you, and because you are worth fighting for just like I am and so many others out there. Much love and continued support from me always.⠀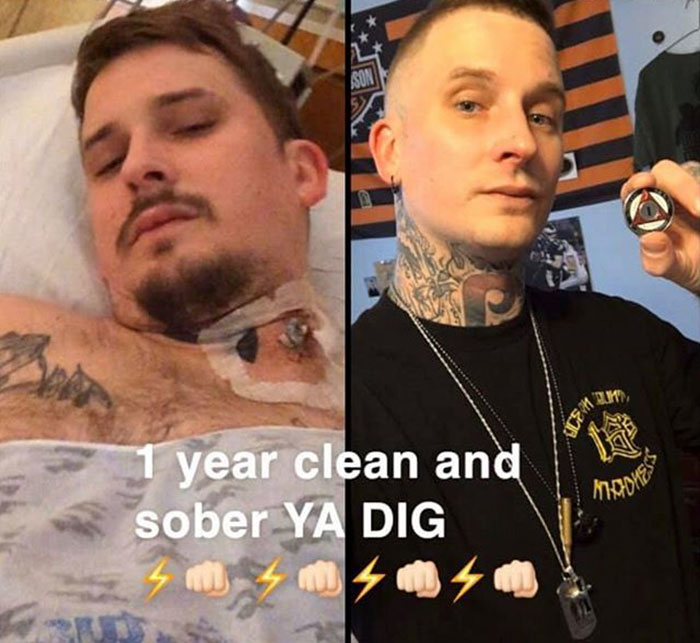 TODAY for the first time in my entire life after 13 years of active addiction sometimes functioning and sometimes a full blown junkie alcoholic crackhead I CELEBRATE 1 YEAR CLEAN AND SOBER!!!
In the past 13 years I've suffered 33 hospitalized overdoses, endocarditis, paralysis, kidney failure, and aspiration all because of drugs and alcohol !! I've been to COUNTLESS jails and institutions!! I've been hospitalized COUNTLESS times from drunken brawls and had my skull cracked causing bleeding in my brain!! Ive been homeless!! I've attempted suicide!! I've lost ANYTHING and EVERYTHING that ever meant anything to me!! Ive claimed bankruptcy!! I've accumulated a shit ton of felonies and dui's!!
I've lost COUNTLESS close good friends to this disease!! But most importantly to me by FAR is that my soul mate my heart my other half the love of my life my Sara Ann lost her life to this disease of addiction which for me was the ULTIMATE price I had to pay to hit my absolute rock bottom!! I was the type of addict that overdosed in the hospital AGAIN while I was already in the ICU for an overdose!! I was COMPLETELY hopeless!! The point I'm trying to make by telling you all this is that if I can do this RECOVERY LIFE THAN ANYONE CAN I PROMISE YOU THAT!! I don't care how hopeless you think you are or how much damage you've caused I PROMISE you slowly but surely you can do this I am living breathing proof of that!! so please if you're struggling reach out get help I promise it's out there and if your thinking of giving up please DONT!!! KEEP MOVING FOWARD EVEN IF YOU HAVE TO CRAWL KEEP FUCKING GOING one day at a time