Moccamaster – Makes top notch drip coffee and it's built like a tank with copper plumbing and super beefy electrical parts, and it gets the water hot enough and brews fast enough, consistently, over time.
I have had the luxury of my Moccamaster for over 3 years now. I have become accustomed to a certain level of coffee that even espresso can't touch. Need I say more?!? This level of brilliance will spoil you to the point that no other coffee will compare. The quality of machinery and materials are bar none.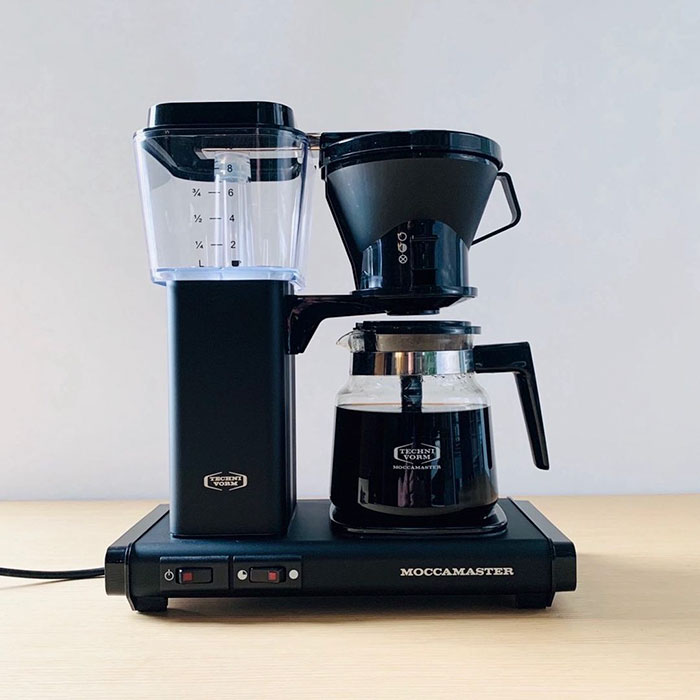 Duralex Glasses – Almost unbreakable tumblers that are a design classic.
We got a set when we got married 27 years ago. They are touted as being virtually unbreakable, and this is a perfect description. I believe we've replaced 2 of the 18 glasses in that time, and no other glasses have gone the distance with us. They are clear drinking glasses, but can also be used in the freezer or for hot tea. They are probably microwave friendly, but I'm not sure since we don't have a microwave.
They have a 100% guarantee, even if your dog chews through it, they'll replace it. There's even a way to just take a picture of the damaged item and then they ship a new one to you for free. Also made in New Hampshire if that matters to you at all.
Stanley Lunch Box

– Classic Stanley. Heavy duty design, latches, and handle.
Pelican Air 1535 – Widely regarded as an industry benchmark. This case has been well-proven by pro photographers and film-makers alike who trust it to safely carry high-end gear
Really nice chess set that will probably outlive you with proper care.
Osprety Atmos – All of Osprey has lifetime warranties, they stand by their products and they are super well designed and this one is built not to need that warranty. It's truly buy it for life.
Osprey – "All Mighty Guarantee" will repair any damage or replace if repair isn't possible, regardless of the cause. They will also mail you replacement parts such as buckles if you'd rather repair it yourself.
They will never let you down, they are the easiest to clean, and they will sincerely last you a lifetime. No more salt in your carpet that's a pain to get out, and no more looking at ugly stained carpets.
Koss Headphones – The company will repair, replace, or refund any product covered by the warranty so long as it hasn't been used by multiple people.
If your umbrella should fail to function properly at any time for any reason whatsoever, they will gladly replace it for free. Forever. LOSS PROTECTION: If you lose your umbrella, you can use a unique serial number to redeem a replacement umbrella at up to 50% off the regular retail price.
Outdoor Research Sombrero Hat – The brand's Infinite Guarantee doesn't just cover your lifetime or the product's lifespan – it guarantees your satisfaction forever.
Zojirushi Rice Cookers….My 25 yr old cousin has used the same one her parents have since they passed away, regular usage. I was shocked
Corelle Chip-Resistant Dinnerware Set – Corelle are durable AF. If you drop one it still might break depending on how it hits and on what surface, but I have never had one break from putting hot food in it. Compared to stoneware, the corelle will never chip.
Hario Gooseneck Coffee Kettle – Aan item that will get used everyday, will never break or need to be replaced under normal circumstances, and could potentially be handed down for generations
Fenix PD35 Tactical Flashlight – Made of durable aircraft-grade aluminum with Type III hard-anodized anti-abrasive finish and submersible to 6.5 feet or 2 meters
This thing is a monster! It has survived multiple drops onto concrete and has been completely submerged in water and oil and still works like a charm. The only downside is that it uses CR123A batteries
Cuisinart Waffle Iron – This stainless steel model holds up to the high quality of all the other cuisinart items I own.
Seki Edge Nail Clipper – Made with high grade tempered stainless steel. They cut nails like a hot knife through melted butter. Made in Japan.
Bialetti Moka Stove Top – A mokapot will last you right up until the time you forget to put water in it and melt the gasket. Other than that, they really don't wear out. You might have to replace the gasket at some point.