Mercy dogs were trained during World War 1 to comfort mortally wounded soldiers
Mercy dogs, also called casualty dogs, were first trained by the Germanic armies of the 19th Century, but their popularity only grew. The sanitatshunde were trained to find the wounded and dying anywhere on the battlefield. Sometimes they carried medical supplies to help the wounded care for themselves until they could find care from a doctor or medic. If the soldier was too far gone for medical care, the dog would stay with him as he died, to ensure he wasn't alone.
If a mercy dog on the battlefield found a wounded man, it would return to friendly lines with its own leash in its mouth, indicating that one of their own was out there and in need of help. Most importantly, the dogs were able to distinguish between a dead and unconscious man. If he was dead, the dog would move on. If he were dying, the dog would stay with him.

American deserters being publicly humiliated in Florient, France on November 5, 1918. During WWI, 2,657 U.S. servicemen were convicted of desertion, with 24 being sentenced to death; all of the condemned were instead commuted to prison terms by President Woodrow Wilson
Elizabeth being crowned and enthroned at her coronation, 1953
Statues of Menkaure being excavated in Giza, Egypt 1908
Residents Of West Berlin Show Children To Their Grandparents Who Reside On The Eastern Side, 1961
De Beer mine workers are X-rayed at the end of every shift before leaving the diamond mines. Kimberly, South Africa. 1954
A Mother Shows A Picture Of Her Son To A Returning Prisoner Of War, 1947
Titanic Survivors Boarding The Carpathia In 1912
About 100 People Participate In A Lottery To Divide A 12 Acre Plot Of Sand Dunes, That Would Later Become The City Of Tel Aviv, 1909
Soviet Troops Scrawled Graffiti In The Reichstag After They Took Berlin In 1945
The Gadget, The First Atomic Bomb, 1945
Finalizing The Fat Man Atomic Bomb, Which Was Dropped On Nagasaki On August 9, 1945. On Its Nose It Had Stenciled The Acronym "Jancfu"- Joint Army-Navy-Civilian F*** Up
Crew Of The Japanese Carrier Zuikaku Give One Final Banzai Cheer Before The Ship Sinks, 1944
An American Evacuee Punches A South Vietnamese Man For A Place On The Last Chopper Out Of The US Embassy During The Evacuation Of Saigon In 1975
Children of the Belgian Congo circa 1900. If they did not come back with enough rubber for the day, their hands would be chopped off.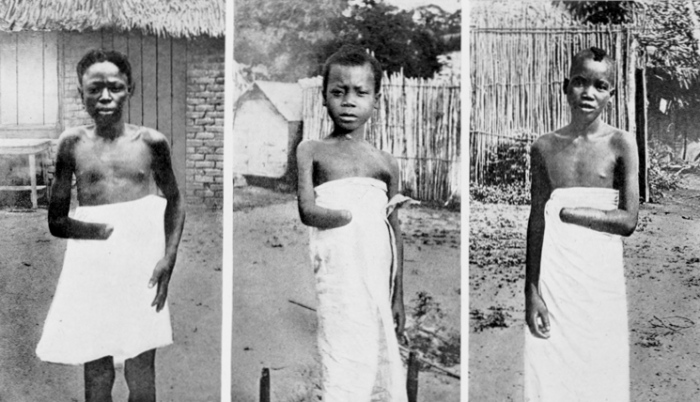 A race education class at a school for German girls, 1943
The three groups displayed on the poster are, from top to bottom, "ostbaltische Rasse" ("East Baltic race"), "ostische Rasse" ("Alpine race"), and "dinarische Rasse" ("Dinaric race"). All these three groups were considered part of the sub-races of the Caucasian race, others including the Nordic and Mediterranean.
The Nazis went to great extents on teaching the German youth to be proud of their race through biology teaching, the National Socialist Teachers League (NSLB) in particular taught in schools that they should be proud of their race and not to race mix. Race biology was meant to encourage the Germans to maintain their racial purity, the NSLB stressed that as early as primary schools Germans have to work on only the Nordic racial element of the German Volk (people) again and again and have to contrast this with the racial differences that foreign peoples such as the Jews represent.