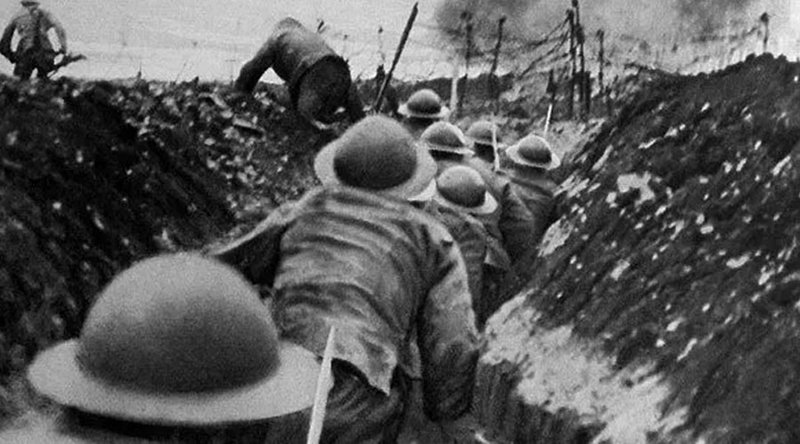 It's not nearly as dramatic as you may think. The unfortunate truth for Hollywood is that most of WWI was sitting around improving defenses and doing basically nothing.
The conditions were horrific the entire time for most parts but you were not constantly getting out of trenches and charging enemies most of the time.
One of the biggest jobs of men on the front is to constantly check, repair and lay down barbed wire outside of their trenches. This was generally done at night for obvious reasons and generally required hundreds of men to cover the workers doing this.
At first they had to use mallets and even if they tried to muffle the sound by putting sandbags between the mallet and the stake to hold the barbed wire down, it was still noisy business.
This brought the attention of many snipers. Eventually a corkscrew type of device would be universalized which would allow men to 'screw' the stake into the ground silently.
However the amount of fighting and what fighting you got depended on your sector.
There were generally two types, quiet and loud sectors.
Loud sectors were ones where the trenches were extremely close to the Germans — at times less than 25 yards away but usually no further than 100-200 yards away. You are in constant threat of rifle fire but not so much artillery lest each side hits their own men. So your entire existence is painted by avoiding snipers, being under sniper fire, and having bursts of machine gun fired in your general direction in your daily life.
The quiet sectors were generally very different. You could easily be 600-800 yards away from the other trench and both sides adopted a 'live and let live' philosophy and your greatest threat would be random artillery barrages from miles away. Capt. Dugdale described the experience:
Time passed very peacefully, as the Germans were very quiet. My battalion snipers had the time of their lives; never before had they been given such targets. We literally kept a game book of hits for the first three days; after that the Germans did not show themselves so much; also they started to retaliate.

Wiring was carried out nearly every night, but not in the style we were accustomed to in the days of the SOmme. Our men did not creep through the wire carrying coils of wire, stakes, etc.; instead, a general service wagon was driven into No Man's Land with the materials on board, which were dumped out when required. At first we expected bursts of machine gun fire every minute, but nothing happened. It must have become a well-established custom, as the enemy did the same thing themselves; we did not interfere.
Nonetheless in the general, the Germans were very keen on disrupting workers parties; particularly with machine guns and offensive patrols.
The need for quiet was imperative but not always followed by the more reckless green horns.
One account by Henry Gregory describes a particularly loud worker party shouting orders and joking with each other while his company was covering their duties. After about 30 minutes of it the Germans (who were previously pretty quiet) got fed up and unleashed a massive mortar barrage and machine gun attack on the position, killing dozens of men who had no reason to.
Conditions in the trenches were universally pretty shit however. That is one universal thing that can be applied.
Many trenches had water up the knees of men and you would have to wade around in this grungy, dirty mud water all day and everything you had would be almost constantly wet.
When digging new trenches it was not uncommon to get a sudden and sharp scent of a dead body lying there for weeks or months as you pierced his flesh in the dirt, especially in when repairing trenches taken over from the enemy after large artillery barrages.
Everything, once you got up to the front, had to be carried by hand for obvious reasons. Usually in the dark. In knee to waist high water. While being shot at by snipers consistently. You can imagine the frustration and how it could wear on a man.
That's really what made the war so horrible. You didn't attack all that much if you were a soldier but your life was still a miserable hellhole. You sat in a crappy trench while being shot on constantly by snipers or being bombarded constantly by artillery depending on where you were — if you were in a perfect spot both at once!
You were constantly slightly hungry because of poor rations and if someone slipped and dropped a box of steak in water they were done for and you had just go without. Something that happened enough for men to justify writing about it as a part of their experience.
However, for all that, the actual combat was pretty minimal and dare I say cushy, especially for quiet sectors. Your duties if you were a rifleman were essentially forward patrols from time to time and covering worker parties (usually the two duties were combined) which was a dangerous job but not really an all out attack and otherwise maintaining the trench system through constant labor.
If you were a machine gunner or a sniper your life was essentially to sit in one spot for hours and harass the enemy and discourage them from performing their own maintenance or making them do it under great duress. And if you were an officer your job was basically to walk around and make sure everyone was doing their job correctly.
How did charges actually work?
At first it was a crude type of deal, the Generals were literally learning on the fly. The original tactic through 1915 and 1916 was essentially bombard the enemy trench with so much firepower that they couldn't possibly survive and then mop up the rest with your infantry.
This was basically what The Battle of Somme was supposed to be — one of the biggest failures of the war where the British men advancing quickly found that the artillery barrage did nothing to the enemy barbed wire and the Germans just huddled up underground ,waited for the barrage to stop, and then just manned their machine guns again once the assault started.
Things like the creeping barrage were developed as well where basically the artillery would 'creep' to the German trench as the infantry marched behind it. The idea was that the artillery would hit the trench and within seconds be struck by British and French troops in the immediate aftermath.
Again, the issue was coming with that all out artillery barrages where the men were marching was a horrible strategy.
This is most demonstrated at the Battle of Passchendaele, or the Third Battle of Ypres, where the British attempted to break out of the Ypres salient in Belgium by taking surrounding ridges. The British absolutely unloaded artillery on these positions and when the men went into battle the ground was so utterly destroyed the entire battlefield was composed of flooded craters.
The men were literally getting stuck in the mud and could barely move and they were cut down endlessly. The battle was only a half success, only capturing a few ridges with egregious casualties no one predicted even at this stage in the war.
What generals realized by 1918 was that artillery can not win this war. It could not single handedly destroy the enemy like they believed and the principle of combined arms was developed.
Combined arms stated that every component of the army must be used together in equal parts to support each other and win the battle and that's precisely what happened.
Artillery was used in short, concentrated bursts and barrages not meant to obliterate the enemy defense but just shock them and generally create temporary weak points.
Infantry stopped being a force that charged into trenches trying to overwhelm a position "shattered" by artillery but rather began doing something we are more familiar with — squad based infiltration tactics.
Small squads of men would independently infiltrate enemy weak points, neutralize key points and create an open path for friendly mortars and flamethrowers to move in to create a combined mortar, machine gun and flamethrower assault on the more fortified positions with the infiltrated elite troops attacking from all sides inside the trench as well.
Combined with aerial reconnaissance, armor to shield advancing infantry, and short but sweet 'hurricane' barrages trenches became all but a stepping stone in the March 1918 offensive by the Germans and then for the Allies in the Hundred Days counter-offensive in August which ended the war.