Area 51
Let's start with a famously inaccessible place, a place that's been steeped in mystery and fabulous conspiracy theories for well over half a century. Area 51 is a military facility set deep in the Nevada desert, where missiles, weapons, aircraft and other instruments of war have been developed. Due to the intense level of security and secrecy of this installation, Area 51 has become a hotbed of intrigue for conspiracy theorists. From malicious experiments on aliens to government cover-ups of the appropriation and testing of tech extracted from extraterrestrials stranded here on Earth, Area 51 is supposedly where it's all going down … and it's gotten a lot more fun in the era of Photoshop. Regardless of whether you are a believer or not, YOU CANNOT GO THERE, even to peek inside the fence. Approximately a million signs are posted saying so.
North Sentinel Island
Lovely but 100% un-visitable, North Sentinel Island in one of the Andaman Islands, which is under the loose jurisdiction of India. The natives – and they are the purest kind of natives – are the Sentinelese, one of the last primitive tribes left in the world. Anyone attempting to land on North Sentinel Island is met with extreme violence by the natives, which is why these people remain literally untouched by modern civilization. Because of their clear desire to be left alone and because their immunity to modern diseases is non-existent, the Indian government has declared the entire island off limits … to anyone. #thismeansyou
Mezghorye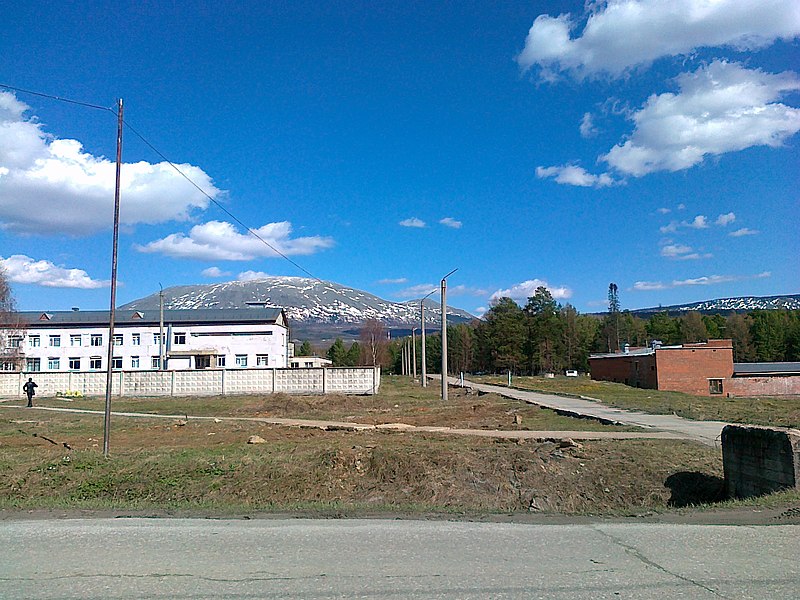 (photo: tibas26)
A "closed town" in the south Ural Mountains of Russia, Mezghorye is home to two Russian military battalions that manage a secret nuclear missile base. Population? About 19,000 people with guns. Scary but true: the ballistic missiles housed in Mezghorye can (and will!) be automatically and remotely triggered if their sensors detect a nuclear strike. What could go wrong?
Snake Island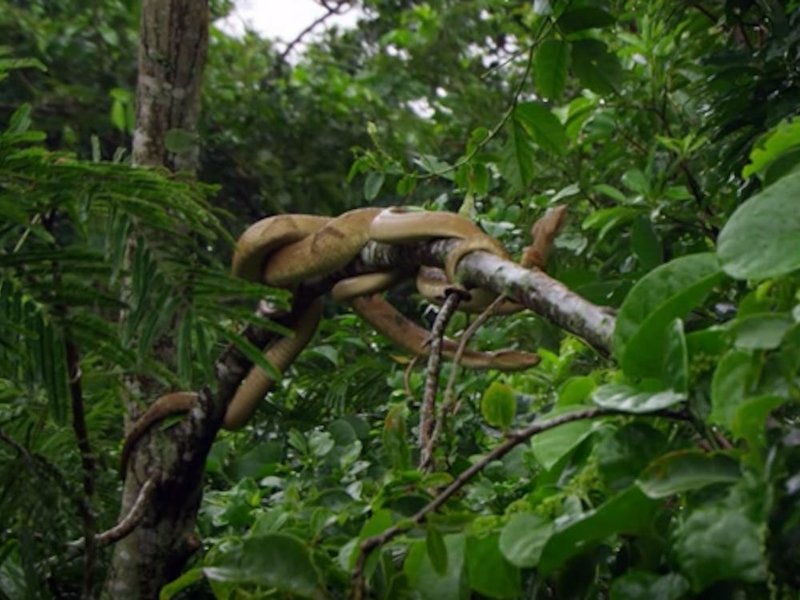 Ilha da Queimada Grande is one of the world's few "snake islands," a place so infested with snakes that people are not allowed to visit. And who would want to? With a population at one time of up to 430,000 venomous golden lancehead pit vipers (yikes!), the island sounds pretty inhospitable. In Portuguese, Ilha da Queimada Grande means, literally, the Island of the Big Slash and Burn due to an ill-advised attempt to clear the land for a banana plantation. Because of this, the snakes are most plentiful in the remaining rainforest where they gorge themselves on the native bird species. The island is closed to the public; access is only granted for the Brazilian Navy and researchers who receive waivers to collect data on the snake population.
Room 39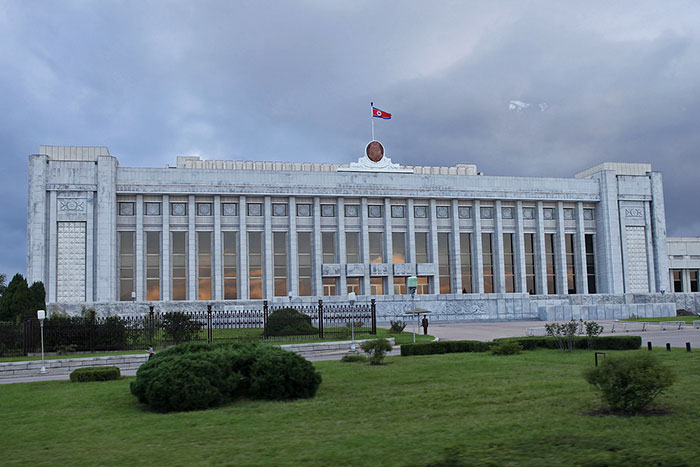 (photo: Roman Harak)
Everyone knows that North Korea is as crazy as a bag of cats, so we aren't surprised that they have a place ominously and enigmatically named "Room 39" where a mind-boggling amount of criminal stuff is going on. Because North Korea is North Korea, the only information on this super hush-hush place – which may or may not be housed in the Worker's Party building in Pyongyang – comes from defectors who are more than happy to spill the beans. Basically, Room 39 is a government organization tasked with obtaining foreign currency to support the country's leader. Through money laundering, insurance fraud and the drug trade, Room 39 has been hauling in an estimated $500 million to $1 billion dollars a year which is used to bribe politicians, fund the country's nuclear weapons program and keep the supreme leader really chubby.
The Ise Grand Shrine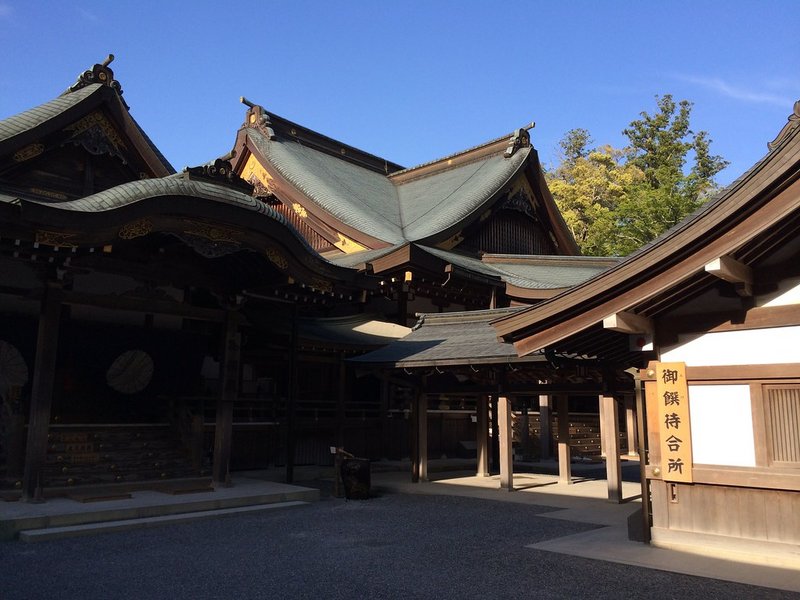 (photo: kalleboo)
The Ise Grand Shrine, built around 2000 years ago, is considered the holiest shrine in Japan. Dedicated to the sun goddess Amaterasu, it is actually a complex of shrines, some of which you can visit. The two you most certainly cannot visit are the Inner Shrine, known as Naiku, and the Outer Shrine, known as Geku. If you are a part of the royal family, you can do what you want, but the rest of us are not allowed beyond sight of the thatched roofs of the main structures, which are hidden behind four tall wooden fences. That said, tourists are allowed to roam the forest and walkways … but no peeking at the Shrine!
Metro-2, Russia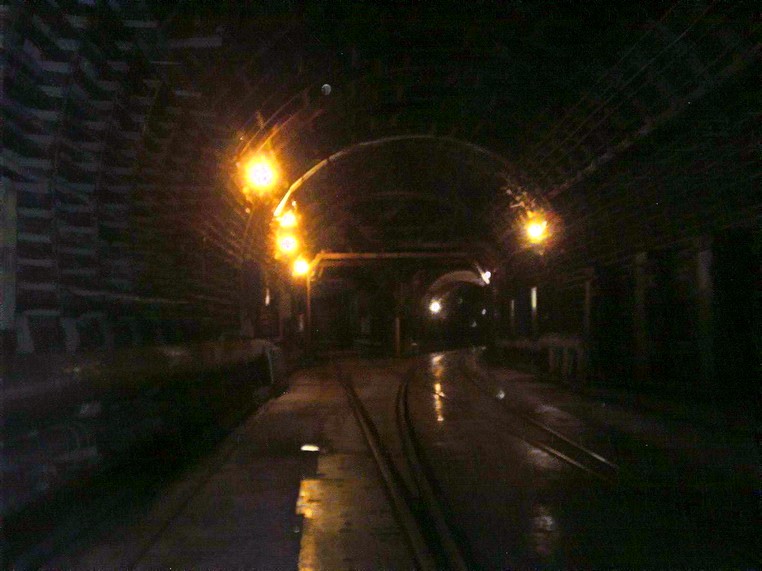 (photo: Anakin)
Metro-2 is purported secret (or, depending on your source, abandoned) underground subway system in Moscow that has been the subject of much conjecture since the days of Stalin. Metro-2 was built at great depths in case of nuclear war and reportedly runs parallel to the public metro lines, known as Metro-1; Metro-2 is not currently in use and, if it really exists, it is said that the equipment is unusable due to age. Metro-2 is supposedly still operated by the Ministry of Defence.
Built during the rule of Stalin, the train system has never been officially acknowledged and even today, Russian officials neither deny nor confirm its existence. That said, the D6 line on Metro-2 has been explored and photographed by the truly obsessed … and it's pretty cool looking.
Google Data Center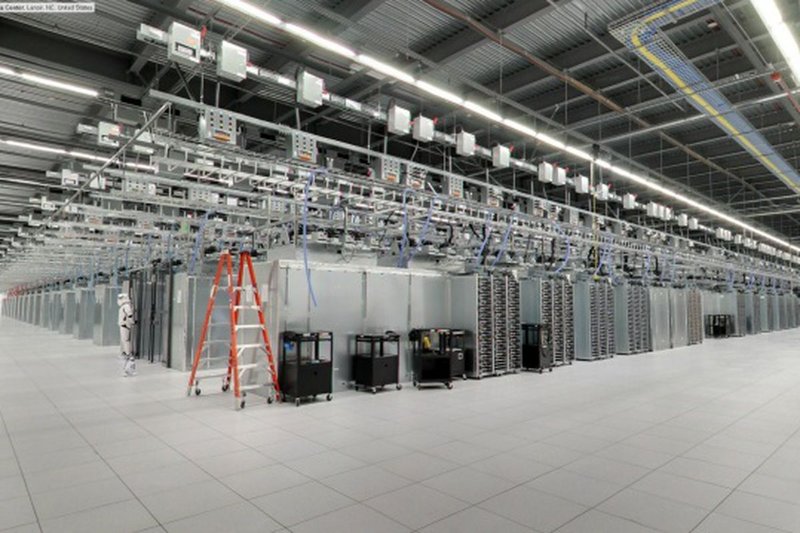 Everyone knows that Google's technological tentacles reach every corner of the internet. But if you want to see the core of how they manage to do what they do – their data centers – you can forget it because Google's data centers are more heavily guarded and harder to visit than Buckingham Palace. Because they're super busy parsing the public's data, it's not hard to see why only the very few get to visit this place. It's kinda pretty though, right? It looks like a McDonald's Playland!
Ashgabat, Turkmenistan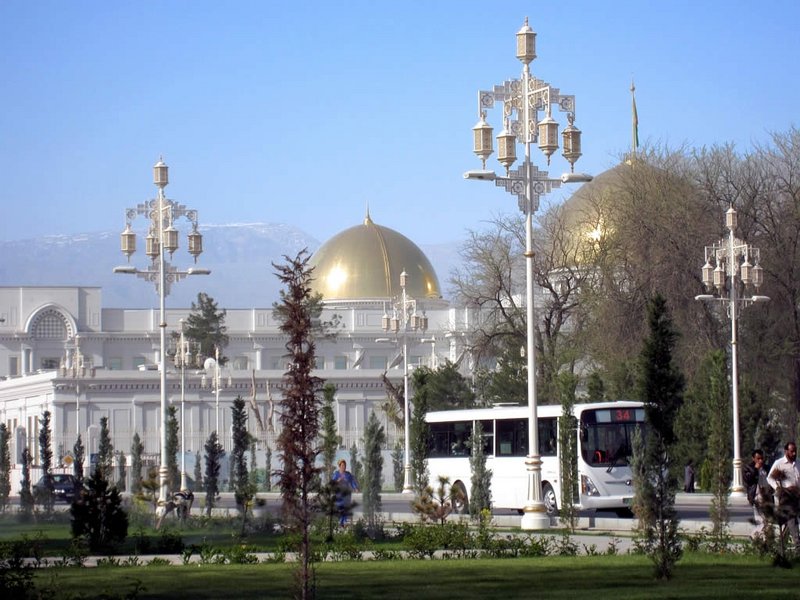 (photo by D-Stanley)
By far the most mysterious and least-visited of Central Asia's 'stans, Turkmenistan is a place of storied history and deep spirituality. Ashgabat, the capital of independent (from the Soviets) Turkmenistan since 1991, is a notoriously difficult place to visit. All foreigners require a visa to enter, and transit visas are the only visas issued without a letter of invitation. But guess what? Turkmen embassies regularly refuse transit visa applications, so don't count on getting one. But if you do, make sure to visit the Alem Cultural and Entertainment Center pictured above. It features one of three Guinness World Records held by Turkmenistan: the world's tallest Ferris wheel in an enclosed space. The others are the greatest concentration of white marble buildings and the world's largest image of the Star of Oguzkhan, in case you're wondering.
Vatican Secret Archives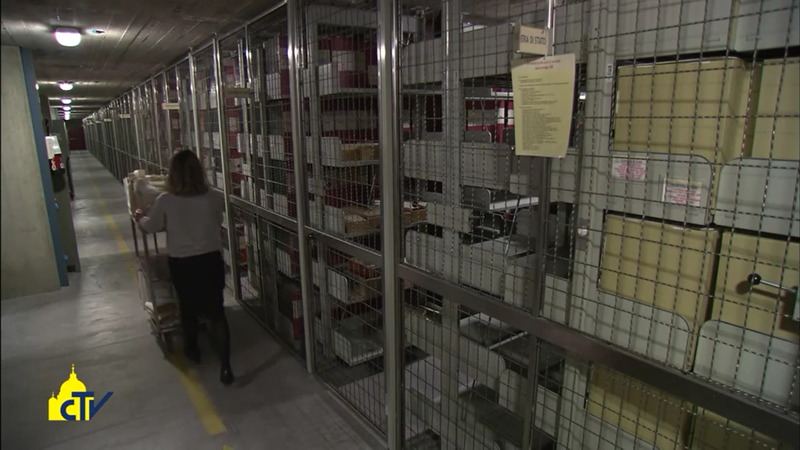 The Vatican seems like a public place … and parts of it really are, no doubt about it. But since the famously secretive Catholic Church set up shop there starting in 400 A.D., it's no surprise that there are many parts of the Vatican are off-limits. One of the most secret places is the Vatican Secret Archives. The repository of state papers, papal account books and correspondence dating back to the beginning, the Secret Archives reportedly consists of 53 miles of shelving containing more than 35,000 volumes of information. Only qualified scholars can apply to enter, and they need a letter from a recognized research entity to even be considered. So, no, you can't go there.
Chapel of the Ark of the Covenant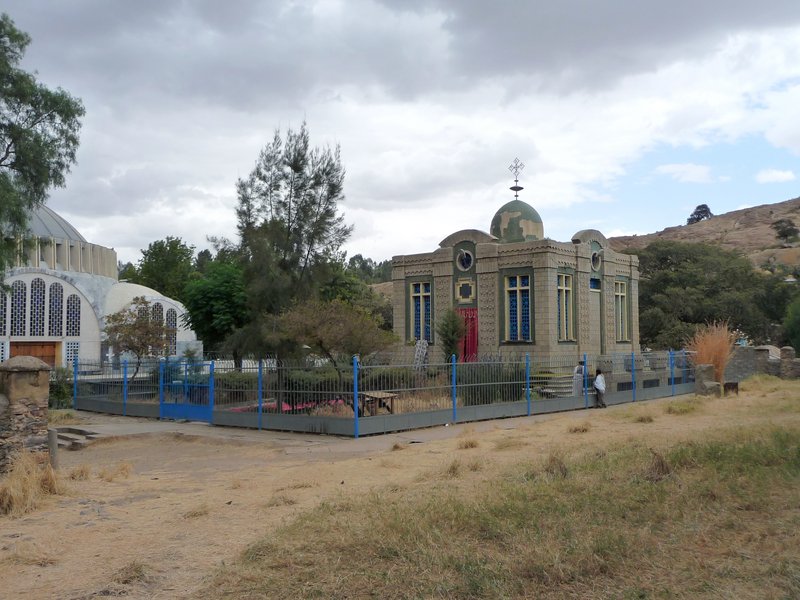 (photo by Ondřej Žváček)
While most churches have an open door, open arms policy, that is not true for this church, the Chapel of the Ark of the Covenant in Ethiopia. The Ethiopian Orthodox Church claims that the wooden chest containing two stone tablets of the Ten Commandments resides here, so you better believe you can't enter this church. It's unclear how the Ark got to Ethiopia, or if it's even in this Chapel; in 2009, the Ethiopian Orthodox Church promised to unveil the Ark, the reneged.
Mount Weather
Originally opened as a weather station in the 1800s, Mount Weather in Virginia is now a massive bomb shelter run by FEMA. The public only learned of the site's existence in 1974 when TWA flight 514 crashed into Mount Weather. Above ground, Mount Weather is more than 400 acres of training facilities and administration buildings. But the underground facility, which is more than 600,000 sq. ft. in size, is the interesting part: it was completed in 1959 and is designed to be the relocation site for government and military officials in the case of a national disaster. Fun fact: it's been reported that after the 9/11 attacks, most of the congressional leadership was evacuated to Mount Weather by helicopter. Scary times, indeed.
Lascaux Caves
Jack Versloot / Flickr / CC
Discovered by a group of French schoolboys in 1940, The Lascaux caves are actually a complex of caves in southwestern France. Thought to be over 17,000 years old, the fantastic and beautiful paintings decorating the walls were created over many generations and mostly depict large animals that correspond to the fossil record of the Upper Paleolithic era. Sounds great, right? So why can't you go there? Because while the caves were open to the public from 1948 to 1963, the carbon dioxide, heat, humidity and other cooties exuded by 1,200 daily visitors visibly damaged the paintings. No bueno. The good news: French authorities created a Lascaux II, an exact copy of two of the caves to give visitors a taste of the experience without harming the originals. So enjoy Lascaux II, but don't even think of going inside Lascaux itself.
White's Gentleman's Club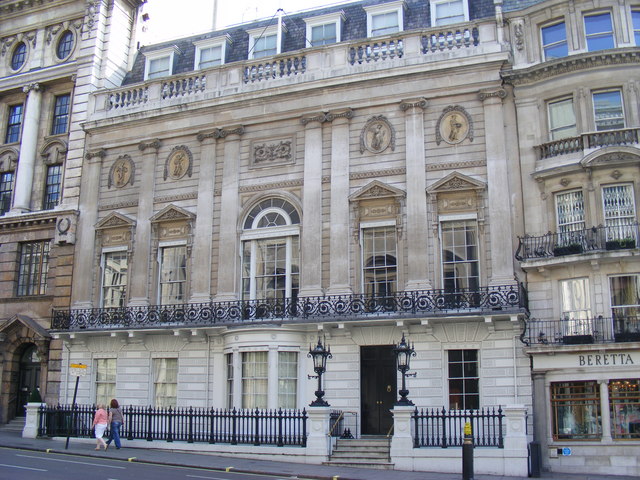 Photo by PAUL FARMER
Ever since we built our childhood treehouse and posted a "Keep Out" sign on the door, each of us has loved the idea of being in a secret club. But don't ever think you'll step foot inside White's gentleman's club in London. Considered the most exclusive club of its kind, White's has been catering to the very wealthy and the very royal since its founding in 1693. Many secret but nefarious activities have transpired here … but not one of them was perpetrated by a woman. They've never been allowed, ever. #nogirlsallowed
Surtsey Island
(photo by Brian Gratwicke)
Not secret but still forbidden, the volcanic island of Surtsey off the coast of Iceland is a no-go zone. Formed by a volcanic eruption that started on November 14, 1963 and ended an astonishing three and half years later, Surtsey is the subject of intense study by geologists and biologists. They're the only ones allowed there … and they better hurry. Surtsey is sinking and is only estimated to remain above sea level for another 100 years. In the meantime, if you want to see it, you'll have to resort to sending your drone.
Pine Gap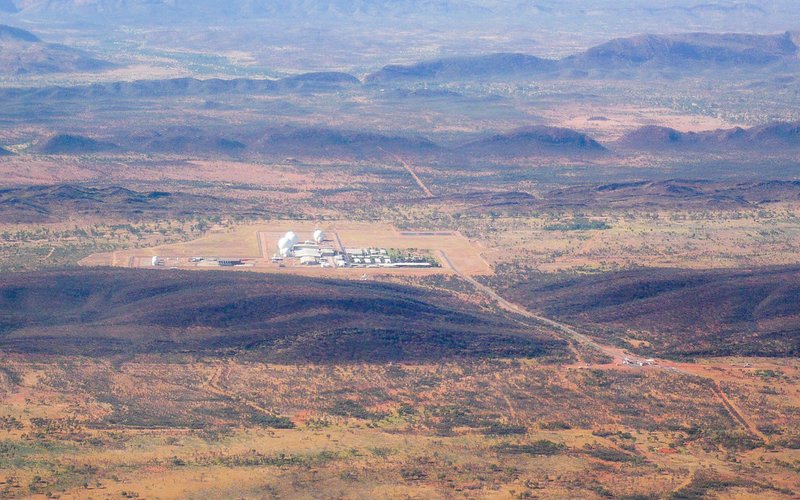 (photo by Andy_Mitchell_UK)
Located in Central Australia near Alice Springs, Pine Gap is the Australian version of Area 51. It exists, but is shrouded in secrecy and mystery. Forbidden to visitors, Pine Gap looks like something out of the X-Files with its 14 egg-like radomes protecting its microwave antennas. Run by the nice folks at the CIA, The NSA, the NRO (National Reconnaissance Office), and a key contributor to the global surveillance network ECHELON, we're sure they're only doing super good things for the world. #nothingtoseehere
Bank of England Vaults
The Bank of England's Vaults are the stuff mystery novels are made of. Holding the official gold reserves of the UK and about 30 other countries, the vault is massive, with a floor space greater than that of one of the tallest buildings in the city. With gold reserves of 400,000 bars – which are estimated to have a market value of 161 billion pounds – obviously you can't go there. Don't be silly. But if you did, you'd first have to get ahold of the key, which is an absolutely astonishing 3 feet long!
Dulce Base, New Mexico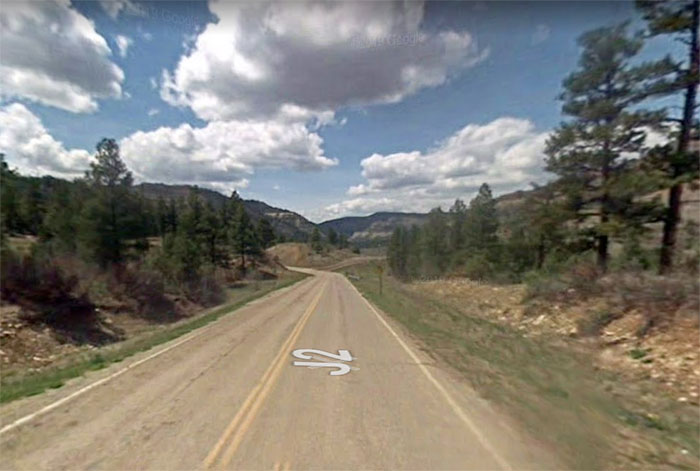 So secret, mysterious and improbable, we're not really convinced that this place even exists. But if the Dulce Base in New Mexico really did exist (and if you could find it), you'd reportedly bump into some extraterrestrials. Lots of them. Considered to be an underground facility, Dulce Base is thought to be a joint human and alien underground facility, where stories of experiments on abductees and firefights between aliens and the Delta Force abound. UFO-ologists claim to have photographic evidence of Dulce Base; one of their snaps appears above.
Diavik Diamond Mine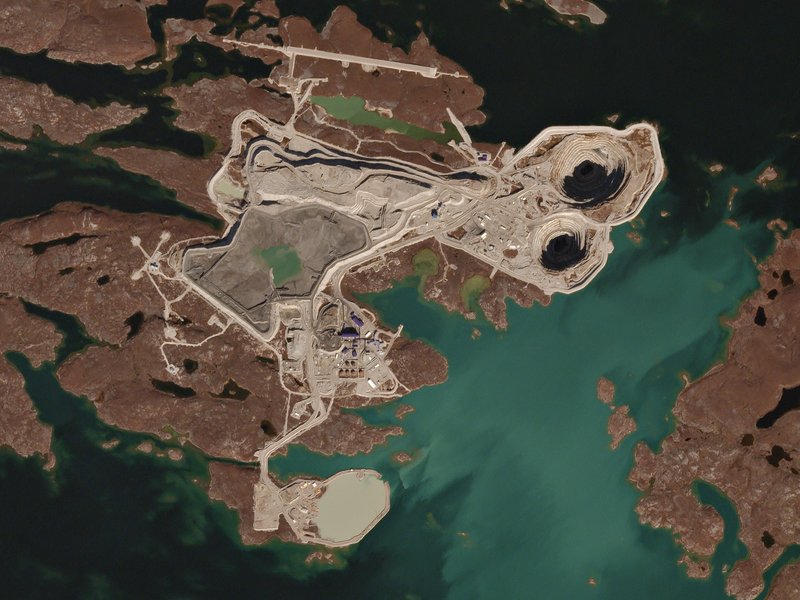 (Photo by Planet Labs, Inc.)
The Diavik Diamond Mine located in the Northwest Territories of Canada is one of the ugliest places on our list of places you can't go. And while it's true that you can't go there, it does have a pretty solid reason why: this massive crater in the earth produces 3,100 lbs of diamonds a year … which equates to about 35 billion dollars worth of shiny objects.