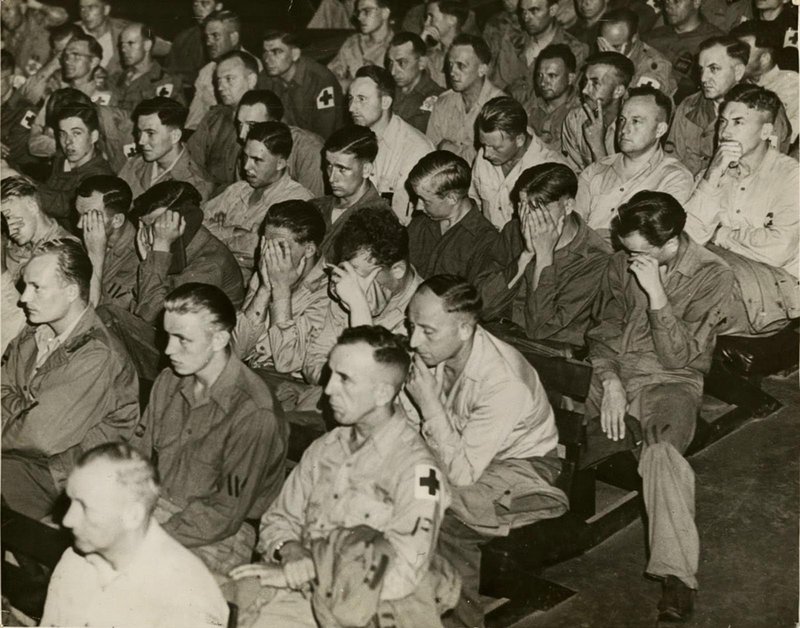 (Force confrontation: German soldiers react to footage of concentration camps, 1945.)
The process of denazification and the trials of various war criminals in Germany was enormous. The Nazi party had 8.5 million members by the end of the war. Somewhere in the region of 18 million people served in the German armed forces during the war, many of whom had committed atrocities and war crimes. 17.2 million people voted for the Nazi party in the 1933 election. Almost 22 million had been members of the German Labour Front, the Nazi replacement for the Trade Unions. Perhaps as many as 45 million individuals were members of or associated with organs of the Nazi party. As such, the process of denazification would have to be conducted on an epic scale.
Whilst at first there was great zeal with regards to complete removal of Nazism from public life, it soon became apparent that investigating and/or punishing every single person who was tangentially related to the party would be logistically impossible, and also significantly impair efforts to create a functioning German state after the war. However, a significant number of people still went through the machine. In the American zone of occupation, 3,623,112 people went through some sort of process in front of denazification courts. 2,504,686 of these people were given amnesty.
Suspected Nazis were divided into 5 different groups. Groups I and II were Major Offenders and Offenders. These were the big fish, going from those who had committed war crimes at the top of group I, down to leading party activists in group II.
Group III was minor offenders, Group IV was followers of the regime and Group V was exonerated persons. Only a small number of people were deemed to be in Groups I or II (in the American zone 2.5%, in the French 0.1%, the British did not use the first two groups, but 1.3% of offenders were categorised as group III). In the West German zones of occupation, 5228 people were convicted of War Crimes from 1945 to 1950.
There were a further 1878 trials up until 1997, of which 14 were sentenced to death and 150 given life sentences. In East Germany 4000 people were found guilty of War Crimes up to 1950, after which the efforts were scaled down.
Did this mean that Germany had been thoroughly de-nazified? Absolutely not. Whilst the most famous Nazis and worst war criminals had been brought to justice, hundreds if not thousands of people who had committed crimes under the regime never faced trial.
In 1965 the DDR published the 'brown book', which detailed over 1800 senior members of the West German Government, armed forces, police and judiciary who had been former Nazi party officials, including some who were former Gestapo officers. Whilst this book can naturally be criticised as propoganda and the West German government described it as utterly false, Frank McDonough describes the book as "not merely true, but it seriously underestimated the number".
Indeed, the 9th President of Austria and 4th Secretary General of the United Nations, Kurt Waldheim, was rumoured to have been aware of and a collaborator in war crimes while he served with the Wehrmacht in Eastern Europe.
In 1949 the West German Government passed an immunity law, giving immunity to any citizen who would have received a punishment of under six months imprisonment for their crimes during the war, effectively ending the efforts to denazify the general population.
It would also be fair to say that these trials did not materially impact the opinion of the German population of Hitler or Nazism.
The US conducted opinion polls in their sector, and discovered that just 54% thought Nazism was a bad idea. 59% believed that the numbers of those killed in the holocaust were true. 77% thought the extermination of Jews was 'unjustified'. We can clearly see that the process of denazification, whilst bringing some to justice, failed to change the hearts and minds of the German people.
It would be fair to say that the process of denazification is still an issue of historical debate. The scale, effectiveness and motivations of denazification both in East and West Germany are hotly debated.
However, even today there are still trials of former SS members and those complicit in the holocaust. 94 year old Oskar Groening was sentenced to 4 years in prison in 2015, in 2016, 94 year old Reinhard Hanning was sentenced to 5 years in prison. 91 year old John Demjanjuk was found guilty in 2011 of assisting with the murders at the Sobibor concentration camp. These will perhaps be the last of the war crimes trials in Germany, as many of the people who carried out these crimes not only got away with it, but prospered.