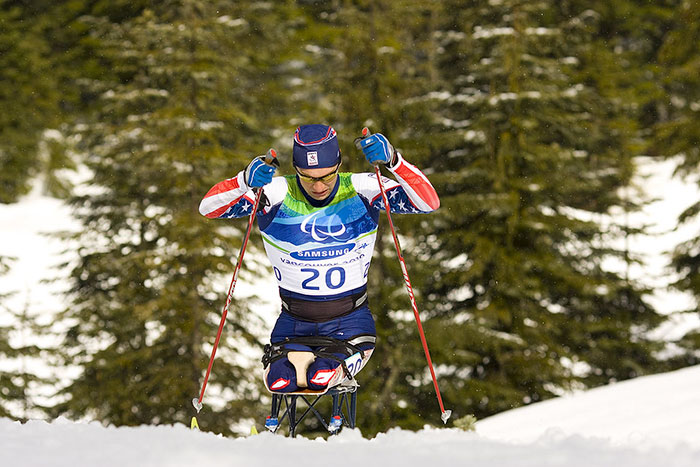 Paralympic athletes are extraordinary for a number of reasons. Just watching them train and compete at the highest level is one of the most motivating things you can experience. These exceptional human begins prove, without a doubt, that nothing is impossible if your truly believe it can be done.
Watch and listen when they compete and talk and you might learn something invaluable. Here are five priceless things that Paralympic athletes can teach the rest of us.
Limits are only in the mind.
We hear this all of the time but rare is the person who actually takes it to heart. The example that Paralympic athletes set in this regard is worth its weight in gold because they prove, once and for all, that the old adage is 100% true. We are talking about people who have lost limbs here. People who have had crippling illnesses since childhood, succeeding at near superhuman feats of athleticism and strength. And that's not to mention all of the countless hours away from the bright lights, enduring painful training sessions.
"I lost my leg aged five. Now I'm 1.9 seconds behind Usain Bolt." – Jonnie Peacock, Athletics
On the physical level they may be at a disadvantage when compared to their able-bodied counterparts but on the mental, more powerful level, they prove that we all start at the same place. The only difference between a winner and a loser is how they use their minds.
To play the victim is a personal choice.
Lt. Bradley Snyder was blinded by a bomb in Afghanistan and swims at the highest level. Jessica Long was adopted from a Russian orphanage at 13 months and, five months later, had both her legs amputated below the knee due to a congenital condition that meant she was missing most of the bones in her feet and lower legs. She is a 17-time medallist in the pool, including 12 gold medals. These people could have rolled over and done nothing with their lives if they had chosen to. Nobody would have hurled abuse at them, or blamed them for their attitude. They would have received all the help they needed and would have lived comfortable, if unremarkable, lives.
"I am not buried in Arlington Cemetery. I am here in London competing, so I get lots of motivation from that." – Bradley Snyder
They chose not to do that. Something powerful inside them cast off what would have been an easy slide into victimhood. This shows that external conditions have nothing to do with who is a victim or not. It is all inside, in your mind, in your heart, in the core of your being. No matter the situation you are in, or the pain you are facing, to choose not to be the victim is the path of courage and faith, and you will be rewarded.
Obstacles are illusions.
No matter what you set your mind to, obstacles will appear if you look for them. Paralympic athletes have faced more obstacles than most and, if not more, closer and more personal ones. Many of us who have never suffered a disability or serious illness cannot really understand what must go through your mind at those times. The fact that these people are out there, showing the world what they can do, just shows that you get what you focus on. Focus on obstacles and you will build a wall between you and your goal. Focus on the goal and you will walk a sunlit path.
Ibrahim Hamadtou lost both of his arms in a childhood train accident. For three years he refused to leave his house in Damietta. Finally, a well-meaning friend got him to try his luck at football, but that didn't work out. It was too dangerous with no arms to cushion falls. So he turned to table tennis, at first attempting to hold the racket under the stump of his right arm. This didn't work either, so he started to hold it in his mouth.
For anyone who has ever watched professional table tennis you know how fast it is. You know you need arms to serve in a conventional way. To many this would seem like game over, if they were Ibrahim's condition. To him, however, it only proved a challenge for his mind.
Over time, he found a way. As for the serve, he uses his toes to scoop the ball and toss it up. With the use of his mind, he turned his neck into his arm and his mouth into his hand.
"I want to tell them and tell everybody that nothing is impossible, and everybody should work hard for what you love and what you think is good for yourself. The disability is not in arms of legs. The disability is to not persevere in whatever you would like to do." – Ibrahim Hamadtou
The secret is perseverance.
We have all heard of The Secret. What we don't realise is that the real secret is written beneath the lines. It is etched in the face of every person who has ever succeeded at what they wanted to do. Paralympic athletes are perhaps the purest and most admirable expression of this 'secret within the secret'. They embody the indomitable spirit and will that shines out like a beacon to everybody who is chasing their dreams. The secret they share is that you must not give up. You must set your mind and see it through, no matter what happens. No matter how much pain and doubt you have to go through. Not only does this guarantee success, it also builds bulletproof confidence that spreads in to every other area of your life.
"I don't care how many legs you have – one, two, four, six – I'll still beat you!" – Richard Browne, US Athletics
When you persevere in this way you begin to get an insight into the true nature of things. You start to go beyond the skin deep. You realise that, disability or not, people are people. We are all equal. We create our own destinies. No one can show you the way home because you never left. All we can do is celebrate life, be grateful for what we have, and celebrate those who fulfil their potential.
"It has made people realise that athletes are athletes and people are people. It doesn't matter if you're Usain Bolt or in a wheelchair, we're all people." – Charles Walker, GB Volleyball
– Beast Hacker